It's a pretty weird and unsettling time in this world of ours right now. With many of us hunkering down at home, things can get downright boring at times. Fortunately, if you're someone who enjoys videogames, you likely have a backlog of games to play through or even some new titles to play in the coming days and weeks.
These are some of the titles I'm playing this month.
Marvel's Avengers
How much time I spend with Avengers this month will largely depend on what Square Enix and Crystal Dynamics deliver in terms of updates. It's almost remarkable how this game's trajectory reminds me of Anthem, everything from the rampant bugs and broken features to the sad weekly store refreshes full of almost nothing but recolors. Updates from the team haven't been encouraging, either. Still, I'm a Marvel fan and I like a lot of the moment to moment aspects of the game, so if the team can turn some things around and quick I'll be spending more time with the game this month.
Civilization VI
Civ's new DLC is out and I've been having a great time with the new leaders, particularly Gaul's Ambiorix. Gaul's mechanics force you to think differently about how you plan your cities due to the way adjacency bonuses work for the civ. It's also got an expensive, but powerful unique unit that replaces the warrior. I love an early rush to dominate my neighbors, so Gaul's UU has come in pretty clutch for me in facilitating early aggression. I'm not a huge fan of the new Dramatic Ages mode, it's something I might mess aroudn with here and there, but it's not a regular fixture in all of my games the way Secret Societies is now.
Baldur's Gate 3
Baldur's Gate 3 enters early access in just a couple of days on October 6. While I don't plan on spending a ton of time playing the early access version of a narratively driven game like BG3, I will definitely use EA to play around with character ideas and customization.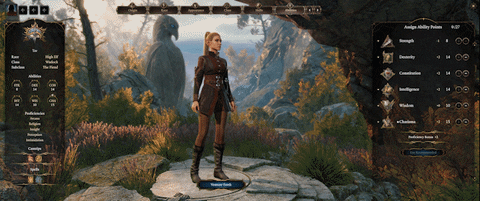 Genshin Impact
I normally avoid gacha games like the plague, but Genshin Impact caught my eye with it's Breath of the Wild style of gameplay and exploration and, at least so far, manageable microtransactions. Combat is fun and interesting with the different elemental combos and the ability to switch between characters on the fly, but I'd love to see more co-op features aded to the game. I'll be exploring the game more this month for sure.
Star Wars: Squadrons
I've been hoping for a new game in the spirit of X-Wing vs. TIE Fighter for roughly 20 years now and finally that time has come with today's release of Star Wars: Squadrons. I haven't had a chance to dig in too deeply just yet, but the flight model feels good so far. What's less encouraging are some of the annoying bugs and disappointing levels of HOTAS support.
Players are reporting issues with refresh rates above 60hz and the game has a weird dead zone issue where a 20% dead zone is being applied even if players zero out the setting in the options. This makes using a joystick a huge hindrance at the moment. There are other joystick issues pertaining to specific sticks or pairs of devices as well. I'm a bit puzzled on this as the game has such a narrow focus on space combat multiplayer that you'd think it would feature robust support for a wide range of devices and setups. Hopefully things are sorted out soon as I'd like to be able to jump in and have a good time over the weekend!
What are you playing this month? Share your list with us in the comments below!