before i start, i want to warn you that some of the following posts will be screenie intensive. pix speak louder than words, and it is handy for the curious to see what things look like rather than a mere description.
in view of all the upcoming holiday festivities on the live shards, and to see what all the drama is about for myself, i decided to create an alt on both order and chaos. starting all over frightens me, after being 'uber' with vel and mourningwood for so long. at least i have a few peeps who know me on the live shards, so hopefully i will be able to get the stuff i need when i need it until i can make it for myself......
so, come along with me as i create a new character and thrust him upon order's stage!
first step is to call up the launcher and login. you will see your character screen - any alts you have already will be listed at the top, under them will be the options to create new characters on the particular shards. with only a tiny, almost inaudible whimper, i bypassed vel and mw and choose the option to create a new character on the roleplaying shard, order.
now, i am not a roleplayer in my mmo's and am not really interested at the moment, but that may change - i chose order because i know more peeps there.....
once the game starts to load, instead of the normal game loading screen, you will see one like this: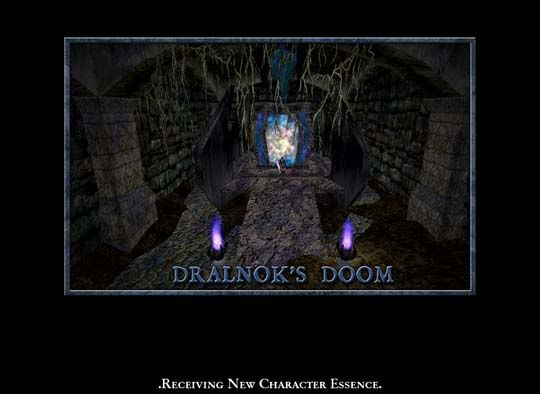 since you don't have anything to load into inventory or vault or such, the only message is the 'receiving new character essence'....
once the game loads, you see a long hallway with arches on the left. beyond the arches are male and female examples of the player races available. you choose a race and the camera pans down the hall to the appropriate arch:

since saris and draggies were out, i was forced to think about what i wanted to be next. of the choices i had left, i thought about how i never see a satyr wondering around, and figured that would be a good choice, or at least a fun one. off i go to the satyr arch: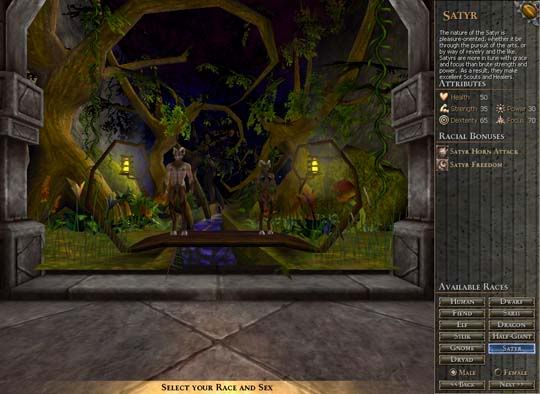 as you can see, but prolly can't read, the right side of the screen tells you a little about the particular race you have selected, the base stats, any racial bonuses or abilities, and the option to choose your gender. since i can't wrap my head around a female satyr (or a male dryad, for that matter), the only choice is male!
once you choose your gender, the appearance options open up. you can make all the usual appearance choices; in this case, things like horn style and body type, as well as hair and eye color, etc.:
so, after prodding and poking the sliders, i finally settled on what i think is a very properly saturine figure:
and i named him - derexx dufromage! the king of cheese, suitable consort and diplomat for her cheesy majesty!
well, that is basically it for character creation. its not hard, but it can be time consuming. not really more so than rolling up a new character the old skewl way, but much more rewarding visually!!
and for those of you who obsess about these things, here is the stats screen from the newborn's character page: