currently, while waiting for my desired plot to open up so i can start building on it, i am trying to help some friends out with their plots. this requires being in a construction skewl. these are known as 'prestige' skewls - by that i mean, you must be at least level 20 in the base 'parent' skewl. for most of the construct skewls, this is blacksmith.
there are 5 biped construct skewls: carpenter (wood, of course), fitter (metal work), mason (stone work), weaver (fabric/hide work), and enchanter (essence work):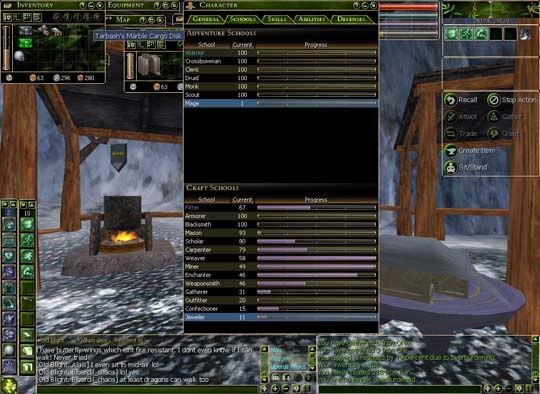 your character page will always show your current skewls at the top of the section and in different colored text. as you can see, i am 100 in blacksmith, 93 in mason, 79 in carpenter, etc.
as you can see, i am already in fitter, but i will pretend i am not so i can show you the process. first step, port to mahagra, where the fitter trainer is:
as with all skewls, you must visit a trainer to switch to that skewl: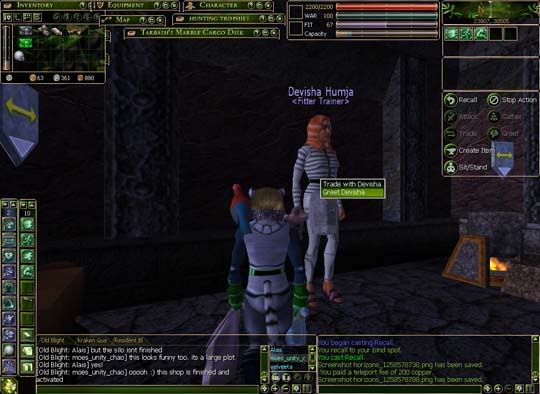 the trainer will give you some very basic info about the skewl and then ask if you want to join: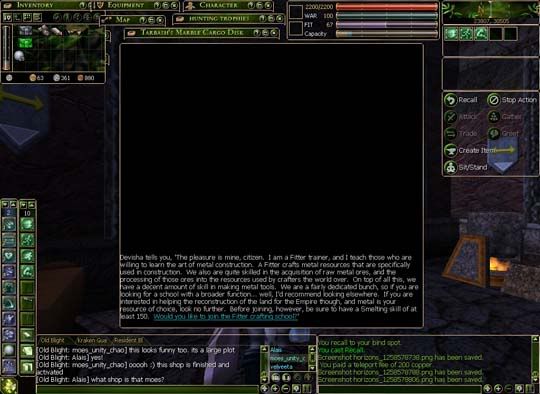 once you clik the link, the trainer will tell you that you have now joined the skewl, and if you are trying it for the first time, offer you some training tools (which really suck and must be replaced asap if you have to take them. that's why i leveled blacksmith, so i can make all my own tools....):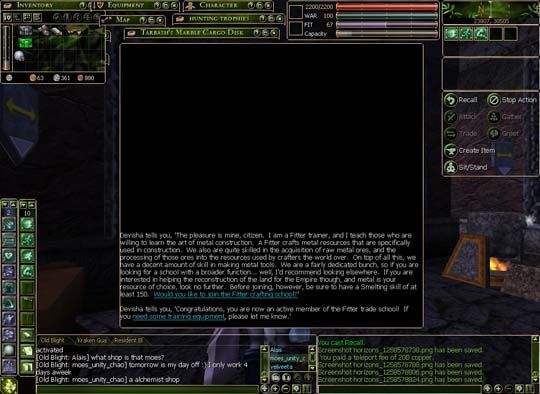 now it just remains to run out to the iron field and get to work! everyone has their fave place to mine resources. for iron, nickel, and gold, i like summit. its not everyone's cup of tea, but it suits me! so i cast swift feet and make the run from maha to summit. DO NOT EQUIP YOUR DISK FOR THE RUN TO THE FIELD! no need to be unnecessarily handicapped by the speed penalty of the disk!
i love my cargo disk - affectionally known as the floating silo. its massive and its awesome!! again, cargo disks are a matter of choice - some peeps like to have the ability to store more than one resource on a disk. personally i like to have the ability to store a crapload of one resource: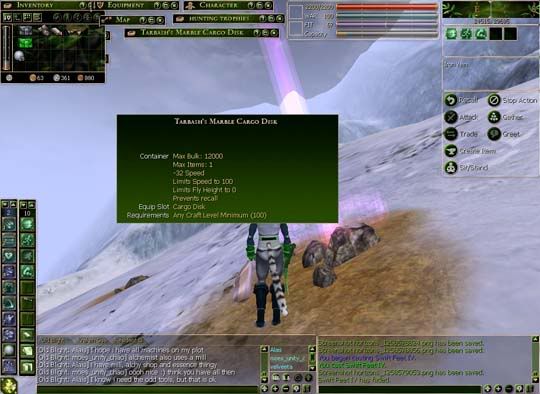 you have to equip the disk before you can use it, altho if you have it in your inventory and start to gather resources, it will fill up the disk before showing anything in your inventory. this can lead to confusion, if you are the eternal noob like me: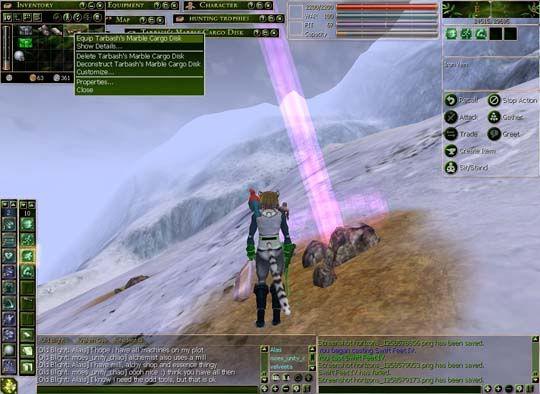 here is what my precious looks like. your disk floats behind you and usually stays out of your sight. this too can be fun, especially when you detach it and then forget to reattach the loaded disk until you have ported 3 times to the place you were supposed to be hauling it...altho, it costs money to port with a disk, so your first clue should be the port pad not showing the right fee to port (for instance, it costs me 600cp to port a full disk to bristugo, which is normally free to port to without a disk). also, you can't recall with any type of disk, and some don't allow you to port at all. this would be okay, if you could equip more than one disk at a time, which you can't, of course: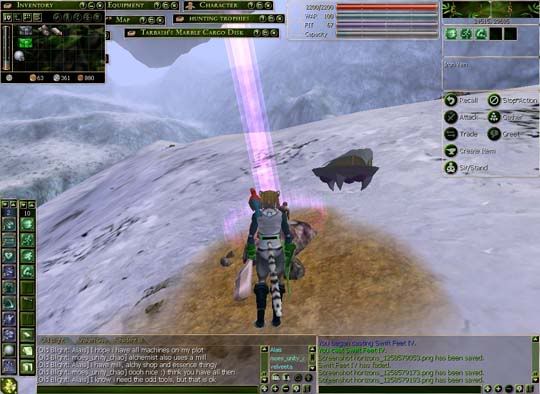 that's enough for now! next time i will post the slow and tedious task of gathering iron ore to make bars. still not done after that, so expect more fun soon!!