horizons is not a game for you, if you like to beat the snot out of your fellows. we fight the withered aegis, not each other.
BUT.......sometimes you and your friends just feel the need to punch each other. a little friendly competition can be fun, we realize. test out your new spell, get a feel for the weapon you just tech'ed, or maybe you just had a small disagreement and feel like settling it the 'old fashioned' way. where can you go in a pve game?
well, in istaria, that place is the arena. the arena spire is located near sanctuary bay and tishlar (at least, that is the way i usually go to attune). it is near the maple treants and they can pose a problem to low levels trying to get to the spire to attune to the battle gate, but if you run fast and stay on the road, even a level 6 alt can make it totally safely.
the first sight of the spire can be lovely: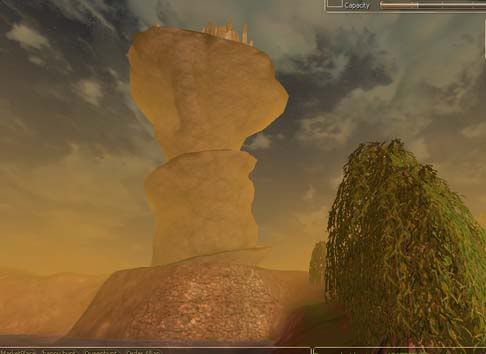 the ridge running up the side is the road you have to travel to reach the top of the spire. its a long but beautiful climb, allowing you a 360 view of a wide area of the land. high level hatchies like to climb to the top and jump off to practice flying.
once you get to the top, you will see the complex thru the gate: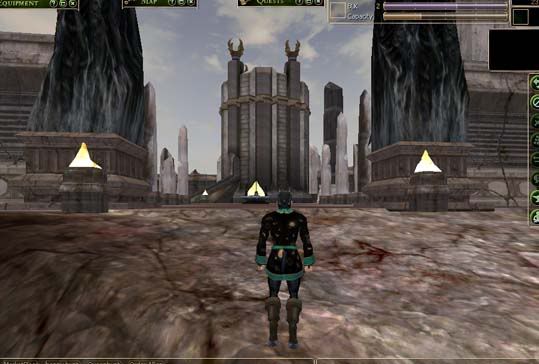 once you enter the gate for the first time (unless you are there for an event), the most important area is the building to the left, where you will see the portal to the actual arena areas: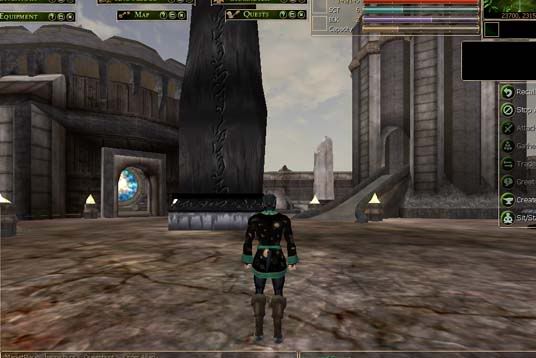 like most ports, you have to attune before you can use it to get to the arena staging area. and like most ports, this is simply a matter of talking to the gatekeeper: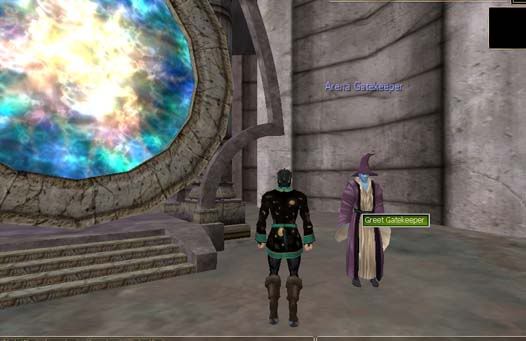 he will give you the usual blah blah woof woof, after which you clik the link and voila, you are attuned to the battle gate: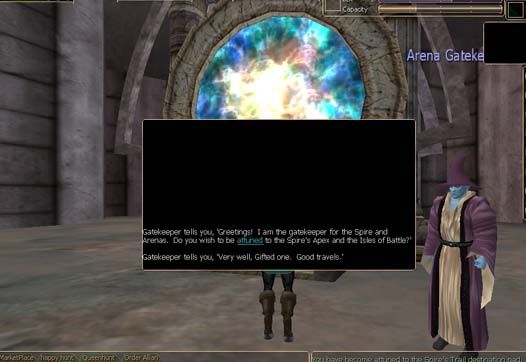 you can then pay your 120cp: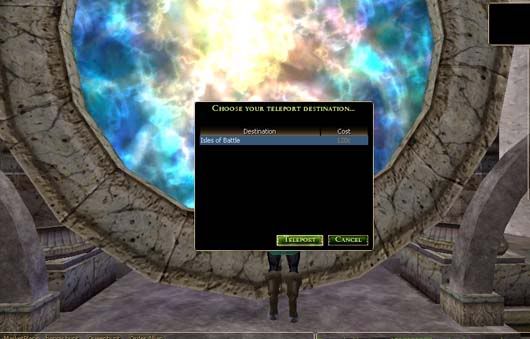 and port to the arena staging area:
next, i will talk about the staging area a bit, then some posts about the actual battle areas. there are currently 2 - one for large scale battles and the coliseum for one on one and small team fights. more bout them later!