okay, you got all the buildings planned. now, you want to start the construction and get stuff built.
of course, you can do it all yourself. plots/lairs are great ways to level your construction skills. i leveled my stonemason class to 100 on a friend's plot, and my carpentry to uber on another. but what if you don't have the skills needed to enter a prestige crafting class, or just don't feel like doing it on your own. the easiest way to to get help is to pay for it. its only common courtesy to at least pay port fees - these can be extensive, depending on several factors (resources needed, distance of nodes, number of ports that need to be accessed, etc.) - or for peeps time. there is actually a current discussion on the forums about construction fees and how much to set on construction work......
be that as it may, the actual process of setting money on your available work is much the same as planning, it just takes place on the construction tab: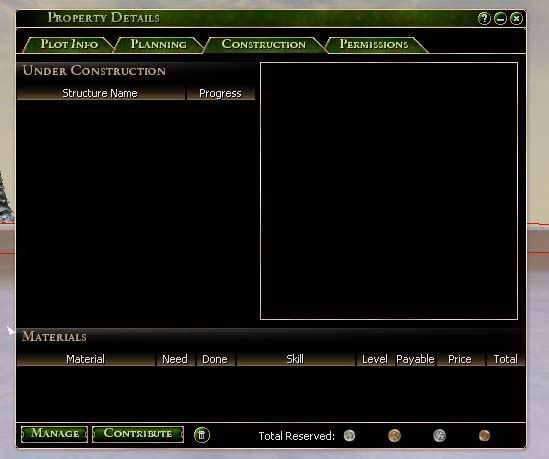 on the construction tab, you first see the 'structure name' field with a list of all the buildings you have comfirmed as planned:
clik on one to highlight (the jman blacksmith workstation in the above example). you will see all the materials needed to build that building, along with total amount of each type of needed, how many are already done, the skill (class) needed for each type, minimum level of skill needed to apply, total amount of units still with money available, price paid per unit applied, and the total (in cp) still available to be made on construction.
highlighting a resource and cliking the 'manage' button opens the screen to apply money toward construction. that screen shows how many units of that resource is required, units that can have money applied on them, how much you want to apply to each unit (number of coins: in the example, 1 sp per unit of kenaf construction bolt applied), and how much in total you will pay to apply the needed resources. cliking okay will set this price: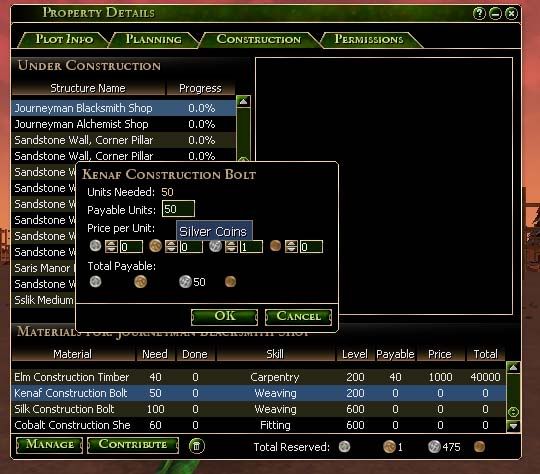 that's pretty much it for construction planning. wash, rinse, and repeat the money process on each resource for each building (nope, the game does not remember how much you put on the individual types of resources, you have to set EVERYTHING for EVERYTHING EVERY TIME. yeah, its a major pain, but such is life, i guess.
allocate at least 4-5 hours for initial plot design (for anything over the simplest of plots anyway, and lairs can take days to design) - but you will be building for months, and in some cases, years!!!
next series will be a screenie intensive exploration of the only pvp available in horizons, the battle arena!!! including a very short description of an actual saturday night arena event! see ya soon!