greetings, beloved subjects! in an effort to establish relations with our neighboring realms, we have sent a diplomat to represent us to the order shard. derexx dufromage was set loose in time to appear at our beloved friends, lovwyrm and flameus, residences for festivities to celebrate the upcoming holiday season.
it pleases us beyond expression to report that derexx was welcomed most warmly and managed to con the obsidian order into accepting him as a member of their most prestigious organization. derexx is finding the order realm much to his liking and is very happy with his assignment. he reports he is looking forward to many years to come as the cheese queen's representative in order.
accordingly, here is his first report from order, concerning the activities at the above mentioned party:
at the appointed time, the partygoers gathered in bristugo to port together to lovwyrm's plot in aiya. from the start, the crowd overflowed the port area: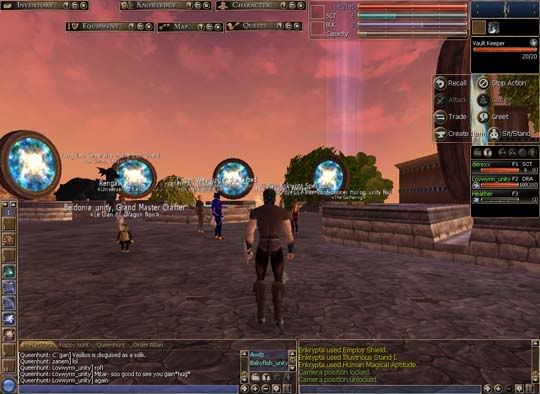 the party started in aiya with riddles and seek-and-finds. it was as fun to watch such a large group of peeps running around the well planned and built plot as it was to be part of the running crowd: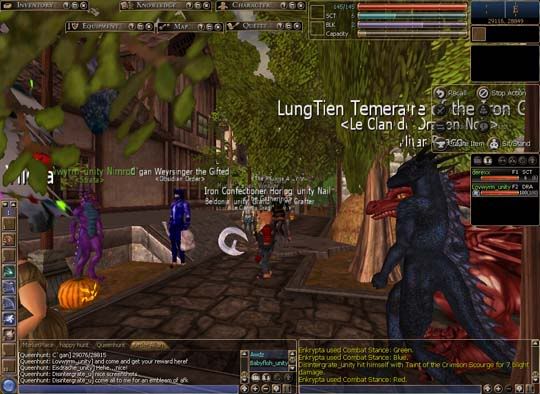 after some games, the party moved to mia's edge, where we were honored to be a part of lungtien's ascension to ancienthood. here is the adult: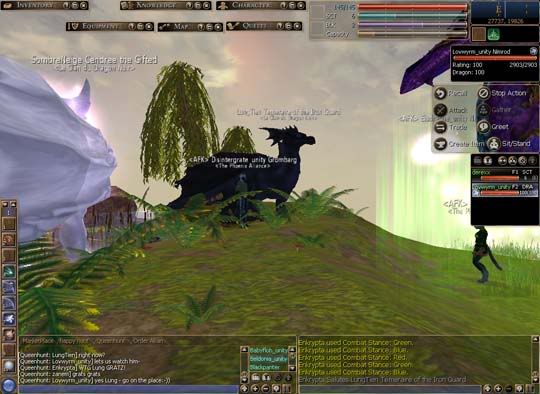 the ritual started with lung being encapsulated in the ascension field: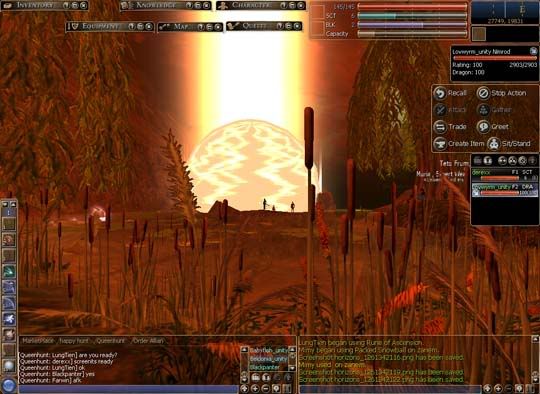 and ended with the newborn ancient rising from a shaft of altering light: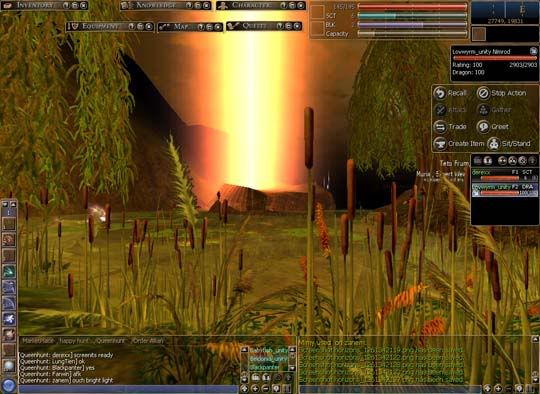 when it was all over, the new ancient stood proud in newfound power: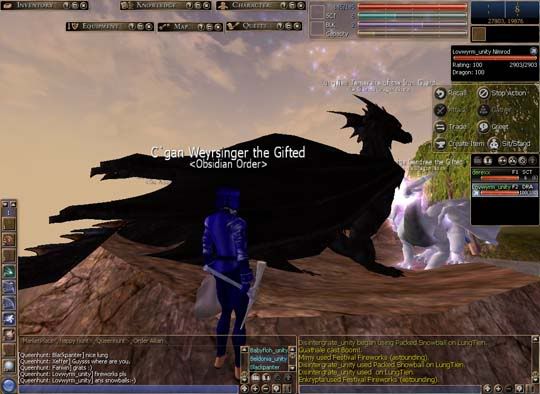 after much fireworx, the party retired to the plot for more games, gifts, and a big feast: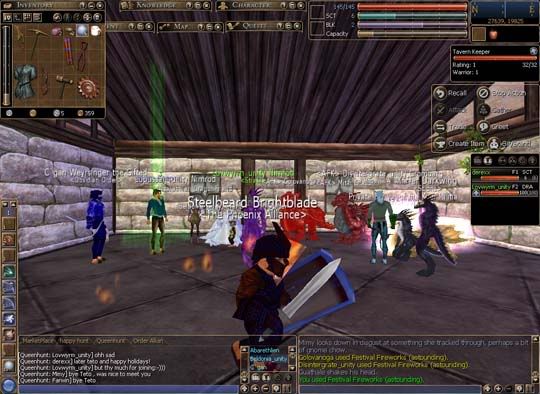 before being honored yet again by partcipating in a double ascension! elvin and shanoby were finally ready to become adults, and chose to share this special time with us all: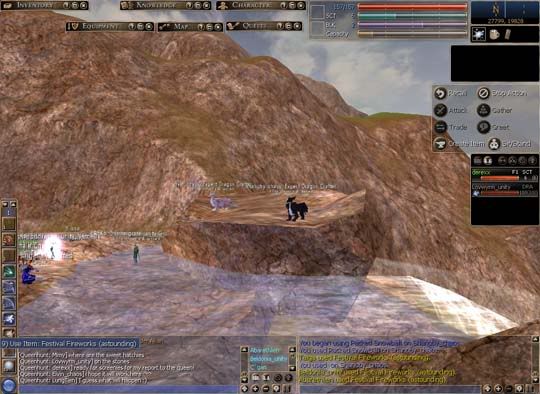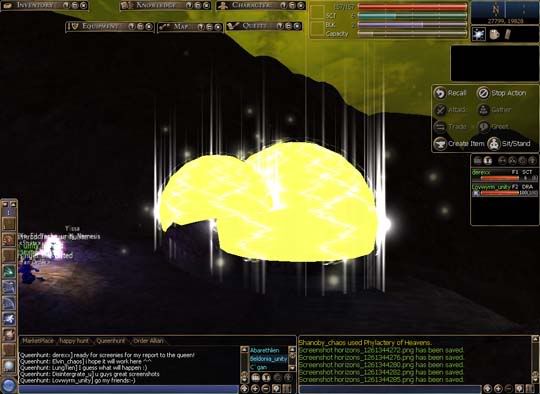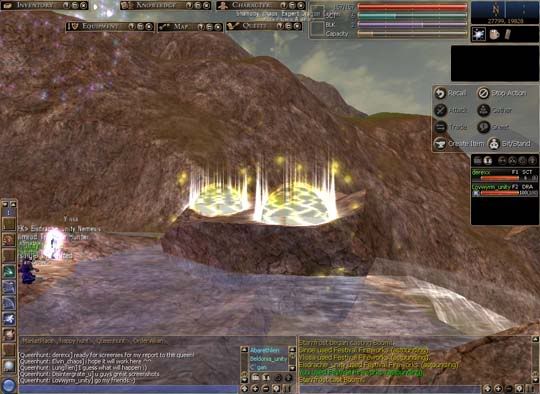 the new adults took their first flight amidst a barrage of celebratory fireworx: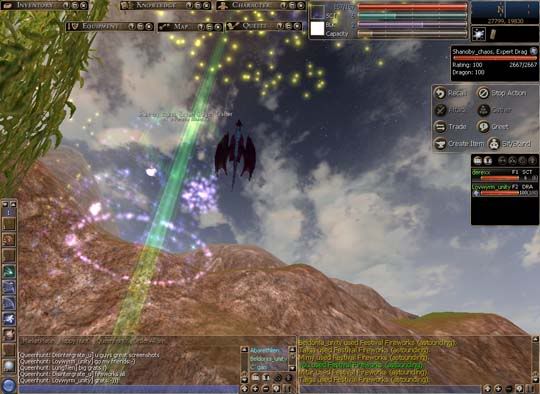 for most shards, that would be quite a party already! but the order shard does things in a big way! after the ascensions, the party moved to flam's lair (fortunately, the peds were able to make it!), where to finish up the fun, lov sent us into the labyrinth to hunt for dysias and flam. we all got horribly lost, and the real game became who could find their way out first!
all things, especially the good ones, must end, and so it was with the party. after 2 hours of excellent companionship and fun, the party disbanded with hopes to have another get together soon.
that is all for now, my queen, and i look forward to having more to report soon!