Summee Farooqi
Rusty Hearts Community Manager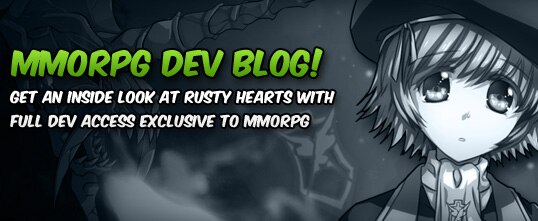 Welcome to the Rusty Hearts Dev Blog! I'm Summee Farooqi, better known as Summ, and I'm the Rusty Hearts Community Manager as well as internetting extraordinaire. MMORPG has been kind enough to let us give you guys an inside peak at all things Rusty Hearts. Starting now you'll be able to get your fix of content previews, event updates and giveaways right here on MMORPG.

Rusty Hearts launched September 2011 and has been on a tear since its release. We've seen an incredible amount of players come in, make new friends, party up and party on. It's fantastic to see how the community has developed and how players are taking advantage of the immense amount of new content available. What's more, we don't have any plans to stop. We plan on furiously dishing out new content and events making the MMORPG Dev blog the place you'll want to check up on to get the latest deets'.

To get this kick off the release of the blog I'd like to show you what it's like to work on Rusty Hearts and how committed we are on giving you guys the best experience possible. I thought you guys might like to see an inside look at a typical Perfect World Employee work day and what goes on day to day working on this title.

We recently moved to a fantastic new office in Redwood Shores near Redwood City California. Our new office has been perfect for housing our production, marketing, community, video, quality assurance and customer support teams. Typically, our day usually starts with passing our lobby of fully featured semi-transparent game characters. Usually this is only seen by invited guests and/or employees, but remember, we're giving you a sneak peak!
Perfect World lobby with semi-transparent character glass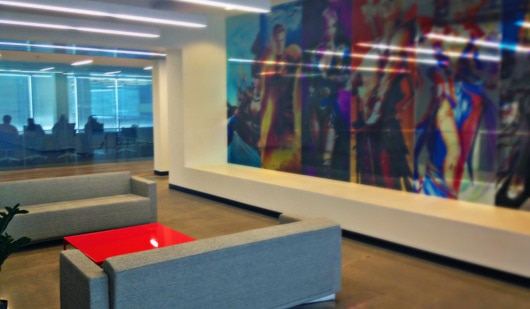 After marveling at the epic characters for a few second we usually make our way to the coffee machine and then desks to start work. As the Rusty Hearts community manager my day usually starts with checking our community boards. Almost everyone in the company is involved with forums in one way or another, many just lurk, but we always keep an eye on what the community is talking about.
After checking the boards for roughly an hour and getting a massive dose of caffeine I'm usually ready to tackle other projects. We try to get blogs out on a daily basis to keep users abreast of current events, sales, giveaways and more. MMORPGs, particularly Rusty Hearts, are ripe with great game experiences, but having active communication with players is important. Whether I'm writing about maintenance or a huge update, it's vital to get this information to players quickly with as much detail as possible.
Perfect World's community and video teams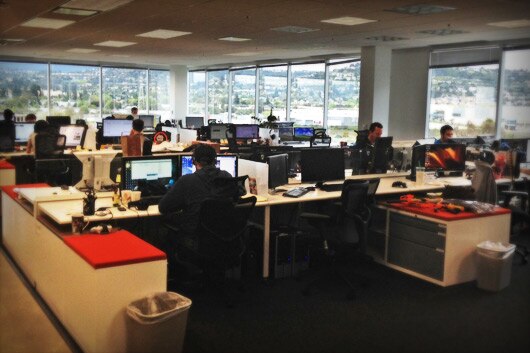 Everyday game teams meet with other departments to discuss what's going on with their respective games to determine where to direct our focus and efforts. Between marketing, customer support, technical support and production there's always something that needs to be worked on. We have a pretty tight team that works extremely well together to make sure Rusty Hearts is running smoothly.
My workstation (Rusty Hearts CM central!)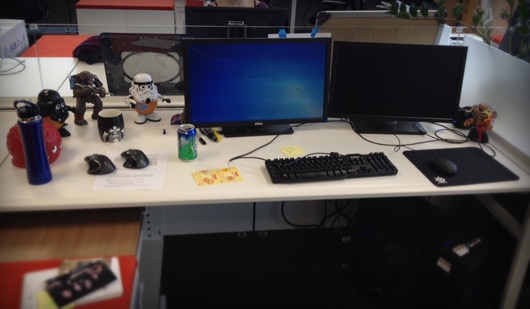 When our teams get some time we usually pop in for a lunch time LAN game with our community, video and marketing teams vying for supremacy. Typically community dominates, because well, we're amazing!
We end the day with a push to get projects complete before heading out. In most cases this means finishing blogs, preparing for maintenance, testing content updates or other important tasks that need to be addressed. Working at a game company can be stressful and somewhat overwhelming, but it's one of the most exciting jobs you can have. Working with people that love games and want to provide a great experience is rewarding and keeps things fresh.
The Rusty Hearts team is excited to provide content directly for MMORPG users and we hope to get info updated here as frequently as possible. We'll be posting our epic weekend events, giveaways and important news here in addition to our Dev updates.
Stay tuned because we have a lot more to come!