Hello fellow gamers!
Been awhile since I last posted, and yeah, well - shoot me...I've been busy doing stuff...like gaming, writing, working, enjoying this awesome summer in the beautiful Pacific Northwest...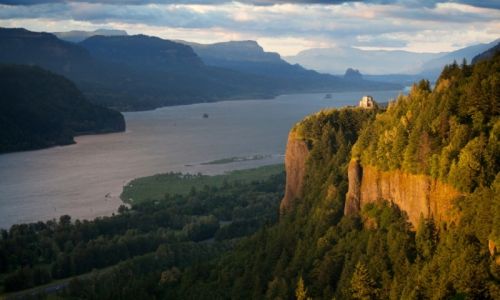 ...look! We even have a "lonely mountain", like in the "Hobbit". How cool is that? Yep, yep...it's almost like living in a make believe fantasy world - but for reals. Oh and then there is this guy...
Meet Bond, James Bond...hehehe...seriously, we named him James Bond - and the name fits him very well. He is such a smart cat. He's been lot's of fun since we got him a couple of months ago. :) He is about the most awesome purrito you'll ever meet.
OK...enough of that...let's talk about something closer to gaming...and instead of games - how about we talk about web comics that deals with one of our favorite hobbies - gaming! You all know about Penny Arcade and probably Ctrl-Alt-Del, two web comics that are pretty well known in the gaming community, but have you ever heard of "Living With: HipsterGirl & GamerGirl", or what about "MegaTokyo"?
Living With: HipsterGirl & GamerGirl is a comic drawn and written by Jago Dibuja. It is pretty much all about gaming and the gaming culture, with a little commentary on social issues thrown in from time-to-time - and is for mature teens, to adults(due to its tendency to be a little naughty at times).
The thing I love most about his comic is the offbeat and sometimes in your face humor that the writer manages to capture and express in his writing and art. Jago is definitely a gamer and it shows in his wittiness and knowledge of the gaming community.
I think the best way to acquaint you with HipsterGirl & GamerGirl is to introduce the three main characters and then give you a few examples of Jago's work...the man is brilliant. So without further ado...meet Artur, Erika and Sophie.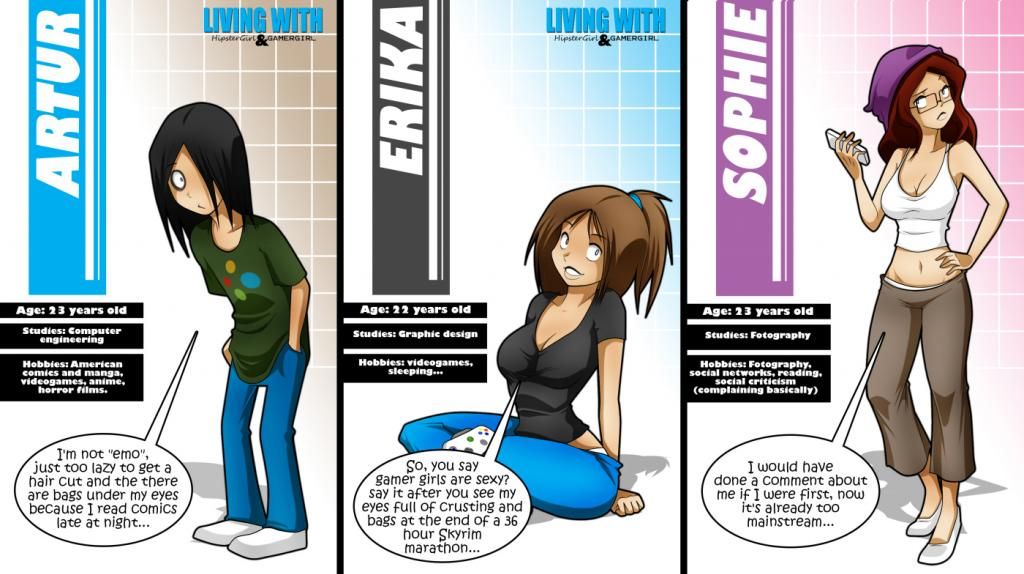 And here are few of Jago's comic strips about these three room mates and their lives - about gaming, social issues, technology.
That is just a small sample of this very funny and awesome web comic. Look for the link at the bottom of this article to visit Jago's website and read more of his Living With: HipsterGirl & GamerGirl.
One of my all time favorite web comics is MegaTokyo! If you've never heard of, or read this great comic - now's your chance! MegaTokyo is about a couple of hardcore gamers(Piro and Largo) that one day(after spending all their money at a E3), decide to take a trip to Japan, to where gaming is a way of life.
Once there(in Japan - city of Tokyo) things go from bad to worse, and the two gamers must figure out a way to get by in a strange land with no money, and no way to get back home!
From then on it is one misadventure after another, filled with gaming humor and world wide conspiracies! A must read for any fan of web comics.
Fred Gallagher, writer and author or MegaTokyo hit a sweet spot when he created this wonderful web comic. His uncanny ability to tell a story, mixed with great gaming and techno humor is without a doubt some of the funniest stuff you'll ever read. The predicaments he tosses our two gamers into are not your typical run-of-the-mill everyday happenings - but nevertheless, you'll be laughing your ass off reading this. Trust me, once you start reading you won't be able to stop. MegaTokyo has been around since 2000, so you've got a lot of material to chew through - but every page is priceless.
Here are a few examples of MegaTokyo so you'll have some ideal what to expect from this wonderfully drawn and written web comic. As I said...this is my all time favorite and you'll see why!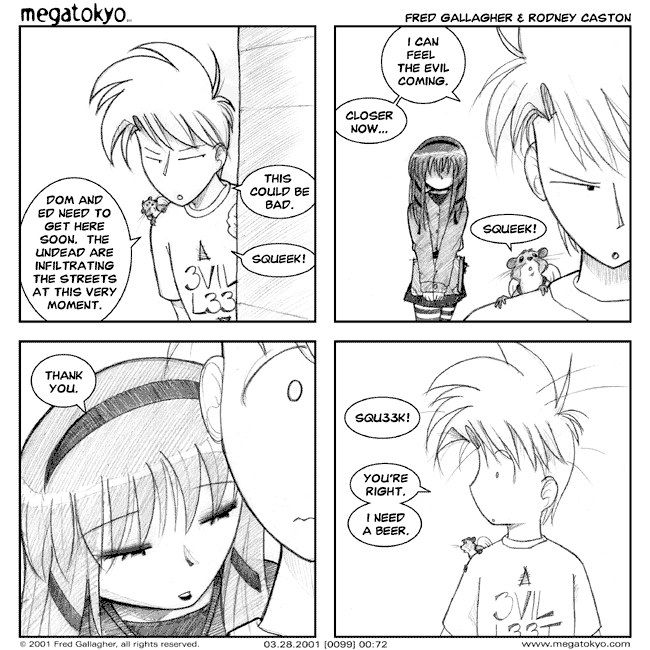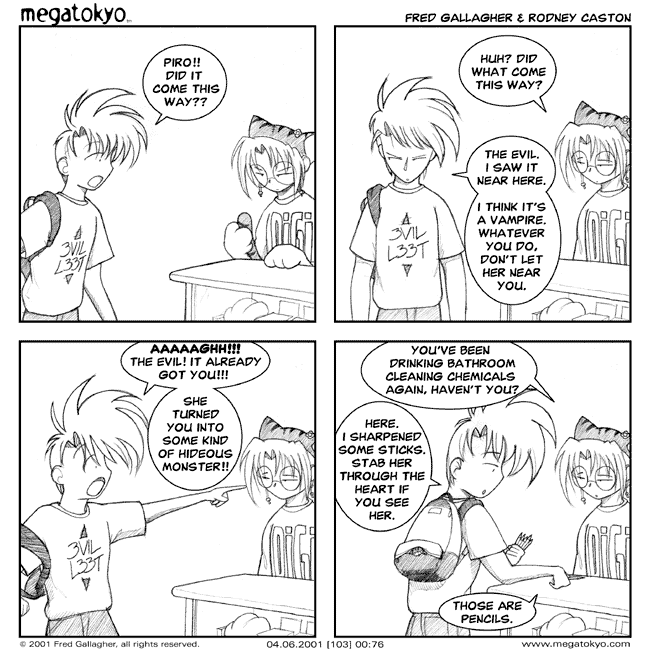 The art is a little rough in the beginning, but Fred becomes much better as the story goes on. One of a kind web comic done in the style of a Japanese Manga - MegaTokyo just oozes awesomesauce from every page. If you'd like to read either, or both, of these two great web comics click on the links provided below!
Living With: HipsterGirl & GamerGirl
If you know of some awesome web comics others might enjoy reading, please feel free to leave a comment and a URL, or name, of it so me and others might check it out!. Thanks for reading!
Stay tuned for my next article - next week - same time - same bat channel! So you think the Golden Age of MMORPG's is long gone...I don't think so. Find out why!