Today you are free to play any game you like on the Internet because of one thing - Net Neutrality. Net Neutrality means you have unfettered access to any and all websites at whatever speed your current connection allows for. For a better understanding of exactly what it is, may I suggest some reading of this website. Net Neutrality - Wikipedia.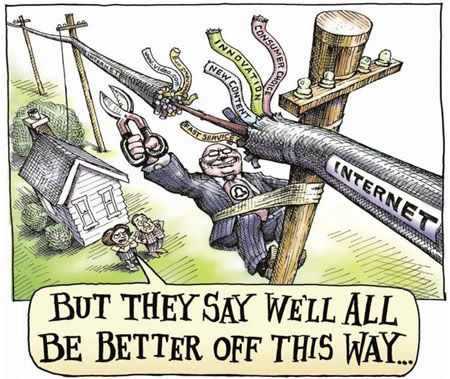 This last Monday and Tuesday, behind closed doors the FCC and such companies as AT&T, Verizon, Sprint, ComCast and Google had meetings to discuss Net Neutrality, broadband Internet, and wireless networks. What is at stake? The Internet. For years the Internet has been accessible to anyone and everyone for the most part and that meant that you and I could access hundreds of games, thousands of blogs, and little known websites without fear of slow down or access to them. That all may change within the next few months if telcom and cable companies have their way. With the closed door meetings being held by the FCC and these companies it can mean only one thing. We the consumer are going to lose this one. The corporations will win and when they win the Internet as we know it will change and it will not be better - but worse.
Let's look into the future of the Internet. Experts(even the creator of the Internet Tim Berners-Lee) all agree that if telcom and cable companies have control this is how it'll probably be. (It should be noted that Google is for Net Neutrality)
Imagine a tomorrow without Net Neutrality in place.

That free to play game you've fell in love with...you no longer have access to it. Oh wait, you haven't heard. AT&T has decided that those free to play games are consuming to much bandwidth and have blocked them from the carrier lines. Good news is that you can switch telcom providers and go with Verizon! Yeah! They allow for that one free to play game to have access to their carrier lines - oh yeah, sorry,...forgot to mention that the game you thought was free to play actually cost money to play now. Yeah, you see in order for you to even have access to the ftp game, said free to play game company has to pay a monthly service fee to Verizon so that you can enjoy their game. Unfortunately, said ftp game was not making enough money with their free to play price plan and needed to add a small monthly fee to offset the cost of being able to use Verizon's carrier lines so that you can access their game. Oh and there is one last little thing I guess I should mention. See during peak hours of usage you may encounter some slow downs of your game. Yeah I know...sucks...but Verizon has to limit the amount of traffic during peak hours because their is this other company that has made a deal with Verizon that allows them unfettered bandwidth usage during peak hours to allow for streaming TV directly to their in-home web TV systems...maybe you've heard of them - Apple. Oh yeah...they have a huge contract with Verizon and AT&T and others to have maximum bandwidth to their Internet services such as AppleTV and iTunes. So around 6pm EST when you're just about to enter that instance and kill that boss and suddenly your load screen freezes and you have to wait 5 minutes...don't worry...I am sure it'll load eventually. But hey! At least you can still play that game you love!

In the news. Activision/Blizzard has signed a multi-billion dollar, 10 year contract with telcom and cable providers Verizon, Sprint, AT&T and ComCast to allow for players of their game World of Warcraft to have access to their game. The game has been inaccessible since early 2011 when the new laws regarding Internet usage went into effect. After months of negotiations the companies finally came to an agreement and a deal was made that will net the telcom providers millions of dollars a month in usage fees. Stocks for all three telcom companies rose today upon release of this news.

Activision/Blizzard announces new price plan for World of Warcraft. As of July 1st, 2011 the monthly subscription fee for their game World of Warcraft has gone up by $5 US, from $14.95 a month to $19.95 a month. This is to help offset the cost of the new access fees imposed by telcom and cable companies Verizon, Sprint, AT&T and ComCast.

Also in the news, little known websites by the thousands are no longer accessible due to the new laws and regulations created by the Telcom Act of 2010. Telcom and cable providers said such websites were eating into their profits and were taking up bandwidth that could be used to provide better services and access to such companies as Google, Apple, Hulu, Twitter, Facebook, Netflix and YouTube.
Comcast today announced their new in-home Internet service NetCast. This new service will allow for premium ComCast users to access all the services provided by ComCast via their new NetCast services which now include Skype voice and imaging communications services right through your television. This also includes access to such online game providers as MicroSoft, Activison/Blizzard, and Sony Gaming Online. New price plans will be available the first of next month and ComCast company representative we spoke with expects only a minor increase in monthly fees depending on the package plan you decide to go with.
Many mom and pop websites and Internet companies are closing shops. Unable to pay the new access fees regulated by the telcom and cable companies hundreds of online stores and services were forced out of business due to the new restrictions place on bandwidth control by ISP providers. Thousands of people that use to make their living via the Internet are now unemployed.

This is your tomorrow without Net Neutrality - are you ready for it?
Wish to save the Internet and keep it free? Visit these websites and read up on Net Neutrality.
Backroom Dealings and the Fate of the Internet <<< read this article.
Save the Internet / Join the Fight <<< clicky
Network Neutrality: Fact vs. Fiction - Why Consumers Demand
Internet Freedom <<< PDF File