This coming Sunday many people across the country have plans to spend with their father-figures. However, like many of the rest of you I will be spending time with my favorite video game father figures! Without further ado, here are my top 5 favorites in order of least to most.
5. Don Corleone
In the movie he looked at Johnny Fontane and said, "A man who doesn't spend time with his family can never be a real man." Although director Francis Ford Coppola didn't approve of Paramount's releasing the game in 2006, I'm so glad they did. I love the Godfather book, the movies, and yeah, I love the video game, too. This is one of the few that can pull me away from my favorite
MUDs
. It's always fun stepping into a virtual role associated with your favorite media entertainment, especially when Dad..erm..the Don is there.
4. Joe Hayabusa (Ninja Gaiden)
Off in the wilderness through the first Ninja Gaiden game, daddy Joe was off training and thus left the Dragon Sword (ancient piece of weaponry passed down from one generation of Dragon warriors to the next) to his son, Ryu. That is so badass! I would MUCH rather that someone would give me a cool weapon for Father's Day than me buying my dad another tie he doesn't need. In the Dragon Sword game in the Ninja Gaiden series Joe eventually returns and impressed with Ryu's skill with the weapon. Finally ready to parts with the sword, he tells Ryu to keep it…for-ev-er!
3. James
Did you see the movie Taken starting Liam Neeson as the dad who shoots anyone in the way of his adventure through France as he attempts to rescue his kidnapped daughter? His character of James in Fallout 3 is so not like that, at all. James is an uber-scientist who plans to clean up the radioactive water around Washington, D.C. (As someone who lives in the greater D.C. area, and has seen weird fishies growing in the Potomac, all I can say is, "Good luck, James!") Sadly, he puts his work first which means his kid (i.e. you, playing the main character who is James' kid) gets neglected. This would keep him off the list, except that personally I'd love to see someone clean up the water around the Potomac! Too bad he bites it shortly after the adventure begins.
2. Eli Vance
If you love Half-Life like I love Half-Life, then you probably have a soft spot for Eli Vance. Although he only lasts through the end of the [SPOILER ALERT!!!] second episode, his goodbye scene is one of the most heart-wrenching ones I've ever seen in any video game. I've watched the scene cause grown men to cry like PMS'ing women watching Sleepless in Seattle. He's not a super-brilliant scientist like James. He's not a badass mob boss like Don Corleone. He's just a normal dad, the kind of dad who loves his kid…the kind of dad ever kid wishes they had. And I'm pretty sure that's why he's #2 on my list.
1. Darth Vader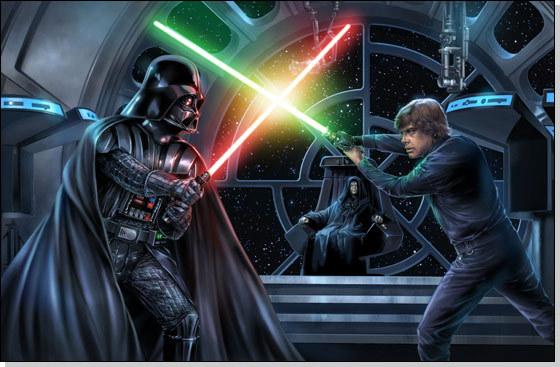 Who can forget the famous line "Luke. (whoooosh-swoooosh) I am your father." It has spurred parodies across generations of entertainment. Except Darth Vader actually never spoke those exact words. Here's how it really goes down in the original film:
Darth Vader: Obi-Wan never told you what happened to your father.
Luke Skywalker: He told me enough! He told me you killed him!
Darth Vader: No. I am your father.
Luke Skywalker: No... that's not true! That's impossible!
Yeah, worst father of all time is #1 on my list. Even moreso than some of the "dads" in my favorite
MUDs
. Sure he abandoned his kids, leaving the ignorance over their parentage to almost enter an incestuous relationship. Sure he fought his sun on several occasions with deadly light sabers. But when push came to shove he 'fessed up and told Luke the truth. And then he stood by it to the end. How can you argue with that kind of a final chapter? I sure can't!
Hey, thanks for stopping by my blog! If you're a dad, then Happy Father's Day to you, and if you have a dad, don't forget to at least text him on his big upcoming holiday. While we're here, who's your favorite father-figure from video games? Even from MMORPGs or MUDs? I'd love to read all your comments!