I don't have a lot of screenshots at my disposal. Most of them are on my desktop computer, which remains on a shelf for now. These are mostly ones that I posted elsewhere and then went back to find in order to post them here. My intent is not to impress but to entertain. Maybe. We'll see.
Also, I had a frustrating afternoon out in the heat, so I am at the mental level of looking at picture books. Words hurt my poor sun-fried brain.
I am sure you've met this guy somewhere before-- All mouth from the neck up! :
And I am pretty sure I dated this fellow in high school:
What are friends and guildies for if not to make fun of you? "We still saw you die." Hehehe!:
Here's the character I mentioned in a post this week. I had never experienced any of the advantages of playing female characters until I played this one. It was almost surreal being flirted with so much. I can't imagine why she was so popular:
And on the topic of gender in games, this was an experimental character. I'm just throwing this in here because it amuses me:
The family that plays together stays together. Me and two of my sons during one of those anniversary events where their accounts were reactivated:
I have more AAs than my title suggests, but I'll always be Mistress Mirin.
This next picture is about a year old, so everyone looks older than this now, and the sun was so bad it isn't even a great picture. Nonetheless, the mom in me is overcoming my common sense, so I am posting it anyway. My RL guildies...er....family: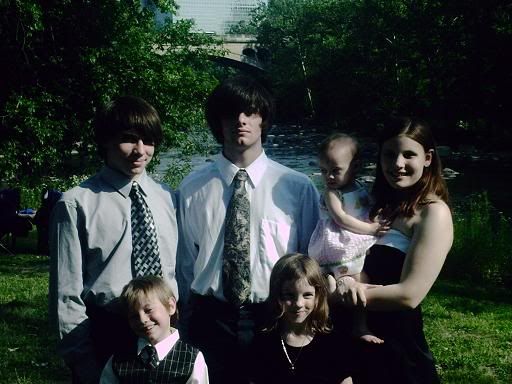 Villagers so totally do NOT need any more offspring!
Villagers need food! Time for me to make some dinner.