Hello again Blade Wars fans! You may know by now, that Blade Wars is not your typical F2P MMO. Fighting in Blade Wars should be familiar to you, until you come across the following menu: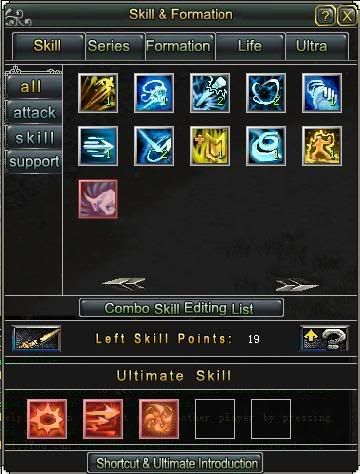 You can access the Skills & Formations menu by pressing "F6". All of your current skills will be listed here, and you will even get a sneak peak at your next one (which can be differentiated from your current by their red tint.)
Wait, what is this button here?
Hmm, let's press it and see what happens.
Ahh, this is the combo interface. Here, you can customize up to four combos that can be tailored for different lengths, offensive or defensive situations, or even to exploit enemies with certain weaknesses.
For every 7th, 10th, 15th, 20th, 27th, 35th, and 42nd consecutive hit, you will earn a damage bonus. I have been playing around with my skills and have been able to get a 27 hit combo so far! Course, you can get up to 99 hits, but I haven't come close to that thus far. I have seen videos of it though, so eventually someone who is better than me will be able to figure it and beat me handilyJ.
Anyways, let's get a combo up there...let's see…How about this one…
Raksha Hit, Sharp Punch, Raksha Hit x2, Acalantha, Raksha Hit x2, Defense Breaker
This combo gets a good amount of hits, usually at least seven, but if everything goes well it can get to 10+ with the next additional damage boost! The higher in level I reach, the more moves I gain and the higher combo strings I can put together. I guess that experience will have to come out on a later blog :).
There are countless ways I can go with these, so I'll have to keep tinkering. Pre-Closed Beta is still going on, but we will be going to open Beta in not too distant of the future, where hopefully more people will be able to experience this fighting and combo system first-hand. We need some more people in game to test my Warrior's skills against, so don't be shy!
Take it easy everyone, and hope to see you next time!
-Jaynestown