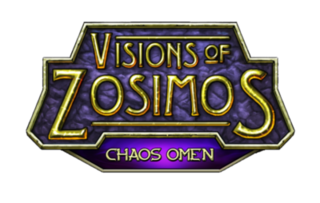 Welcome to the "Visions of Zosimos" (VoZ) Developer Blog! Here, we will talk strategy about the design behind the MMOCCG "Visions of Zosimos". Before we go into more depth about that, however, we'd like to talk about our recent efforts to bring together the community and get the word out about this revolutionary new game and genre.
Our Facebook page will be posting updates regularly every Friday – but we'll never wait for a deadline to deliver new and exciting news! Be sure to "Like" and post on our page for the chance to win prizes, up-to-and-including beta keys. In addition, a concentrated effort has been made to increase forum activities from our dev team. You should be able to spot them easily from a special custom avatar, so your questions can be answered directly from someone involved in the development of VoZ! Finally, we are beginning to rev up for an Indiegogo campaign, so be sure to check it out once it begins. Details will be posted both here and on the Facebook page as soon as they are available.
As for this blog, it will be aimed at discussing various design decisions, from the lore to the art to the game mechanics themselves. It will be updated regularly, so be sure to check back . Some things we may cover include:
Alchemist Spotlight- an in depth look into the personalities and backgrounds of the alchemists you can choose from.
In-depth Mechanics discussions
Game Design Insider- a walkthrough of the design around a particular card, from its conception to the various changes that were made (and the reasoning for said changes), up until the current form of the card.
And many other topics that merit discussion!
We look forward to sharing with you the exciting development cycle of this new genre of game!