Magic World Online -- a new free-to-play, item mall-based "Concept MMO" currently in Closed Beta II (no more wipes, though) -- caught me by surprise. I rather accidentally stumbled upon this game when I was looking for a fresh MMO or Beta.
Not really knowing what to expect, the Diablo-esque isometric 2D graphics instantly caught my eye - full of details, cool skill/spell effects and animations (not many 2D games have a client that's over 4gb big). Something you don't see that often anymore. Unfortunately - I prefer a good 2D engine over a crappy 3D engine any day.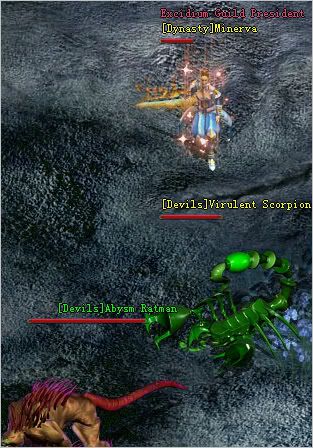 The Gameplay
First off, you create your character (visual customization is not available at creation, but you can change your hair color and style later) and choose gender, one of four main classes (branching up into many subclasses later on), and one of two Factions - Dynasty and Empire. Unfortunately the Beta does not yet explain who these factions are, other than the obvious difference that Dynasty characters start out in beautiful greenlands while Empire characters are based in a harsh desert. Those two factions, however, are the basis for an elaborated RvR (Realm vs. Realm) combat system comparable to DAoC:
Every faction has its own territories, where you can safely level up without having to fear any PvP (except PKing of own faction-mates, which results in heavy penalties - once you are a murderer you take the risk of dropping equipped items upon death). Later and more rewarding areas are contested, though. There you will have open PvP between Dynasty and Empire characters. There are also scheduled State and Siege Wars to round up the rich PvP-content of MWO.
The core gameplay revolves around hack 'n' slash i.e. killing zillions of monsters, collecting tons of items, and building up your character.
There is, however, more to this game. Some features quite known to full-fledged MMORPGs, such as player housing (with furniture giving special perks to the character), a quite complex crafting system, harvesting, mining, fishing, and even marriages - which again give special perks to the couple.
Other featues are quite unique and controversial. First and foremost the "MWO Robot".
Legal Ingame-Botting and Multi-Accounting as a Game Concept
Bots are always a hot topic in every MMO. And while no online game will ever be able to stop botting and gold sellers, MWO just chose a complete different solution to the problem: They legalized the use of bots. Even better -- and to make the game fairer to those who are not familiar with bot software -- they even deliver a intuitive yet complex bot configuration menu via the game's UI.
Admittedly this concept -- in way more restricted way known from Granado Espada aka Sword of the New World -- sounds quite queer, and I have been sceptic as well. But by now I adapted to the system and even consider it fair and fun.
Basically, it is possible to play the game AFK for most of the time (you can even play it afk on multiple accounts while playing something else, since hardware requirements are very moderate) - my toon fights, collects loot, auto-returns to the grind spot upon death, auto-sells selected loot (from a list in the bot menu), auto-refills potions, auto-repairs gear, uses AOE skills only if there are more than x MOBs clumped up etc. pp.
And even if you don't physically sit in front of your monitor all the time, performing 800234 clicks per hour, there is *still* the same feel of accomplishment to it like in any other MMO.
It is even allowed (and fun) to create multiple accounts and play a whole party at the same time.
This system comes with a few downsides, though.
Grouping with other players does not happen as often as in other MMOs, there is less "community activity" in the chat than in other games, and the massive amount of grind past level 40 pretty much requires you to play AFK 24/7 - no sane human being would sit in front of their monitor for 30 hours straight to level from 41 to 42...
But if you take the game for what it is and adapt, you will soon find it fun and addicting enough. Also fine-tuning your bot settings and finding optimal grind spots is complete different "meta game". It's like playing "Fifa Manager" instead of "Fifa Soccer" - although you can chose to *actively* play anytime.
The Skinny (so far...)
After 2 weeks I am still playing this game (or let it run while playing other games) and I still enjoy it and feel excited whenever I acquire a new good item or grind another level - even if I wasn't physically present when it happened.
Also the DAoC-like RvR system is a great incentive for grinding on - although the latter is a bit too much, with way too steep exp curves.
Since it is free-to-play, I'd say it is definitely worth a try, even if you are cynical about the whole ingame-bot-concept.
If interested, feel free to check it out at http://mwobeta.enjoymmo.com and be sure to get your free starter pack at MMORPG.com