Profession Workshops Alpha July 25th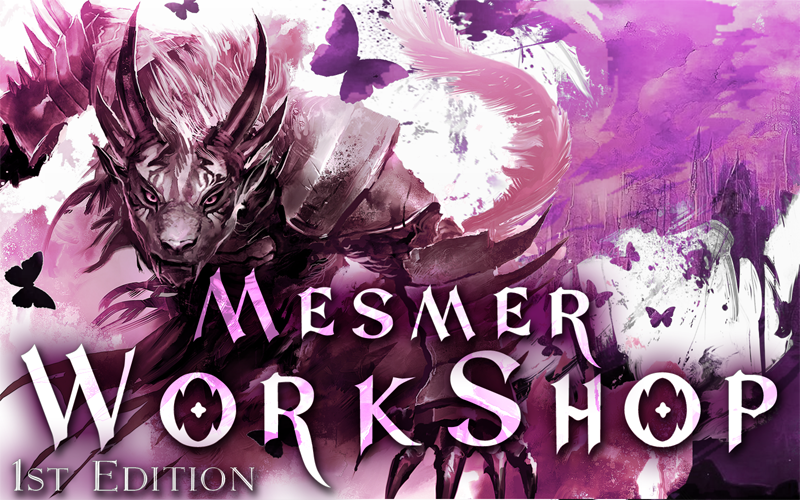 There are many people taking time to put together websites, wikis, write guides, and even create podcasts about the HOW-TOs and HOW-TO-NOTs of gaming. But something has been missing from a lot of these instructional works — the community. Since April 2012, an idea to bring the community together to supply the information needed to create detailed and rich guides and tactics has been slowly transforming into a grand project.
Now this is the formal introduction of Profession Workshops, a breakdown of its contents, and the websites and guilds which sponsor its production. Join me now as we cover the basics of this massive idea and why you are invited to help take part in its future.
Profession Workshops are a long-term evolving database of tips, tricks, facts, and pointers about the Professions of Guild Wars 2. The official project is scheduled to begin gathering information September 10th 2012 — roughly two weeks after the official launch date of Guild Wars 2. From that point on, the project will continue working on a very tight, weekly schedule for eight weeks.
Schedule
July 25 – Community Alpha Test

August 28 – Launch of Guild Wars 2

September 10 – Profession Workshop 1

September 17 – Profession Workshop 2

September 24 – Profession Workshop 3

October 1 – Profession Workshop 4

October 8 – Profession Workshop 5

October 15 – Profession Workshop 6

October 22 – Profession Workshop 7

October 29 – Profession Workshop 8

November 12 – Refinement Period Begins
Note, We will be holding an official poll starting July 25th on which Profession we'll do first and what follows it. We will begin with the profession that has the least popularity
Each week, beginning September 10th, will mark the beginning of a new Profession we'll be covering. During that week, we will request that several volunteers who feel they are proficient in that choice profession come in and join us. We will host voice-chat servers for people to join in twice a week, allowing for hours of discussion about that single profession. We welcome everyone to come in, even those people who just want to listen in and learn something new.
We are highly interested in finding people who are willing to give details to tactics, skills sets, builds, and more based on their style of play and what type of format they play it in. Each profession behaves differently in WvW, PvE, and Structured PvP — making for lots of possibility for dozens upon dozens of different approaches to the same profession There is no one viable, perfect build — but many. And there is no one right way to play. We are not trying to find the best of a profession: we are trying to record what people have done with a profession to provide a database of tips and tricks to help people learn based on what people are doing with it. We do not wish to tell people what they NEED to be with a profession.
A lot of people like to try something new and do something that hasn't been done before. So by providing a database which quickly allows a player to see what is popular and what most people are doing, then they can potentially put together something totally new and not fall into the classic flavor-of-the-month cycle.
All of this information will then be dumped into a website, created as an offshoot to the already present
GW2WvW.com
. What the website will offer is a way for the community to quickly navigate and identify what the rest of the GW2 world is doing with that profession, but also be able to amend their own suggestions, tips, tricks, videos, audio instructions, and more to the website to help it grow.
The Workshops themselves will provide the foundation to this information, but it will be up to the community to build upon it afterwards in the coming months as Guild Wars 2 matures.This is not a simple Wiki-website, but a more interactive experience that will not just explain mathematics and numbers — but provide testimony from various players about a skill, weapon, or trait that is used by several players in several situations.
Let's say you are curious about playing an Elementalist with a Main-Hand Dagger. When you look through each of the Dagger abilities, you'd get drop downs not only of what the ability does but also of how often it is used in WvW, PvE, and Structured PvP. By selecting a type of gameplay, then you'll see how people are using it and be linked to testimonies, videos, and instructional guides on how to execute many of those same moves yourself.
This database is designed to teach and inform not only new players, but also show seasoned players what other people are doing to help increase their own experience in this vastly complex PvP game. Furthermore, players may be able to acquire fame by being a frequent provider of information to this website. Their name will be displayed by every piece of testimony, video, tip, etc… and if they provide enough their name will be displayed on the top of the "Provider Boards" on the front-page.
Consider this a project to create a central network hub where the entire Guild Wars 2 community can amend and provide information for all to share and use — and it's all made by an independent developement of Guild Wars 2 fans.
So come join us July 25th after the third and final Beta Weekend Event. We are going to gauge the popularity of the idea based on the turn out, and whether or not people join will indicate how much more advertising we will have to do before the Guild Wars 2 release. If you are interested in helping out, please attend July 25th and share your ideas and your interests.
July 25th's Topic
The topic subject will be about
Profession Workshops
themselves and as a test we will also talk about the subject of
Engineers
. Come in, join us, and help the community flourish and grow. For more information about this major event, such as the voice server we'll host it on or if your guild would like to join our sponsors, please send an email to
TemperHoof ( @ ) G M A I L . C O M
— so that you can be added to the mailing list. Or visit
GW2WvW.com
for additional news.
Sponsors (Updated July 17th)
Don't forget to BUMP this Blog.