This is a heads up as to what is coming up in my blog in the future. I have been thinking about WoW, and what Blizzard could do to make it even better than it all ready is. I wrote a previous entry on this subject awhile back in my Open Letter To Blizzard, and in it I discussed some things, and tossed out some ideas that Blizzard could use to make their game better.
This time around we're going to touch on some old ground and some new ground. May take more than one entry to get it all in, but I think you'll enjoy what I write and suggest. I have some really great ideas on how Blizzard can enhance a players overall game enjoyment - both PvE and PvP aspect of game play.
Plus!
Once Cataclysm goes live I'll be doing a bi-monthly write up on my experiences in game from the perspective of the various classes available - that I currently play. I play a multitude of classes like Healer, Shaman, Hunter and Tank(Blood DK) - all 80's. So look for that in the future as well.
Picture Below: My DK standing in front of Alliance Faction Section of Dalaran. We planted Orgrimmar Banners, with the Horde emblem on them, in front of the Alliance Banners because we constantly own them in battles on the PvP server I play on. We do it so much so that many Alliance have left the server and some have switched sides. So Blizzard might as well just make everyone Horde, and give us rightful ownership of all of Azeroth! Horde for Life!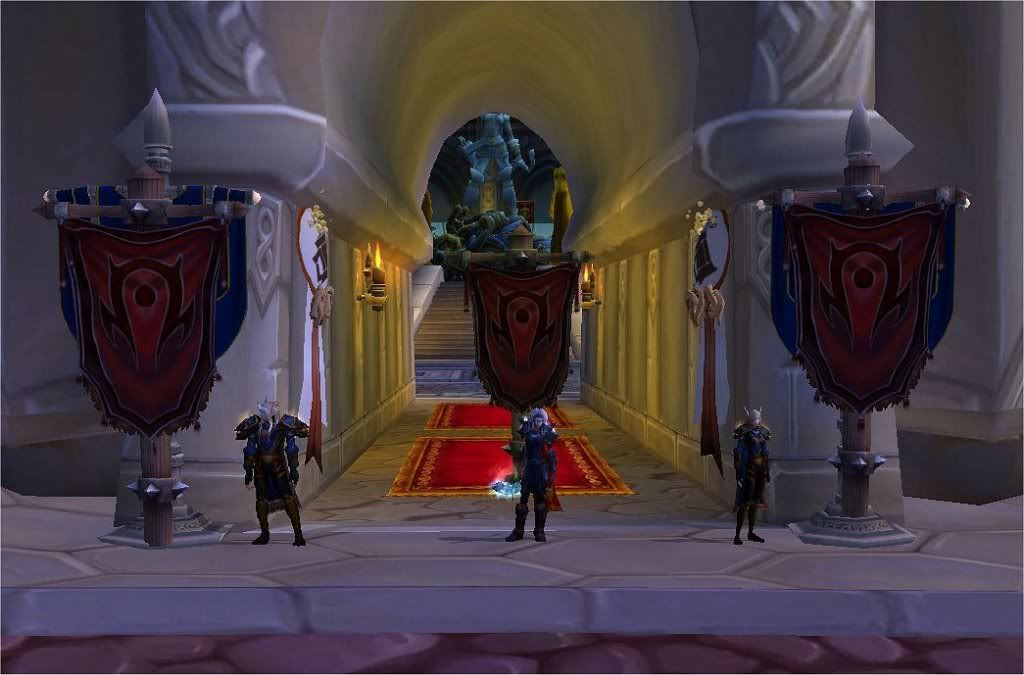 I've given up on EVE for now, so I'll not be writing on it any longer. This is my last month to be subscribed to that game. Until CCP releases Incarna and makes Incarna an integral part of EVE I do not see myself continuing to play it. I just cannot(as I have mentioned in previous writing) wrap my mind around the game being all about space ships. I so wish we had avatars that we played and that they would be as important as our ships are. Sure the game is about our characters being plugged into these ships via a pod full of goo, but let's face it...it is all about ships...the game revolves around ships...and until that changes I think I'll just play a wait and see game with CCP. They have been promising us avatars for years now and we're still waiting - that proverbial carrot dangling on the stick has long since wilted and rotted away CCP. ::sigh::
And once again I will be going back and re-visiting Mount and Blade and discuss why an MMORPG built around Mount and Blades character progression system and combat system would just absolutely rock. This is one single player game(with multiplayer game play) that I just cannot stop playing. There has never been a single player game that has had this kind of impact on me, and I can seriously see a game like this becoming a future MMORPG, if the designers of this game put a little thought and effort into taking it down that road. I would have loved to be a part of the team that worked on such a project - unfortunately I have a new goal that I have been pursuing, and so games and MMORPG's remain merely a hobby. Maybe that is a good thing! I think if I actually was involved in game design for a company like TaleWorlds I would drive the programmers crazy and always be asking, "Why isn't this possible?!" or "What do you mean we can't do that?!" LOL!
Anyway - here is to the future, and to our love, and passion for the hobby of playing games - especially MMORPG's!