Kristi: "So have you heard of the game Mount and Blade?"
You: "No."
Kristi: "No!!!!!!!!!! OMG...where have you been - living in a cave?"
You: "No."
Kristi: "Well let me tell you about this little known game called Mount and Blade."
You: "Is it an MMORPG?"
Kristi: "Ummm....no."
You: "Oh...a single player game."
Kristi: "Yea...unfortunately."
You: "Hmmm...it's not an MMORPG, I don't like playing single player games."
Kristi: "Yea I know...but this game you should really try."
You: "I don't play single player games though."
Kristi: "But this game is so much fun!"
You: "What is it about?"
Kristi: "Its about medieval warfare. It has elements of an RPG mixed with RTS game play."
You: "Is it a fantasy game?"
Kristi: "No...it doesn't have orcs, wizards or goblins...but what it does have it does better than any other game I have ever played."
You: "But you said it wasn't an MMORPG...so who cares?"
Kristi: "I know...I know....but it kinda plays like one....sorta...well kinda..."
You: " huh...?"
Kristi: "This game maybe not an MMORPG(yet), but it is screaming to be turned into one!"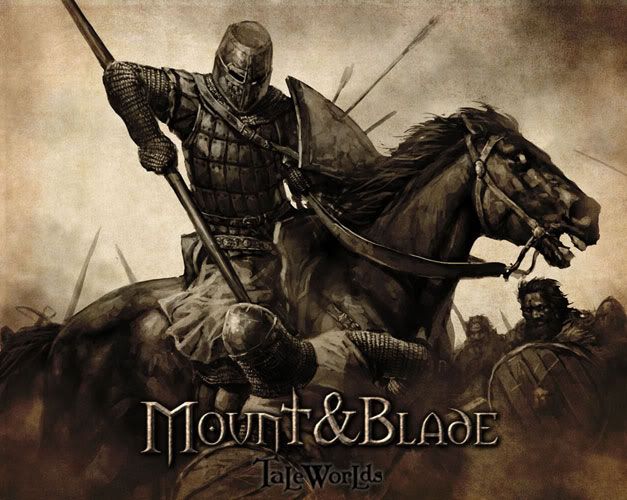 Seriously though....if you are reading this and have not played Mount and Blade yet...you're missing out on one of the best made games ever. The developers behind the game Mount and Blade have gone to great lengths to make a game that brings all things medieval to life. Things like fiefs, lords, kings and epic battles in in virtual world that comes to life inside your computer. While you're playing, things in the game world are constantly in motion - just like an MMORPG. Villages are pillaged half a world away, castles fall, a lords fief is crushed by his enemies and more. Though Mount and Blade is not an MMORPG it has elements of one built into it. So it is no stretch when I say this game is screaming to be turned into an MMORPG. I know there are people that currently play it that say it cannot be done and to do so would ruin it....but I say...."Are you kidding me! With just a few minor changes to the way the game plays this game would put all over MMORPG's to shame."
First off the game has a great skill based character development system in place. Though you do gain levels they are merely for show because your skills and stats are what make your character who it is...and it is totally done in the style of an FPS game. Yep, that's right, the game uses FPS type combat...and you know what...it works...it works extremely well and the best thing about it is it is fun! Though there is not the usual controls typical for an RPG in place like hot bars for skills, attacks and such...that doesn't matter. The developers have done an excellent job programing in fluid combat unlike any game you've ever played before. And those stats and skills your character has - do improve and do work to make your character smarter and fight better. The marriage of FPS with elements of RPG character development in this game is what the MMORPG genre has needed. No more button mashing, or queueing up your moves...everything is in real-time and the combat is addictive and fun.
Think of the game called Planetside with hundreds of players fighting it out in real time against one another, but instead of a futuristic setting it is set in a medieval world. That is how this game would basically play only better if you take into consideration all the elements and game play that currently exist in the game.
Second, if you've ever played a game where players can take over castles and keeps like Dark Age of Camelot or Lineage II, then you'll know, once you've played Mount and Blade what I am talking about. Imagine players creating guilds that over time gain a castle of their own, then a whole fief, and then perhaps a whole kingdom. The players in playing the game would be able to have an impact on the game world unlike any MMORPG game we've seen to date. The games content comes from the players themselves exploring, traveling, creating kingdoms, conquering lands, going to tournaments, battling hordes of NPC brigands and player controlled bandits, kings, lords and mercenaries.
Third, new game content could come from the developers(if the game was made into an MMORPG) in the way of more lands to explore and maybe new game play elements like the addition of some minor fantasy based content. Maybe add wizardry and dragons and some mythical game play we like to have in MMORPG's for instance a good dungeon crawl. The possibilities are endless and this game is as is is ripe to be converted to an MMORPG unlike anything we've ever seen or played before.
If ever there was a single player game that should be turned into an MMORPG, Mount and Blade is it. This game(once it is released) will go down in gaming history as an instant classic. It has been in development for many years and though it is still in development and not yet officially released it is free to down load and play at the Mount and Blade website. The current version that is available is the last version before the publisher releases it to the market - beta version 0.960.
The single player game currently has many modules available to change the game to mix it up and make a whole new game. You can change it to play in a Star Wars setting, a Lord of the Rings world, or a historical setting from our own real history like the 100 Years War and medieval Japan and many, many, many more.
I know the game is a single player game and not an MMORPG, but don't let that stop you from experiencing one of the best designed games to hit computer gaming in many years.
The developers over at Tale Worlds should be commended for creating this wonderful game. You can tell that they truly loved what they were doing by the amount of detail they put into their game. Truly a work of love and it shows.
So what are you waiting for?! Stop reading this blog entry and go download the demo now!
Mount & Blade <<< get it here!