So here we are June 17th, 2010 and E3 has almost run its course and the information about the new games is trickling out to the various websites around the Internet and we're getting a smörgåsbord of coverage. This in turn has players frothing at the mouth like rabid Bugs Bunny looking for any tidbit of juicy info they can get their paws on regarding their favorite game. Even if it is just the table scraps left after a good meal - they'll eat it up just as readily as any $2 dollar cheese burger from the local Mickey D's.

Then comes the excitement of posting said information to your favorite MMO forum. Your tummy is about to burst because of the butterflies that have built up in there. You type furiously away and hope that another poster doesn't ruin your day by making the first post about the new CGI cinematic from your favorite upcoming title - this cinematic oozes pure Wonkalicious eye candy and you want the glory of posting it first. You post the URL to the video and hit submit. Tada! First! Woohoo! You raise your hands in triumph above your head like you just scored the winning goal in a 2010 World Cup match.

Then you patiently await post from other forum viewers to see their reactions to the awesomeassaroussauce video you just provided to them. You're hoping for some fun and exciting comments to share in your enthusiasm for the game you've been following for a couple of years. Then they come. One here and then another and another. You wait a little longer before clicking the threads title to see what others say...and "click!" your patience has run out.

Then you read the first response.

"It's not working for me."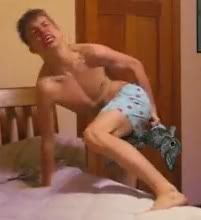 OMG! What? I negative comment? How can this be? No way! OMG what a jerk. A troll! This person is an idiot. They don't know what they are talking about. They are a HATER! OMG a hater. How dare they come into my thread and sully my post with their trolling post of hate! The Hater must die! The blood in your brain begins to clot and the veins on the side of your head begin to bulge and you're thinking of running into you bedroom to shove your beloved Mr. Fluffy Bunny(the stuffed animal you keep tucked under yor pillow) up your arse.

You focus on your mouse with anger filled eyes and slide it over and click "reply" as fast as that furless, legless electronic creature can track. Who the frak does this person think they are anyway? OMG! Screw them! They just don't get it...but I'll show them...I'll expose them for the hater they are and send them running to their mum like the basement dwelling, fat, 30 something year old, neo-zoom dweeby that they are.

You furiously type away trying to avoid the words that you know will get you banned. FRAK! OK, you remain calm and back track a bit, hitting backspace furiously. OK...have to respond and put this hater in his place...but OMG you do not want to get banned. You begin typing again at a calm steady pace, the veins on the side of your temples are not so prominent as you enter your words of disgust and insult that you have so cleverly hidden within your comment, that will surely save you from banning and send this hater crying to their mummy.
You read it over once - good no typos and no bad grammar. You hit the submit button. Screw them! Let's see what they think now. You sit back, smug in the knowledge that your l33t board warrior skills, honed from years of experience on battle field skirmishes across many a gaming forums will easily diminish the hater to a pile of muttering putrid poo(don't ask me - I just made that up) and send them packing.

You await the response from the "HATER". You could careless about the other post, but this one...the first poster slams the most beautiful CGI you've ever laid eyes on and he/she will pay for their slanderous words of hate.

Finally...a response. You quickly mouse over and click the thread title and scroll down to see the incoming response from the jerkwad hater that would mess with your post and try to make your game look bad.
Then you read the haters words.

"Dude..why do you have to be so rude? I can't get your link to work."