Over the years that I have followed games, especially MMORPG's, technology has been pushed further and further to give gamers the best experience they can possibly get. Same holds true for how we receive information about games. Long ago it was primarily through gaming magazines - back before there were even things known as BBS's and later the Internet. Yes, before that we used smoke signals...but that is a whole other story and that is showing my age - ahem.

Today though! Today, we have the Internet, Twitter and all that comes with it. For gamers and publishers this is a win/win scenario. No longer do you have to wait for a month before the gaming magazine you subscribed to was on the rack at the local book store. Nope. Gone are the days of waiting and we get all our info on the latest games almost as soon as info becomes known, and sometimes even before.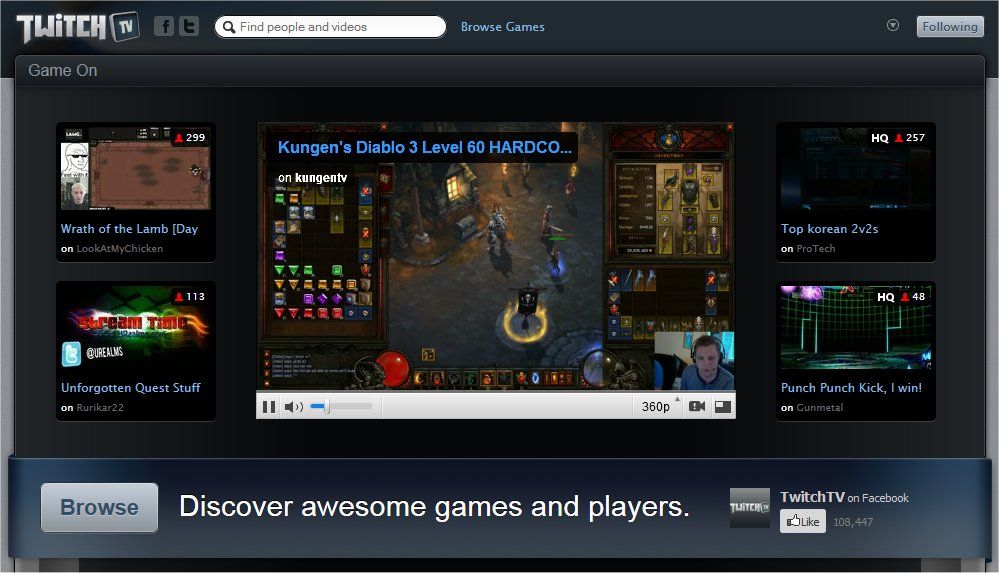 We have blogs, Internet gaming websites, Twitter feeds, gaming news videos, podcast, and of course our network of gaming friends that are constantly sending info back and forth amongst one another - and now we have Twitch TV.

If there is one innovation game companies and publishers should be embracing it is this not so new, yet not quite mainstream, technology. If a publisher were really hyped about their game they would be having people on Twitch TV playing their game 24/7. It is a cheap form of advertisement for one. Second, it allows players to see the game in action. Third, it can be fun to watch as players talk about the game and describe it in real time as it is being played.

Even here on MMORPG.com we have players like Pokket, that are taking this new live streaming technology and making good use of it. It has opened up a window into the gaming community to a new way of getting their information on games unlike anything we've ever seen before. No more guessing as to how the graphics are, or how the game play is, or if there are lots of bugs. We can see it for ourselves right on our PC's - or even our TV's sitting on our comfy couches nomming popcorn.


Another thing that Twitch TV has brought to the community is a new way to network this information in an easy to get format. Many Twitchers have links to related gaming websites or other Twitch channels that then have links to even more information to your favorite game of the moment. When it comes to games we can never get enough info.

Another aspect of Twitch TV is the ability to live stream gaming tournaments as they are happening. This includes not only MMORPG's, but other games like League of Legends, Diablo III, and the hot new Arma Mod that has the gaming community all in a frenzy, Day Z. This leads to my next good thing about Twitch TV...

...Twitch TV can be very entertaining. As I said you can watch live streaming gaming matches of your favorite game like Starcraft series with in game commentaries by people that are gaming gurus. Watch raids from high level guilds as they are happening - live. Some of the best moments is when something in game unexpectedly happens and catches the player that was streaming off guard. Like watching some noob for the first time trying to enter low-sec space, get bagged and tagged before he can blink an eye. Moments like these are when Twitch TV are at its best.

All good and all a lot of fun. So I have to ask? Are you missing out on all the fun and info - are you Twitching it?