Hello world!!
Star Wars Galaxies's NGE has fascinated us striving players (still playing) since the ultimate SOE let-down back in 2005, and my goal of blogging on MMORPG.com is to introduce the great wonders Star Wars Galaxies has presented so far. Well instead of discussing SWG this time, I'm going to talk about the new Star Wars movie that's about to hit theaters later this month.
_____________________________________________________________

The new Clone Wars movie;

You all know it -- it's an animated movie directed at the children's appeal.
Crazed bloggers and posters alike have claimed that the movie has a "horrible graphical style" and a "Disney Channel-like humor", therefore it sucks. LOL

I have to admit, the first time I saw the trailer on TV, it felt a little too much like it was one of those new Cartoon Network shows, and laughed to myself.
Then I wondered, "So....Where was Anakin in all of that ZOMG??"
I eventually found out that Anakin was the guy with the Runescape hairdo, but I also realized that I really wanted to see this movie.
Not only because I think that "you aren't a fan unless you can love it all", or because I don't care what the heck kind of approach they put onto the Expanded Universe, but because this movie is the future for the younger audiences as well. This was probably one of the smartest marketing ideas ever: to aim Star Wars at families, moms (which is working), and expand it further among young children (which is seriously working).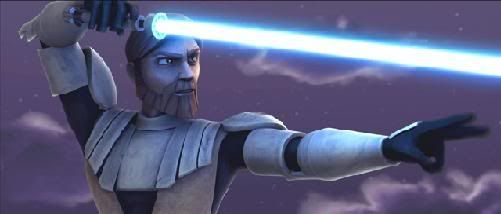 Even if I didn't love the approach they put into this movie at first, it doesn't mean that they failed at all.
I still think the fact that it's Star Wars is good enough for me to enjoy it.
____________________________
EDIT: I just saw it and loved it, all Star Wars fans old and new definately should not pass this one up. The commercials don't do it good.