Hello world!!
Star Wars Galaxies's NGE has fascinated us striving players (still playing) since the ultimate SOE let-down back in 2005, and my goal of blogging on MMORPG.com is to introduce the great wonders Star Wars Galaxies has presented so far. Later this month, the awaited "Trading Card Game" will be released, which is already in beta, and clinging to players already.

____________________________________________________
Earlier this year during springtime, the SWG team announced the project of creating a new Trading Card Game along with The Battle of Hoth (which is also doing extremely well).
The new trading card game for SWG, Champions of the Force, will be a similar and newer version to that of Everquest's Legends of Norrath. CotF will also include some fabulous in-game "loot cards" (explained below) alongside an intriguing storyline as you play through these virtual decks.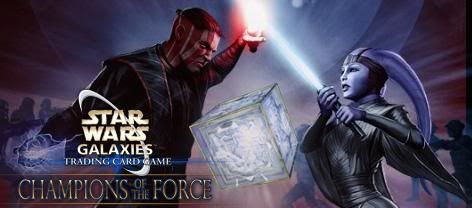 Might I say first and foremost, the artwork made for this content is astounding. It makes us players really feel like the team cares about the game we love so much. PROVEN the fact that it is not only shown in hundreds of new cards, but new objects and artwork are also spotted for in-game content provided as well. Below is an idea of the artwork (Javascript PopUps), and what it is like on over 100 playing cards:
So onto the game itself...
Champions of the Force is a standalone client which can be accessed in-game or out-game. Speaking of that, you do NOT need a subscription to play. However, any loot cards you get of course will not be redeemable until you log into Star Wars Galaxies.

Anyway, each player will recieve one Starter Pack and five Booster Packs every month to play with. Additional packs can be digitally purchased, but IMO the price isn't worth it at all (Boxes are up to $99.99). The player will build their decks how they choose, with chosen factions and avatars. The game can be played "PvP", or against the computer with "quests" and "quick matches". Both of these are compliant with grouping as well.
It doesn't stop with the playing cards there though. Star Wars Galaxies: Champions of the Force also shows off some fascinating "Loot Cards", which are redeemable for some extremely neat in-game items. Some are simple appearences, while some are major pieces hardly touched since the NGE. These include flyable airspeeders, house greeters (gungan, ewok, meatlump) with VOICE messages, new structures, new furniture, and even a pilotable podracer!

Many more awesome things follow my small list -- and these aren't copied objects with some fancy costumes like the previous SWG "new" objects, mind you.
Below are shots of just a few of the hundreds of lootcards themselves: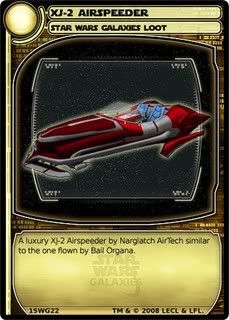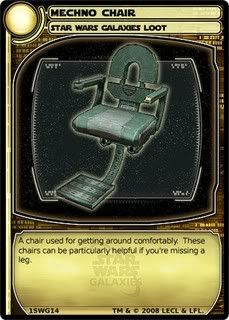 So overall, what do I think of it all? I think it's a fabulous way to introduce new objects and above all, a new feature. This is yet another unique piece of content that Star Wars Galaxies carries, and is certainly siding with all of the other wonderful things to do in the game.

We already have endgame and outside-combat features, and its great to see even more.
No other game has that
-Soara
http://www.starwarsgalaxies.com


***MY DISCLAIMER: Negative or "critically constructive" comments will not be worth keeping if the poster has read few or no paragraphs***