Most games revolve around a gimmick, and when you've got a good one, you milk it for all its worth. Mario had blocks and mushrooms. Sonic has rings and speed. Everybody loves a good formula for success and and as long as you change it up from time to time, everybody will continue to love your game no matter how many sequels it spawns.
When you don't do this, it's called rehash.
Companies raping the rehash altar are simply lazy baggers looking to make the most money possible by putting in as little effort as they can get away with and have you still buy the game. The MMO industry is a haven for this behavior and most of it resides in the F2P sector because the standards are generally lower than sea level with a budget approximating that of a bad porno. Buy a premade MMO kit, slap some new textures on it, rent the servers and you're in cash shop business.
Not everybody is guilty of free to play fornication, but it looks like Nexon is looking to be first in line to pray at the rehash altar.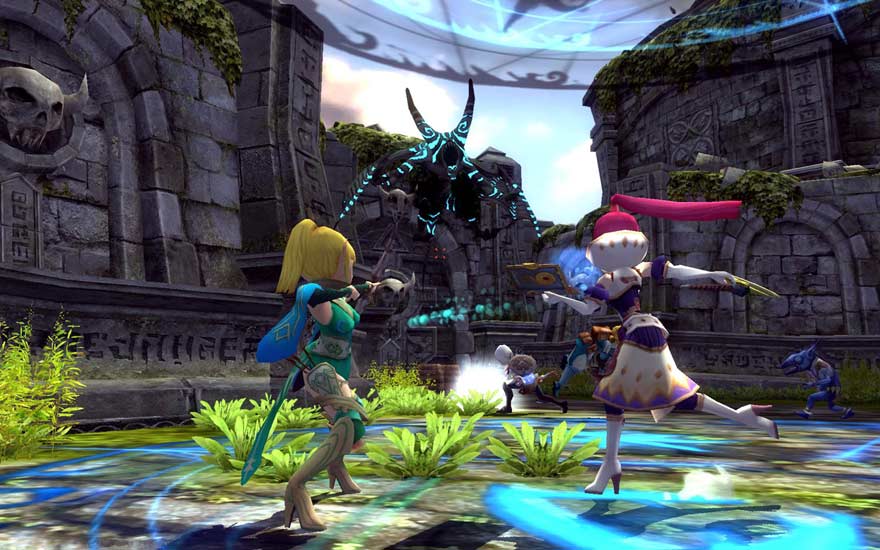 That's right folks. Dragon Nest. Now I would like to say I'll be pleasantly surprised by this title since it looks bright, flashy and full of action. My source at PAX confirms the aforementioned attributes, which is good... Except that it plays almost like Mabinogi and Vindicutus, where you have a minimally realized world and randomly generate instanced dungeons that are the antithesis of "Massive" Multiplayer in spite of the MMO tag.
Mabinogi was passable, if not for off kilter rock-paper-scissors combat system and daily job grinding that made the game a job in itself. Vindictus fell even further from that ideal, essentially making the outside world little more than a pretext backdrop to send you to your randomized five man instance dungeon. Sure, it was pretty- Hell , i loved the intro alone -but anybody looking for any sort of depth was sorely disappointed; to the point where it felt like the dev team just ran out of funding when it came to finishing the rest of the game. Vindictus should have been DC Universe and could have easily been that... And just as successful, I might add.
Unfortunately, Dragon Nest is looking to cover the same ground in the same manner. It's pretty, detailed and probably lots of fun until you've had your arcade fix and realize that this sin't an MMO in any way, shape or form, and that you can just go down to the Gameworks or Dave & Busters for the same hack and slash without the hassle of a cash shop purposely crippling your gaming experience.
Then again, who knows. Maybe they actually completed this one. Added some badly needed depth? I'd be surprised, though. F2p has left me a bitter gamer and it looks like Nexon is content with sucking the rehash off to the last drop.