Properly utilizing the Training Grounds is an excellent way to level your character up during any downtime you may have. Read on to find out how to get the most out this map!
There are several ways to utilize the idle-time training area available to all races in the Training Grounds map. By using this feature, your character will gain experience and faction reputation for every minute it stays in the designated area. This is the perfect way to keep progressing your character, even while away from your computer or asleep.
To gain access to this zone, talk to your faction representative and choose to teleport into the region.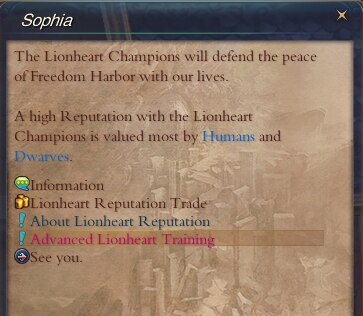 Once you're inside the map, you'll already be in the proper area to begin receiving experience after every minute that passes. At this point, you can idle for as long as you want and continue gaining experience. However, there are a variety of things that you can use to drastically increase the amount of experience and reputation you receive per minute.
The first thing you have at your disposal are Memory Lotuses. You can get Memory Lotuses by speaking with your faction representative, and choosing the Lionheart Reputation trade option. Once inside this menu, choose the "scrolls" tab. Depending on your current reputation level, you'll have access to scrolls that contain increasingly large numbers of Memory Lotuses. Once you purchase one, right click it to open it and get the lotuses. Lotuses will double the amount of experience and reputation you earn from the idle training area, and are consumed at 1 lotus per minute.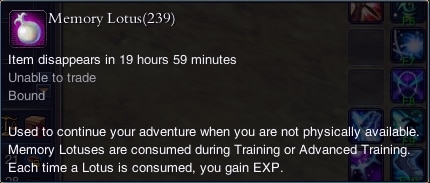 In the same department as Memory Lotuses, you can consider Memory Fruits as supercharged versions. Memory Fruits are available in the Eyrda Boutique, and opening one will grant you 480 Memory Berries. Memory Berries stack with Memory Lotuses, and provide an even bigger jolt of experience after every minute passes. If you want to make significant progress on your level while you idle, stacking Berries with Lotuses is the best way to go.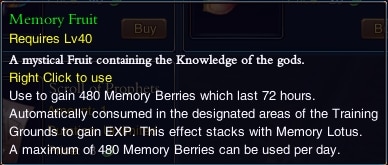 Finally, experience aid also contributes towards your total EXP gained per minute. If you've got some EXP aid saved up, it's a smart move to activate it during your idle training time.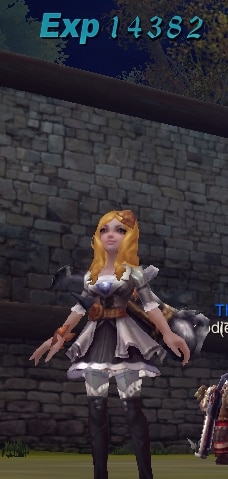 As you can see, there are several tiers of efficiency at which you can utilize the Training Grounds. Pick which setup works best for you, and don't waste another moment of down time!