Cross-posted from MMOCrunch.com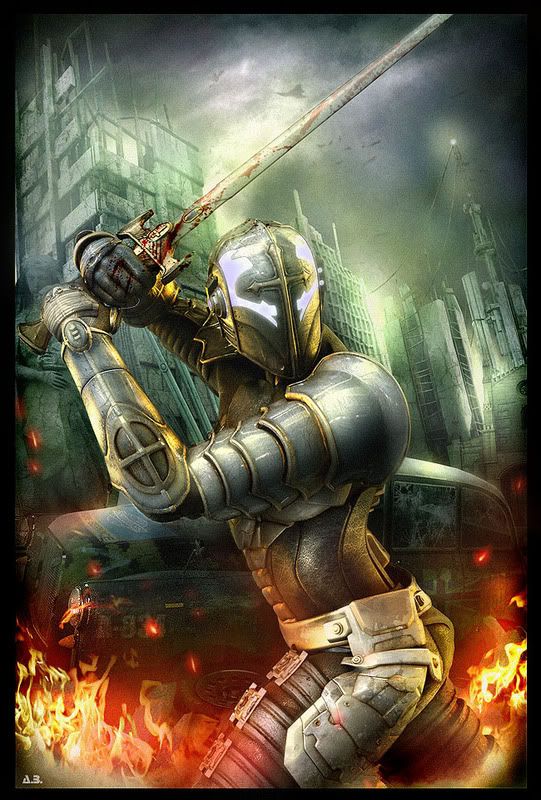 It's been a while since a major online game has been completely packed up and taken away from the public. Auto Assault? It wasn't really a major game, it was one of NCSoft's many "side" games. The Sims Online? I'll bet very few other than me knew the game even existed. Whether you experienced Hellgate: London for yourself or not, though, you knew it was out there. You weren't sure exactly what kind of game it was, and that's quite possibly largely in part to the fact that it couldn't decide on a specific genre. I'm writing about it now, since the general opinion was that this game was an "MMOG" at the very least. Hellgate: London won't leave any innovative gameplay features in its legacy, but it'll serve as yet another example of how to not make an online game.
I. Release Date - Ooh, scary!
Hellgate: London was released just in time for Halloween last year. No, the game wasn't ready, but it was Halloween! It fit the "gloomy feel" of the game, and so it had to be released on that date. I did buy this game as soon as it was released, and so I'll note some of its most redeeming features at the time of release(remember, it was Halloween, so it had to be scary!):
An awful patching process that didn't really patch anything. When it launched, the patching process was absolute shit. I remember disconnecting a couple of times, and the patch would start over from 0%. Come on! This wouldn't have been so bad if the client itself didn't crash for no damn reason at all. Side note: I did try to play the game again recently. When I went to patch it, it asked me to manually download a multiplayer patch. I didn't see a reason to, but did it anyway. I eventually gave up once I realized the game couldn't decide on whether it wanted to be patched or not.
An amazing introduction cinematic. Once you got to play the game, in-between crashes, you realized where they spent most of their budget. It wasn't on developing the actual game, it was on creating that cinematic. Everything about that cinematic was great, but I sort of wished there had been more things in the game itself than an intro.
A lot of crashes to the desktop for no reason whatsoever. Sometimes the patching process would halt randomly if you tabbed out, or failed to please the game client in some other way.
OFFICIAL FORUMS!
I realize most of the times the deadline isn't set by the development companies, but by the publisher, or the person putting all their money into the project. Either way, publishers and developers alike need to realize that if something isn't ready, it's sometimes better to spend a little bit more on it to ensure that the game has a healthy lifespan, than to release it two weeks early so that it will be shut down a year later.
II. You worked on Diablo, we get it.
The game itself wasn't as hyped as the people that were working on it. The first thing I ever learned about the game a couple of years back was not that it had guns, or that it took place in a post-apocalyptic world. The first thing I even saw on their website was "We made/worked on Diablo. You should buy our game." I'm paraphrasing, of course. Still, if the best thing you can come up with to hype your game is "we made a great game in the past" you're not showing a lot of promise for the game you're currently trying to hype.
Hellgate: London had the following things in common with Diablo:
Zombies
Items
Wirt's Leg. Real original, guys.
Other than that, they were two completely different beasts, and should've been treated as such. This is another thing game companies need to stop doing. I'll even say this got Mythic into some trouble when hyping WAR, since a lot of players ended up thinking it would be DAoC2. I, as a gamer, don't really care about your game development resume. Even the often-hated-for-no-reason SOE has released really good games, despite their bloodied past. Likewise, if you made a really good game in the past, you could end up making a terrible game now.
Just stop. Work on your game, hype its features, do what you want. Just make sure you're always focusing on your current job, not on your past. Imagine you have a child, and it grows up to be a success. If you then have another child, would you ignore or skip certain parenting aspects just because you made "a really good one" before?
III. We have guns, swords, and everything you didn't ask for.
Hellgate: London stuck to its vision from the beginning. They didn't want you to be able to "respec" your mastery trees in the game, just like you couldn't do it in Diablo. I, for one, was behind this one hundred percent. The problem in this particular case, was that you didn't need any damn points in anything. You could go the whole game without spending a single point into anything. This was especially true for Hunter classes. Your survival depended on how well you could aim in FPS mode and how powerful your gun was. That was it. You had points to spend on things, but they weren't any useful in helping you shoot things down better or faster. It's cool that you wanted us to think carefully about what to specialize in, but when nothing was useful, it didn't matter if you offered the option to "respec" or not.
This game had everything: rocket launchers, sniper rifles, automatic weapons, and...swords?! I didn't get this bit. It makes sense in steampunk-type games: not every soldier wants to spend an eternity reloading a rifle manually after each shot, and as such some will favour melee weapons. In this setting, it didn't make much sense, though. You had automatic weapons. There's absolutely no incentive or benefit to using a sword, or a shield against zombies when you could be gunning down or blowing up the masses with little effort. I guess templars felt the need to be "stylish" and using rocket launchers was beneath them. The game doesn't give you the impression that a catastrophe has occurred and everyone is doing their best to survive when you have assholes running around hunting zombies with a longsword for sport.
Another thing a lot of people were pissed off about was the lack of a LAN option for the game. I'm sure they're even more pissed off now that the servers are shutting down and they're going to be stuck with a single-player game they can't return to the store. It seems Flagship wasn't really interested in letting players play their games with friends unless it was on their server. They had reasons for this, and they were posted all over the official forums for time to time, but damn if I remember them. I don't even remember what I had for breakfast.
IV. Parting is such sweet sorrow.
Rumors are going around that the game will live on. People still aren't sure of the game's fate in the US or EU, but for Asia, at least there has been an announcement that they will try to keep the game alive. You can read about it here. The servers for US, and EU, currently hosted by NAMCO BANDAI Games America Inc. will issue their final breath on Jan 31st, 2009 at midnight.
Though we should never celebrate people losing their jobs, or someone's dream shattering before them, we should at least try to learn from it. Game development companies need to learn to take the right steps in hyping their product, preparing it for release, and take feedback from their communities. At the same time, publishers should realize that if something isn't ready, it isn't ready. Waiting a couple of months without income can net you a lot more in the long run.