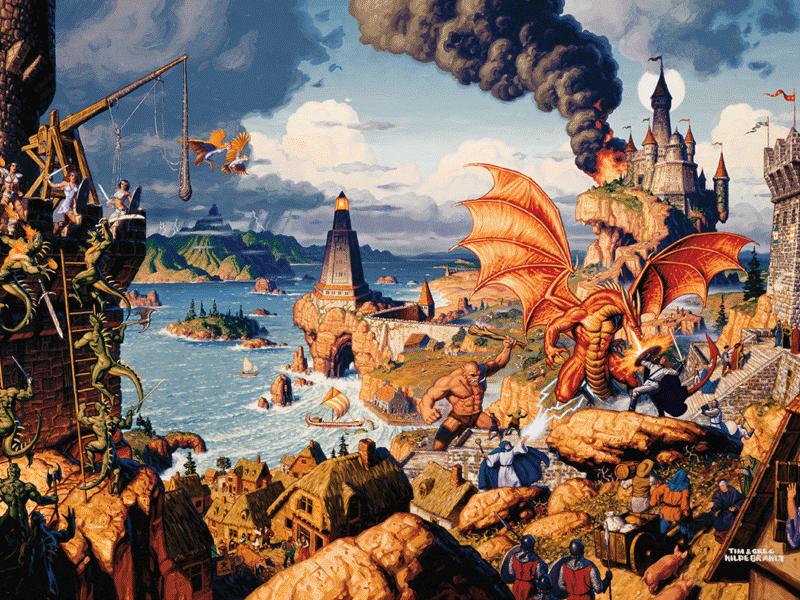 [youtube clip_id="vRGT0-RPE4I"]
Ultima Online
Just a quick note to anyone viewing this blog. I usually post a lot about old games that made me the gamer that I am today. One of those titles is Ultima Online, which probably more than ~70% of gamers have never experienced. I started thinking about UO again yesterday inbetween my crazy thoughts on getting this wedding stuff done within three more weeks. Anyways, I hope you enjoy the music of UO while you read through this blog of mine.
So, onward. Ultima Online has been a big large huge important part of what kind of games I play and why I usually tend to enjoy Western RPG's. Not saying that I didn't enjoy a few Final Fantasy titles here and there, but most of that magic died when they introduced voice work in the FF series. To me, some games just need to have no voices (ala Zelda). Luckily I don't have to worry about this with Ultima because, well, the series is basically dead. Ultima Online was a rare game for me at the time. Before UO I never had played an RPG, not FF, baldur's gate, nwn, etc... No. Ultima Online was my first 'rpg', my first MMORPG. Of course it was also my first online game I ever played. It was both my first rpg and my first online game. What a mouth full.
As my first 'rpg' game it really made an impact on what I enjoy out of other rpg's. For awhile it was all I played. I basically dropped console gaming (N64/PSX at the time) and became a hardcore UO fan. To me, my introduction to rpg was interaction with thousands of people all around the world, unscripted events, carefull thinking, and actions that most likely would not be forgotten. I was floored by what I was introduced to. I had the ability to create anyone I wanted. I could change my professions and hobbies in just a matter of time. I made a fearless warrior that had the ability to poison weapons and food. I named him Slim. He was born in the city of Minoc. A mining town.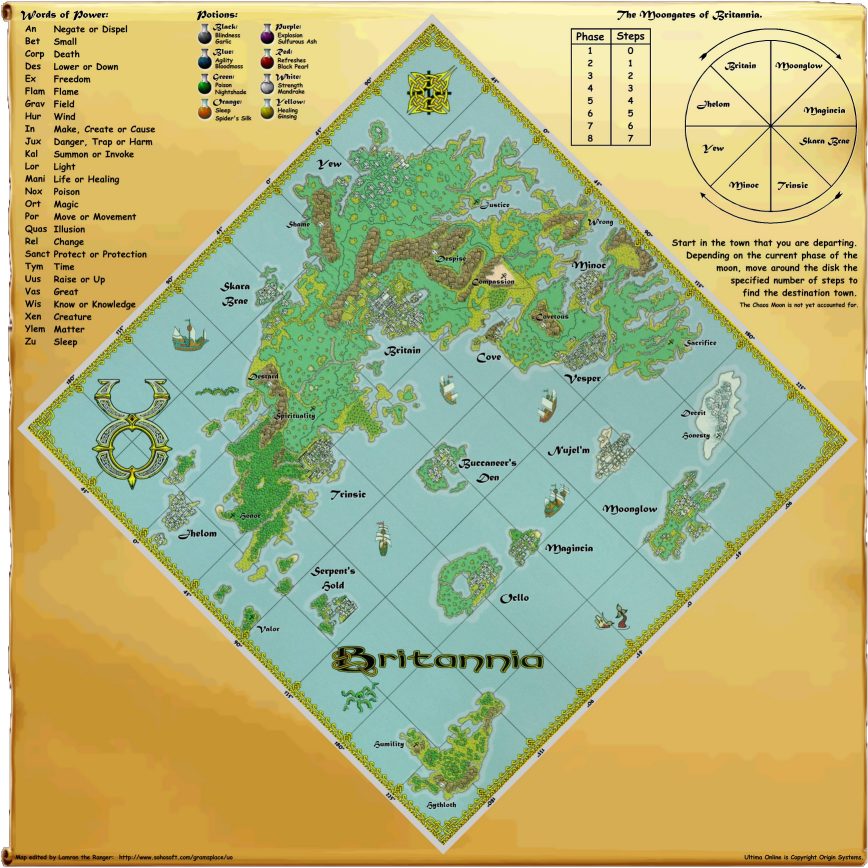 I was lucky to have a good friend of mine tell me about UO. Of course we played together and he taught me everything that I needed to know about the rules of UO. And let me tell you, by far this game had more rules that the majority of games do these days. Rules that I still feel like I'm shady on, 11 years later. He told me of the dangers of this world. There was a local mining ground very close to Minoc where the players that decided that the fighting world wasn't for them hung out at. It amazed me that there were players in UO that main purpose were to gain resources and sell their crafts and resources at their shop.
Wait, so you're telling me people can have shops? Quickly did I learn that player housing was a very popular thing in UO. Of course if you could find land to place the houses. Which eventually I did with the help from a stranger I met one day in the valley north of Minoc. I will never forget that day when I met Willy Nelson (Yes, that was his name lol) and he bought me a house, placed it for me, and gave me the keys to my house. These were the kind of people you came across with, along with people that would kill you on site, loot everything you have, and leave you with nothing but a naked corpse.
I digress. So these miners had shops, homes, places where you could go to buy their goods. The great thing about it is that they didn't even have to be there to sell you these items. Sometime their homes were decorated with the loot and treasures they received in their travels around Britannia. You could easily place any item in the world in your house just to show off. It just amazes me, to this day, that no other game really has the ability to let you place items in their world. If you can, it's most likely a static item. Most games just delete your item as if the world was one giant trash can.
Poison was also something that you had to be careful with. You see, eating and drinking was important in the game for your character. You had to properly feed them so they could stay strong on their adventures. Finding food just thrown on the ground was very common, of course I would never eat food on the ground in real life, but in Ultima I didn't get weird diseases. No, instead you got poisoned. One of my first experience with death in UO was from poisoned food. Someone deliberatively poisoned a loaf a bread and placed it on the ground, poisoning my character and eventually killing him. Cool!, I thought. Of course I was dead, but how cool was this idea. I quickly learned that with this game you had to be careful with what you do. You had to make sure you banked your items quite often because if you had an important treasure or a lot of money with you, all it took was a gang of players with blood on their hands to kill you and take it all.
Ultima Online was, and still is, an amazing game. For me, it always will be. It's hard to touch on everything you can do with this game, but I mainly just wanted to show those of you how free this game was. How revolutionary it was, yet never really caught on. Maybe because it only catered to only a few gamers out there. Gamers that wanted a 'real' risk / reward system. Gamers that wanted to be punished for not thinking things through and gamers that loved to collect things (this game was heaven for those types). It's really hard to explain UO to people that never tried it because they tend to think why anyone would want to play a game that had such harsh rules. I usually say that you'd have to experience the game. Once you achieve that one piece of treasure and escape a band of thieves/murderers and place that item in your house, you would know how a game so brutal could be so rewarding. In all honesty, UO was the only game that I would feel my heart in my throat as I was trying to quickly hide from a group of bandits. It is the only game, to my knowledge, that the outcome of events would actually change the world around you and the lore in it.
With that all aside I recently read that Ultima Online has been inducted in the GDC Hall of Fame for the longest continually MMORPG in history of online games. It brought a smile to my face to know that, to know people still are playing this game. Then I read that there are posts by EA developers that are seriously thinking about bringing the old UO back, as a business move. No more secure items, no more elves, no more gargoyles, no more safe lands. It would hopefully be the UO that once was. The UO that so few gamers experienced and so many want back. We are to know by the end of this year, hopefully, if they will actually bring back the classic UO and to what extent.
I hope for those of you that read this blog are able to understand the love I have for this game (and the hate at times). Techniqually it should be my #1 game of all time, due to the fact that I've played it for around 11 years now (off and on...but more on).
I recommend to those of you that want to try a game where your decisions help mask the world around you, or those of you that just want to make a character that designs and creates items for others to give this game a try. It's more than killing, it's more than treasure hunting. Buy a ship, sail the seas and fish for food, or booty. Take up a hobby of treasure hunting with rare treasure maps, build a camp fire and tell stories around the fire with your friends. Become a home designer for and make a living helping others to create their dream home. Try your luck at growing a garden and alchemy as you create remedies for the diseases and bugs that try to eat your plants.
This is Ultima Online