And no, the title isn't just a clever play on words.
I'm constantly reading about people who dislike this or that game feature because it "breaks immersion." There's this idea that we can suspend disbelief in a game the same way we do with movies, plays and books. Unfortunately, the very nature of games works against the common elements of narrative that these other media rely entirely upon.
Before I pull out the big guns of academic theory, let's fire a few shots into a fish barrel. Below is a screenshot of a typical MMORPG.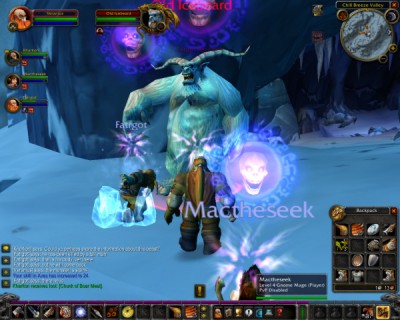 Notice the HUD. You've got the minimap, the toolbar, the player status, the status of all the people in your party, a small inventory screen, the window.....
Here's a game screencap from a completely different genre.
A little less busy, but you're still obviously looking through a display at the game world. Finally we'll look at Oblivion.
The Elder Scrolls series has always had the least intrusive user interface. Even so, you'd still have to play the game first person to become "immersed" in the game world and story. I don't know about you, but I have a hard time connecting with a character who only shows the back of his / her head all the time.
With an RPG, this is compounded by the many screens and menus you'll have to navigate: Inventory screen, character screen, quest log, etc. Let's also not forget the constant emphasis on numbers to help re-enforce your awareness that you're playing a game. Even in more actiony games like Fable, you're told the damage of a given weapon and have a general indicator of how fast it is.
Even without HUDs or numbers however, games are going to fail to immerse players. This has to do with the fact that playing a game requires you to cut through the fictional abstractions in order to learn the underlining mechanics. In short, the actual gameplay will always outshine story and setting.
In Ralph Koster's "A Theory of Fun," he actually comes right out and says "Games are puzzles -they are about cognition, and learning to analyze patterns." This is the main reason why so many genre games come out and barely make a dent in the market. They lean too heavily on genre conventions and end up feeling like a reskin of every other game in the genre. MMORPGs seem to be immune to this since the fan base thereof dislikes anything that strays too far from the formula. Thus WoW feels a lot like EQ which felt a lot like DikuMUD. Then again, this is why most gamers have written off MMORPGs as crap.
Ultimately though, you can have the best artwork and story in the world, a HUDless user interface, replace stats with words ranging from "pitiful" to "godlike," and the natural process of puzzle solving would deconstruct all that shit down to its basic patterns thus destroying "immersion" bringing the player back to the realization that they're only playing a game.
Personally, I think it's totally stupid to try to tell a story through a game. Unless it's a storytelling game, like a Red Tape War where each player is trying to write the others into a corner. Stories are their own thing and they work because we approach them as stories at the outset. Because we have no control over the characters, storytellers are free to make meaningful character that we can become emotionally attached to.
Trying to accomplish the same thing in a game is like putting a pig in a prom dress and taking it for a night on the town. It's just plain wrong.