Shares of Norwegian MMO developer Funcom traded as low as 3.16 in intraday trading on their homeland Oslo Bors Stock market. The shares are off almost 80% from their year high of 24.70 and have been trading down steadily in the wake of the release of their heavily anticipated MMORPG The Secret World.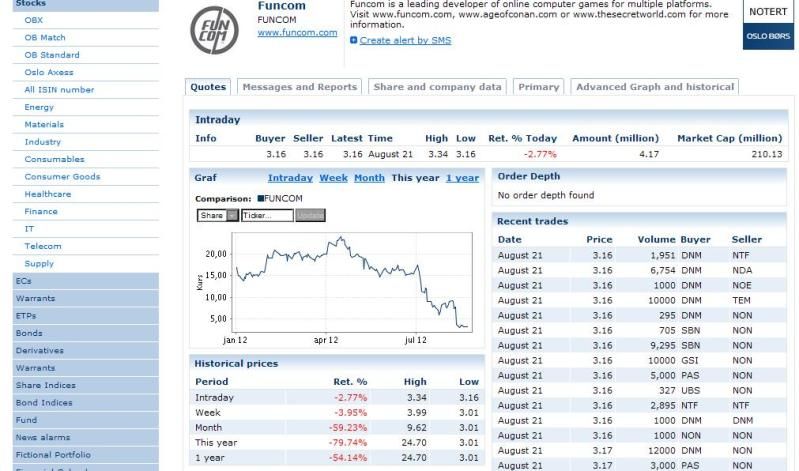 Photo courtesy of Oslobors.no
In Funcoms latest Investor Relation update states that following the launch of The Secret World on the 3rd of July 2012, Funcom's share price has decreased significantly. The company attributes this mostly to the aggregate review score, the "Metascore", for the game at MetaCritic (www.metacritic.com) together with other public sources for tracking the performance of games.
Also in that release Funcom says that they will implement several "cost-cutting" measures just as they confirm layoffs to online video game magazine The Verge. The Verge reviewed The Secret World and gave them a 6.5 out of 10 score and called the game "underdeveloped."
Just how seriously are Norwegian investors taking scores from Metacritic? In past interviews some CEO's and game developers have claimed that Metacritic scores are unfair at best. Saying that they don't encompasse all of the review scores and do not give a correct average. Marc Doyle, co-founder of Metacritic.com admitted to the podcaster over at A jumps, B shoots that "in order to have a balanced average, reviewers have to review all the cr@p." Which rings some truth as we have read numerous stories of how game reviewers can give a less than honest review of a game and sometimes only the most popular games get reviewed.
In My Humble Opinion
Not to dredge up the whole game reviewer topic but I do feel as if game reviews are very top heavy compared to music, movie and tv show review. As we see some of the most popular and well funded games get blessed with 90's or better, some hidden gems get left aside with paltry 70's and 80's doomed to a life of Steam sales and bargain bins.
Not true in the case of movie and music reviews. I would watch a movie that was somewhere around the 60's if the subject matter interested me. Cough:::Prometheus:::cough. While some other movies that score higher I would take a pass. Same with music and TV shows, it comes down personal taste, not a red, green or yellow score.
Game reviews are at best uneven, biased and best be taken with a grain of salt. The best test is by speaking with a close trusted guinea pig, oops, I meant buddy, and getting their take on the game. Also, if the game has a trial period or a beta then that would be the best way to decide for yourself, instead of an aggregate score.
Someone should have told that to Norwegian shareholders of Funcom. Unfortunately, the people who are going to pay dearly are Funcom employees; I wish them the best of luck.
One more thing...
Funcom shows having a market cap of only $41 million? That is tiny in the grand scale of software companies. I would view that as a microcap company and just as risky as an investment as Gravity Co (GRVY) makers of Ragnarok Online and horror grindfest Requiem Online. They also hold a $45 million dollar market cap. If you are an American investor looking to buy into Funcom shares, you can find them on the Nasdaq Pink Sheets for only $.62.
The pink sheets are companies that do not have the qualifications of being listed on the Nasdaq market, viewed as the riskiest bets. In my entire career as a stockbroker I have never bought a company on the pink sheets, and I am not about to start now.
Play safe,
~Inktomi