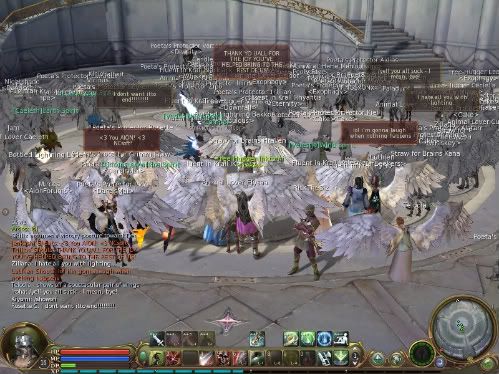 This was taken in the last few seconds of the beta in Elyos Square where everyone came for a dance/wing/duel party. Thank you to Cake, you weren't a lie.
I really can't get any more thankful than I already am. It was a blast this weekend and I feel that it was just a glimpse of whats to come. What made this more fun was the people, the community was great and eneryone was really cool. As far as the game is concerened, we just scratched the surface with content and mechanics. This game is polished! I feel that NCSoft learned from everyone elses mistakes, yet they are bound to make their own, they hit almost all of the stops. They had every element that I liked from other games and even some new ones.
I don't think giving details on what I thought was good and bad about the game would really do it justice. And yes, there were things about the game that I did not like, but weren't breakers for me. This is something that if you haven't played, you need to try out for yourself. If you have and love it or hate it that's your choice. I would of liked to hit cap this weekend, however I had some RL social stuff going on, buddys bday and theirs a new woman in my life. So I did as much as I could with the time I had, and it was enough to make a buyer out of me.
Again, I want to thank MMORPG.com, you really came through.
All the best,
Frank