Flyff was the longest 8 hours in my entire history of gaming.
Stats
Origin: Aeonsoft, Korea
Free: Yes
Wiki: Yes
PVP: Yes
Active since: December 5th, 2005
Short description: Simple Animated Grindfest
I'm going to give Flyff a fair shake as I would a game that I had fun with. But I really had to dig deep to get through the trial, luckily I found a way to have fun.
Functionality and Ease of use
Technical support: - Not needed.
Ease of use: C
Functionality: A
Stability: B

The game downloaded and installed without a hitch. Actually I did it while I was writing my Cabal review. Although the controls themselves are simple, I did go to a few of the help windows to find some functions. I found that 5 categories were blank with just 'plcholder 1' or 'plcholder 12' stated. So the helpful pang is not that helpful!
There isn't much of a tutorial or beginners quests to show you around the place and familiarize yourself with the UI. This is supposed to be a game for younger generations, if I was really new to mmogs, it would have confused and frustrated me. That hurt Flyff's overall rating in the category. Other than that, the game crashed twice and lost connection once, not terrible but I would expect better performance from a 5 year old game.
Graphics
UI: B-
Character design: C
Environment: C
Animation/Avatar movement: C
The simple graphics and repeated mesh in a large sprawling environment gave me a feel of artistic emptiness. Cartoonish design and close to no choices in avatar design left me again with a plain joe and jane. The movements in battle are cookie cutter and lackluster. Much more could have been done with the areas surrounding areas, just plain hills with a river cutting through doesn't give me the feeling of exploration. I did find some interesting little places though, I will show you more through this post.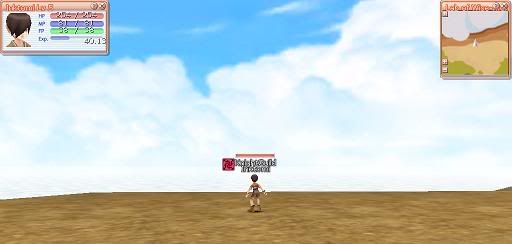 The UI is simple, plain and unconfigurable; offers no customizability whatsoever. The UI does have a slot to put your skills into so you can use them in succession with just one button, much better for grinding.
Sound
Ambient: D
Interaction: D
Soundtrack: F
Why this was almost a fail for Flyff? Because I do not like listening to elevator music while playing a game, even though most people including myself turn off music and I turn to iTunes. I am so grateful for Paul Oakenfolds podcast! And the ambient sounds for the mobs and combat were dismal to non-existent. Whack, whack whack… waaaaaa! And the mob rolls over. Overall, it seems that sound was an afterthought to the developers of Flyff.
Community
Population: C
Helpful: D
Economy: C
I logged into a sea of personal shop bubbles and gold trader spam. Local chat in towns was a joke because of the amount of spam rolling through. It seems no one speaks unless its n whispers, guild and channel chat. I had no interaction until someone added me to a random guild, that is what saved Flyff from a total F in the category. However no one in the guild spoke English, that's beside the point.
The economy to be based on player trade through shops, unless there is an auction house I couldn't find. I read in an article that the game mechanics are set up that you will never receive armor or weapons you can use to promote trade. This in turn causes overpricing that I could see was true in some of the shops that I looked into.
There is a lot of players with shops set up, I also saw a few grinding in the field with me without even saying a word to each other. This game is a soloist dream in the early levels. If you are a socializing player like myself it will quickly have you reaching for the phone to take your mind off the grinding; there isn't even any decent local chat to read.
Gameplay and Mechanics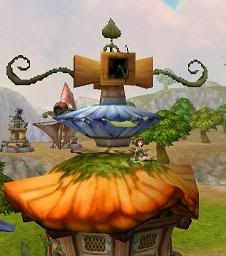 Gameplay: C-
Mechanics: C-
You log into the game and start grinding. There are little to no quests, no quest assistance in your navigator or your log. The mobs are clumped in the fields in a succession of levels. You will kill a little spudnik to a regular spudnik to a giant spudnik until you are ready to move to the next area. Which are only a few feet away; I got bored of grinding I went exploring to find large areas barren of any type of "life". I also found out that my character had a superjump and could jump straight up mountains and other parts of the geography.
Then I started to have fun with it, getting myself into random areas where I didn't belong. I ended up running into a high level mob, got pwned and rezzed over at a higher level island. I did some exploring there until I found out I couldn't handle the mobs, they were too high level. I re-rolled another VAGRANT! You will be able to take you 1st real "job" at 15 then another one at 60. There was no way I would ever see 60 but I gave 15 a run for its money.
To level the game seems to throw the grind in your face off the bat. There is PVP, but I witnessed no duels, but you can duel someone in the game. I was trying to talk to one guy to get a duel going, no luck. I don't think he spoke English. Flyff does offer guild wars, arena battles and there is a PK server. If you are interested in reading more about the quests, mechanics or PVP check the Wiki; it was helpful for me.
Cost
The currency of choice ingame is penya and the item shop uses gPotatoes. I see the Gpot cards at any 7-11 or Target (pronounced Tar-jay) when I look at what they have in stock. So finding ways to use the cash shop wouldn't be a problem. The translation to USD is $.01 to 1 gPotatoe. Cheap right? Well almost everything in the CS is at least a few hundred Gpots or better.
The CS or Cash shop as I call it seems to have many different items, from Amplification scrolls to wallpaper. Costumes are $10 - $18 for a set, they are permanent. The grinding bundles (that's really what they are called) are $15 - $30 each, who knows how long they last. This seems massively expensive and again, I have no problem funding a hobby; but there is no way in the world I would drop hundreds of dollars into this game. And that's what I can see happening with long term players.
Category grade: C (seems cheap and easy to buy stuff with Gpot cards, but once you get sucked in…)
Summary
I am a supporter of the theory that there is a game out there for everyone. But Flyff is not for me. I prefer a game with slightly more defined graphics and gameplay. I don't mind the grind, but don't make it a base mechanic of the game. I do need a community and if I didn't want to talk to anyone, I would shut my phone off and play Fallout 3. Then I could really feel like the last man on earth, or close to it.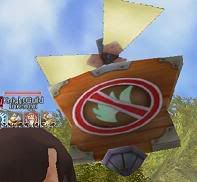 I found most of the experience fun by exploring different areas; I even found a no-fly zone. Fighting mobs that were one shotting me and laughing about it to burn down the rest of the time I needed to write a clear, I said 8-10 hours and I am sticking to it. I just hope that the others aren't as boring as this one was.
The Bottom Line
Overall: C-
Uninstalling (immediately) to make room for Regnum Online and never looking back. I left one character in a tree and the other in a sea of spam and I would not recommend it to others. I know that if someone wants to grind, just grind and only grind I might refer them. But none of the gamers that I know would speak to me again if I gave them Flyff as a referral. I like my friends, thank you.
Stay posted as I play Regnum, which of what I read is based out of Argentina. Wish me luck!
Play safe,
Inktomi