So, in mid-June, an old friend and guildmate from Warhammer Online contacted me about his plans for GuildWars2. Our original guild was called the Black Sun Boyz, which was primarily a Greenskin-themed guild in WAR, and he was looking to get the old "Krewe" back together again. We played WAR together from Beta all the way up to 2011, touched base for a short time in SWTOR, and kept in touch via Vent and email ever since. Needless to say, it's a good group of guys that are looking forward to the launch of GW2. Taburz, the GM, even made me the master of recruiting (Thank you sir may I have another!!!), but I'm not sure he thought that one aspect completely through!!! The gang is reforming and is called the Black Sun Krewe, so check us out if you'd like at http://blacksungaming.enjin.com/home, and learn all about our history and the backstory for GW2.
With a website created (although it's gone through a couple facelifts in a very short time), and with Gobbie's new poster in hand ( - all original artwork here, prepare to be amazed -), I've decided to create this blog to document our trip along memory lane and provide a snapshot of the guild's activities throughout the GW2 experience.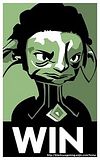 Currently, we are recruiting new members, although we already have a very solid base from which to build from. It would be nice, however, to get some new blood into the guild, so I went ahead and posted the guild recruitment post on the MMORPG GW2 forums.
The majority of the Krewe is eagerly awating the next Beta weekend, and many guildmates are brushing up on their skills in a variety of online games. So, feel free to drop on bye, send along your comments, or contact us in-game!!!
Draelith