After downloading all of these f2p games, and getting bored of every one of them, and having nothing better to do, I decided to go to the other side and check out the foreign titles. Now, I usually don't mess around with MMORPGS I don't understand, and for good reason, they are confusing and kind of defeat the purpose of an MMORPG when you can't tell what the story is, but I decided to make an exception to my own rule when I came across the fact that Huxley was in open beta and the sign up process was rather simple.
Now, anyone who has tried to play a Korean FPS knows that you can't play them without access to a KSSN, but once you get past that hurdle you are off to the races.
I didn't know what to expect when I started to download this game, after all the current developer ideas of an MMOFPS contains an Item mall, a lobby and a 16 man room. The game's client size is pretty big, 3.2gigs so it took a good amount of time to download, and after it finished it took another hour and a half to patch, but after that the game was ready to go.
Before I start on the game, I have to mention the intro movie is absolutely amazing. Even without a single grain of knowledge of the Korean language, the emotion of the story was easily conveyed by just watching the CG Clip.
The clip was about 10 minutes in length, but after it was done I was excited about getting into the game. Choosing a server was rather easy, despite the language barrier, and the character selection as well. Now, anyone who has followed the game knows there are two races, the Humans and the Alteraver, the website will have you believe there is 4, but they just consider the female counterpart to be another race, which we all know it isn't.
Now the character creation process was ok, it wasn't really deep, but it wasn't shallow either. There was just enough depth to ensure that I would be able to have a relatively unique face and the ability to move around the facial tattoos and scars helped widen that gap a bit more, but the slider variation weren't all that different so in essence there is about 20-30 facial variations you could come up with for each race and gender, which is still quite a bit.
The initial cutscene after getting into the game is also pretty cool, if I understood what they were saying it would help a lot but it was still enough to give you some fairly decent immersion, but it loses points because it is the exact same sequence for both races. After the cutscene you are tossed into the training mission, which is also the same for both races. If you ever played an fps game, then you know what this mission is, the usually walk, look around, jump pointlessly, crouch under debris, jump on the air geyser to clear the gaps…. Well maybe that last one isn't common. Then a quick run through of the combat.
Everyone starts off with the same 3 basic weapons, which basically show the strengths of all 3 classes. A machine gun, small rounds, good for killing monsters medium to close range, has very little accuracy at long range and with the iron sights, makes it easy to bang those running headshots. A grenade launcher, slow, but good for groups of monsters, and a sniper rifle, which is obvious what it is used for.
Now the game plays like an fps, but more specifically, the game plays like unreal tournament. And that is not because of the engine it is built on, it has no ammo system, and it uses a series of nodes interspersed around the world to refill ammo, I will go on record saying I don't like this ammo system, while it is great that it removes the need to stock pile bullets, since you go through rounds pretty quick, it makes no sense to have these things floating around the world.
But that was my only real dislike of the game, once you get out of the first town and into the first mission the game is freakin' sweet. The missions are done in a way that basically focuses around solo to small teams. You get a nice feel because it plays like the story is focused around your team. You should know that both humans and Alteraver have the EXACT same missions, so besides looks and higher level gear, there is no advantage to either race; this is a smart move in my opinion, people can make their character based on what they like and not based on racial advantages.
Before you guys go into this game, I will try to paint a picture so you know what to expect. This game is not a persistent world. The game would be better compared to Guild wars then WoW, it has towns that function as a lobby, and massive world maps that are just solo instances for you or your team. But you can immediately see the unreal engine in effect, the game uses the stream loading system, and if you aren't familiar with that it basically loads the game first, and then streamlines the textures in as you are running around the world. The load times are pretty impressive, especially since the game is so beautiful.
I only did the first two missions and I enjoyed them. But I must say, if you are a hardcore fps player like myself, you wont really be challenged by this combat system. Headshots are really effective, so if you have even a little bit of skill you can just rampage through all the monsters, and you aren't allowed to change your gear or skills on a mission map so you have to return to town if you find a new piece of gear you might want to use. Items drop on the map and looting them just requires you to run through them, and the maps have home warps scattered around the world so getting back to town is really quick and easy. But like guild wars, every time you close the mission map the mobs all respawn and you have to kill them all again.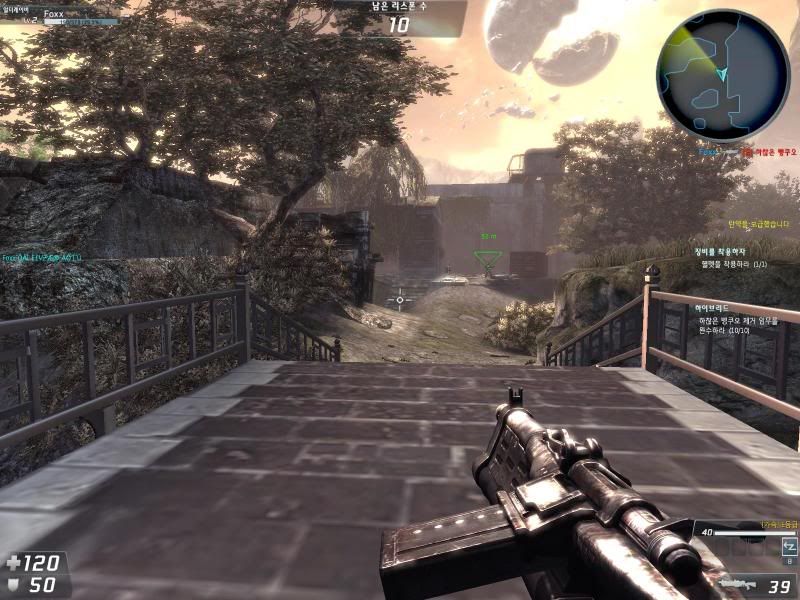 I only made it to level 5 on my first day, and I made a new character just to create a video to demonstrate the game from the beginning. I plan on going back into it today, and I will add more to this review the farther I get into the game. But so far, I really enjoy it, it actually feels like an MMOFPS, unlike the current games like Combat Arms and Warrock, the game actually has some element that extends past getting into a room and killing other people.
I think all those fps gamers looking for a good mix between story, fps and online interaction will enjoy this, but it may be too early to say, from what I read, the pvp zones don't start until level 20 so I will get up there and get some footage of that to include in the next write up.
The Video will be a while, but when it is ready I will include a link to it in this write up.
www.youtube.com/watch - Video 1
www.youtube.com/watch - Video 2
www.youtube.com/watch - Video 3