After getting wind of Tera's new seven day free trial offer with some additional handy tips from helpfull peoples (1, 2), I jumped right to the chance.
In hindsight I should have named this blog the Freeloading Pony, I guess, considering the two last entries were based on free offers too. But I am not ashamed of being a penny pincher in this age of the Online Gaming Deception. Yeah, go ahead and call me out on that one while I solemnly stare at my plastic bucket and scoop catching dust in the corner of my room.
But let's move on.
Tera has been on and off my radar in its past years of development and porting work. Some aspects looked appealing, others not so much: it was to be another quest based themepark and it had some very obvious anime roots and "AZN" design choices in some of its playable races. Even though its real time aiming and tactical combat managed to interest me, I never really got truly hyped for the game so I very consciously skipped on preordering or jumping in at launch. I reckon that's a stance shared by many in our community.
Anyway, to cut the intro short: I'm very grateful for this opportunity for skeptical fence sitters like me because this game has managed to positively surprise me in more than a few aspects so far and I will tell you why;
The good stuff:
Quality perception:
It is polished like your grandmother's best silverware.
They haven't saved a dime on Brasso in Korea.
The game has wonderful and inspired surroundings; the natury bits but the cities and villages too, scoring high marks on my immersion index. Most of the interiors are a sight to behold as well.
Next to this it seems many zone transitions are seamless and despite the use of restricted teleporting, the real time traveling on Pegasii and mounts helps to preserve a wholeness in your perception of the gameworld. All this more than makes up for the only clear negative in world design I encountered so far: the bleeping invisible walls you will encounter on cliffs here and there. I guess they are very keen on virtual suicide prevention at Bluehole.
The noob island is very sugar-coated like. Later on zones are more realistic.
The 36 gig client is a nimble wonder; my rig is mediocre at best but it doesn't even break a sweat and I can only hear my fans speed up to an annoying level on some of the cut scenes. Something that happens during regular gameplay for me in many other games.
The attention to detail in most of the interiors is a sight to behold.
Graphics:
If graphics were crisps these are about the most crunchy I ever ate. The level of detail is astonishing on just about anything; there's virtually no untouched spots in the game world; everything has been thoroughly designed and the game's award worthy crispness makes sure it stands up to close examination. Also the way the Unreal 3 engine handles distances and fast camera movement are marvels. I'm almost tempted to blurt out "omg next gen garfix!" on this bit.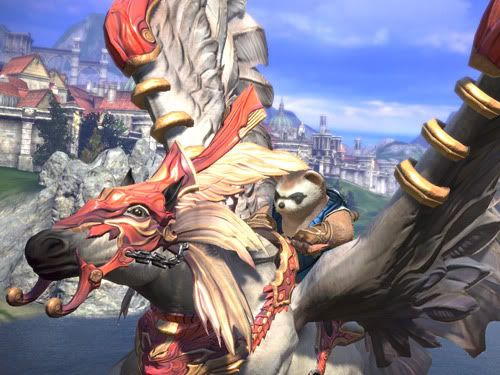 Lighting, crispy textures and attention to detail are all outstanding.
Combat:
Like everyone and their chipmunks who got some hands on time with Tera probably already told you: the combat is great. I'll go as far to say that it delivers such a compelling core gameplay that it makes up for the majority of my personal themepark related gripes (!). It simply makes the game fun to play despite its conventional nature in many other aspects. The real time aiming, tactical use of movement and distance in combat and obvious but satisfying strategy in skill rotations really hold up.
I wouldn't mind it at all if other developers would take this system as an example to replace the tab-target, spammy faceroll kind of combat which we might as well put out with the trash as far as I'm concerned.
If I have to single out a negative aspect in Tera's take on combat it would be some of the skills stopping you dead in your tracks when you use them. It's not like no other games do the exact same thing but because of the fluid and free nature of the rest of the combat system, it simply stands out more.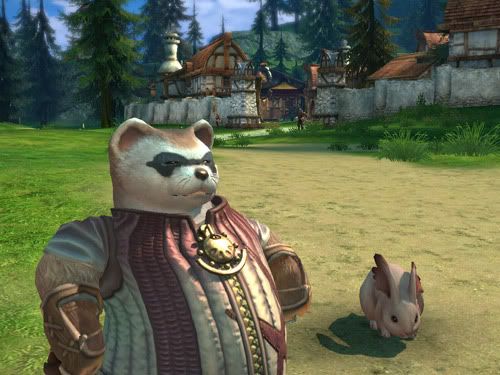 What do you mean, "Are you two related?"
Partial to the combat fun are the care and vision that went in the design of your npc opponents: there are really big, hulky ones that require careful handling and there are masses of grouped critters which are very satisfying to wipe out with AoE abilities which you'll find in many classes. It's pretty clear that this game is an AoE farmer's wet dream. I am actually enjoying a sorceror at the moment, despite my life long preference for melee dps and archer classes (having virtually no downtime as a sorc in Tera helps with that).
The iffy bits:
Character and class design:
The most obvious iffy bit is the typical design flavor of some of the races, armors and gear. You'll either love it or hate it. Personally I found myself having a hard time settling on a class and race combo because each one had at least one aspect which I didn't like so much; the huge weapons from Lancers and Berserkers, the 100% anime look of the Elin, the weird, forward pitched running animation from Castanics, the monochrome color schemes of the Aman, the alien features of Baraka and the "purty boy band member looks" of most of the male versions of the "realistic" races.
I started four characters and ended up settling on a Popori sorceror. I used to play a gnome in WOW so I kind of felt at home with the small, clumsy, runt aspects of this race. The few things I didn't like about it so far were its armor designs and how it giggles like a maniac at each succesful harvesting attempt. Anyway, your mileage may vary in this regard as it is a hugely subjective point.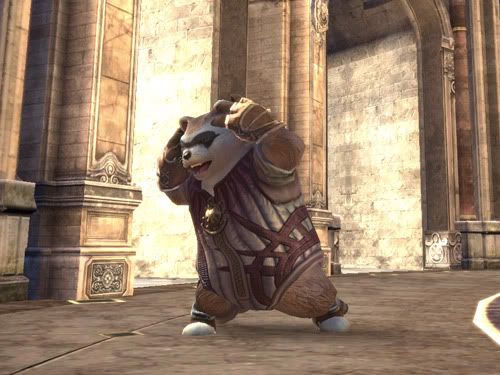 Me being outraged for getting another romper suit as a quest reward.
Another iffy bit to me was the "prequel" which you have to play through on your first character: it's short, linear and didn't do much other than confuse me because you'll start out at level 20 with a ton of skills and you feel like you're being tossed right in the deep end of the pool. Thankfully it can be skipped after your first character made it through. Later on people pointed out the benefit of this feature: you get to test most of the skills and animations for the race-class combo you picked. So in hind sight it isn't such a bad thing at all.
Female character art; not a negative in my
personal opinion
pants.
Tera doesn't hide its themeparky nature. It is a typical quest based mmo so it's back to the good old "not reading pop-ups and hitting accept like a mofo" on this one, at least for me it is.
Tera has no separate cities and infrastructure for factions: if you play on pvp servers it's pretty much ffa with an added flagging mechanic. Personally I didn't mind getting one shotted as soon as I activated my "outlaw" status for the first time this morning, but it doesn't help you much when trying to get some levels under your belt as a lowbie.
I much prefer WOW's take on world pvp with factions who will generally run into eachother in the middle of zones and don't share hubs. The systems needed to make this factionless design work (flagging + safehavens), make world pvp a bit artificial in my opinion.
On the up-side: there are mechanics in place to declare war on other guilds(!) and you are able to host your own multiplayer death matches anywhere in the world.
I haven't dabled long enough in pvp to truly get the gist of it though and I'm curious about its value at higher levels.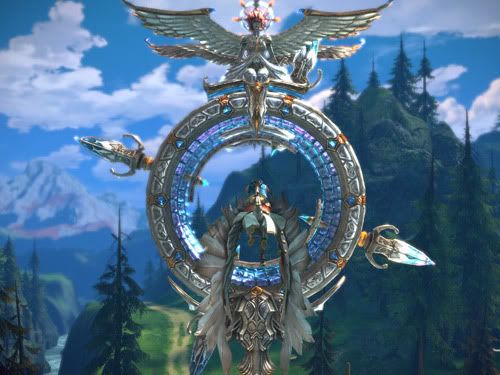 War-decs and gankers, not the only similarities with EVE online.
So far for my first impression. I didn't get to the BAM part yet but I thoroughly enjoyed the challenge of the first boss fight at the end of the starter island so I have a hunch this will make the pve even more fun than it already was for me. Also apart from harvesting I haven't looked at crafting yet and as previously mentioned my pvp experience was very short and brutal.
All in all my first experience was positive but too short for a final verdict. If real life allows it, I will play it some more in the coming days and maybe do another write up. But it in the meanwhile I can recommend anyone that's even remotely interested in this game to give this trial a go.