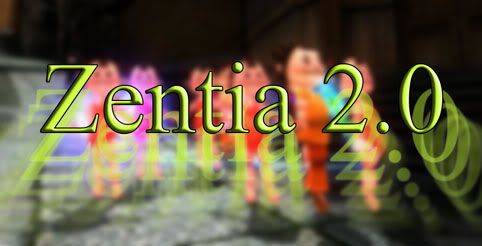 As you may have heard, we've made a big announcement today regarding our upcoming major update for Zentia. Zentia 2.0 will feature all new graphics designed to streamline gameplay and improve performance! I'm here to discuss some of these changes. You can also see actual video footage of the changes along with our team discussing them in a
special edition of ZTV!
1)PC models: The player character models have been given a unique new look! I'm pretty certain you won't find any other F2P MMO with characters like these! You haven't seen mind-numbingly cute until you've seen these new models.
2)Combat: We've gone back to combat's roots and changed the moves to reflect a more martial arts take on combat. It's simple, straight forward, and exciting! You can really feel the contact of your character's feet and hands against those devilish weasels. Afterall, what's an Asian themed MMORPG without martial arts moves?
3)Mount system: Like flying ostriches? How about flying an ostrich while battling a knight riding a vulture while a pterodactyl soars in to chomp on your head sending you to a fiery death in a pool of lava below? Sound amazing? It's all in there!
4)PvP system: This is the best change yet! We have simplified PvP so anyone can join in! No more complaints about overpowered guilds or cheating. PvP battles from now on will be even more simple and straightforward than the combat system and yet more epic than we could ever have imagined! And we can imagine quite a lot…
That's all for now. Zentia 2.0 will arrive as soon as we're done blowing your minds with all of these amazing changes.
Check out the video
and then come to our forums to discuss!
David Markowitz
Zentia Associate Producer