Live streaming insanity!
March 22, 2011
Anyone who has played with a team in an MMO such as Zentia knows the challenges involved in organizing that team – keeping everyone together, maintaining a common goal, and working strategically as a team to overcome obstacles in order to achieve that goal. Well, on top of those challenges, try adding: conducting a live stream with real time audio commentary, managing other office/work tasks, being accompanied by a group of diehard fans who want to show you all of their amazing outfits, mounts, pets, and skills and ask every possible question they can think of, and maintaining a good "face" so other users don't think you're crazy, mean, confused, or all three. Then you'll have an idea of what our weekly Livestream events are like. :p
We just recently started running this event on Thursdays (at 3pm PST) in which our entire team plays Zentia while broadcasting our session live through
Livestream.com/Zentia.
We all started from the very beginning with new characters (I decided we should all be monkeys because I figured what's better than a team of monkeys ravaging the lands of Zentia?), choosing a balance of classes so that we could work together (and hopefully succeed) as a team. Of course, what happens once we're in game? We all go separate ways at different speeds completing the various quests. And then Susan, our Senior Producer gets called away to an important meeting. And then the live stream starts having intermittent problems cutting out. And then a herd of Zentia fans starts following our GM and asking him all sorts of questions (and of course it's not the easiest thing to do to play the game, chat with players, and manage a live broadcast all at once). Needless to say, it wasn't the smoothest gaming session…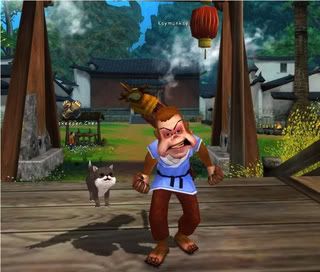 However, we're pushing on and doing it again this Thursday. You know why? Because despite all of the hang-ups, it was fun! And that's what MMOs are all about – having fun playing with other people. So come join the fun in Serene City (we finished all of the quests in Mulberry last week, so we'll be playing in Serene this week) or on Livestream on Thursday March 24 at 3pm PST and see what kind of havoc a group of crazy monkeys can wreak upon Zentia! (we may be crazy, but we're certainly not mean, and most of the time we try not to be too confused)
Hope to see you on Thursdays,
David Markowitz
Zentia Associate Producer