Here are a few little ideas I had for a Pokemon MMO
Short Storyline Summary– Ash, the trainer from Pallet town, has just finished in the top sixteen of the Kanto Pokémon League. This display of heroism has inspired many would-be trainers to take up, and pursue their dreams of being Pokémon masters. With thousands of new trainers entering the world of Pokémon, a new day has arrived. The competition now is ever-so-fierce, and will take a trainer like none-other to rise to the top.

Only the first 150 Pokémon should be included at release.

Gameplay – Each trainer starts with one basic Pokémon, and can hold a maximum of six, unless in a duel, trainers can't use more than one Pokémon at a time. The player controls the trainer, and the Pokémon that is currently out at the moment follows him, and listens to his commands.
In duels against other players, it is possible to request a 2vs2 duel, in which 4 Pokémon battle at once, making for a more strategic fight.

Pokemon can't wear many types of armor or weapons due to their awkward shapes and sizes, but a few aesthetic things like hats can be given to them. All a Pokémon's power and attributes come from Pok-e-Blocks. These can enhance their Endurance, Speed, Energy, Strength, and Charm, if fed to them. The Pok-e-Blocks can also cause physical changes to your Pokémon which will change their appearance.

In the world of Pokémon there are eight basic energy types, Fighting, Fire, Grass, Lightning, Psychic, and Water. Each energy type has a weakness which they will only deal 85% damage upon, and a strength in which they will deal 115% damage against.

Making the right selection for a duel is very important, but it is possible to win if you don't.

When one of your Pokémon battles, the resting Pokémon you have with you will also gain a little bit of battle experience from watching the battle. Let's say that the battling Pokémon gets 100 exp. In that case all your other Pokémon get 20 exp for watching. It's almost like being involved in a battle, and having gained battle-experience. This system is in place to cut down on some of the repetitive grind.

You can capture any wild Pokémon you see, and all Pokémon have a total of six abilities they can gain. You never die, nor does your Pokémon, they only faint, which forces you to go back to the nearest hospital to revive them. Your other Pokémon have a lower moral and can't fight to their full potential knowing that one of their comrades is wounded. *EDIT: Sorry about that i was 1/2 asleep*

Team Rocket is within the game, and some trainers may be persuaded into joining them, and assisting them in their devious plots. This creates a sort of PvP system at higher levels.

You can go adventuring in groups of up to 5, in order to explore some of the more dangerous parts of the world. Gym-Bosses are a 5 man challenge. You all receive a badge for beating a Gym Boss.

ALL Battle is REAL TIME.
Your pokemon will have 2-3 special skills + 2 general skills + 3 Element skills (depends on if they are Fire, Water, etc...) Each pokemon will be able to perform combo attacks with the pokemon placed in the pokeball slot before them, making for some tactical play with the different elements.
Legendary Pokémon can be trained, and require 10 people to defeat them.

You can go to an arena at any time to fight against AI trainers. At certain times during the week there will be a real competition there, against other trainers.
Daycare- Place 2-3 pokemon in daycare and they will gain "rest" exp.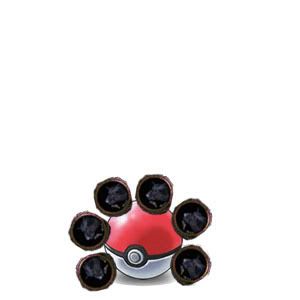 This is an extremely rough UI Idea
That would be the Trainers Skill bar with the six pokemon.