I am going to be filling in this blog with an In-depth concept for a Naruto MMO.
August 5th 1:41 AM
In the Naruto "Universe" the following is a list of every single country that exists
Bear | Bird | Claw | Craftsman | Demon | Earth | Fang | Fire | Forest
Grass | Honey | Lightning | Marsh | Moon | Mountain | Neck | Noodles
Rain | Red Bean | Rice Field | River | Sea | Snow | Stone | Swamp | Tea
Valley | Vegetable | Water | Waterfall | Wave | Whirlpool | Wind

Now, we all know that there are way to many countries for each one to exist as its own faction. Now lets say we cut that list down a bit to the five countries which have Kages.
Fire Lightning Water Earth Wind

Alrighty were down to 5 from that rediculous list of 34.
But still, is it possible to have FIVE seperate factions in the game?

i say it can.
Have the 5 countrys (aided by the others) go into war against eachother.
I know the map isn't the best, but it represents the world enough for us to get the picture though.
Like back in prehistoric times in this world there is only one continent.
(with an exception for the water country which can be reached by crossing bridges.
Well the problem we have here is the majority of the countries which hold the strongest ninja are basically next door neighbors.
Pretty much all the countries on the right side of the map, have little, to no information about them.
LEVELING
Well, if you know Anything about the anime, you know that there aren't really monsters running around for you to kill. Since you are a ninja, just like in the show you will do missions. The starting ones being tutorials, to later on assassinations and attacks on other villiages.
Ranks
Also in the series they have Ranks
In the game the Kage will be like the king for your country. The way to obtain a new rank is by reaching a certain level, and passing a test. If this can be done you will recive the next rank's title, along with access to new, stronger abilities.
The Kage will be an NPC.
(Works different for the "Evil faction" (earth,sound, and rain)
Missions
Highest to lowest S,A,B,C,D
Although in the series only certain ranks of ninja could take certain missions (I.E. Jounin were the only ones who could take A and S class missions)
i feel that in the translation to an mmo it would be best to make it as class of difficulty in comparison to your current rank. Which means if you level once or twice, you are still going to need that group for that quest, since it takes 4-5 people in the lets say Chuunin area.
C & D = Soloable
B = Soloable with caution
A = Team of 2-3 people
S = Team of 6 people
"SIX PEOPLE?!?!?"
Yes. The ninja worked together in an organization, rarely solo.
Alright, looks like we have the background covered, now on to the actual game elements.
Chakra
Chakra is the energy which flows throughout everyone's body. Some are more talented in molding their chakra than others. This, mixed with your "element" will make up most of your power source as a ninja.
Elements
Fire
Water
Lightning
Wind
Earth
These along with the Wood and Ice elements are the only ones currently known. The Wood and Ice elements are only available to those who are a part of a certain bloodline, making it rare to see them used anymore.
As a ninja trains he is able to become more adept in using his element (presumably chosen at the character select screen). Each element opens up a completly different group of available techniques, leading to a great variety of gameplay between each style.
Once you reach the rank of Jounin learning a second element is also possible.
Types of Techniques
Fuuinjutsu
Fuuinjutsu techniques are the sealing techniques of the ninja. They allow the ninja to contain the elements and demons.

Genjutsu - illusion techniques
Taijutsu - Physical Techniques
Ninjutsu - the Regular Ninja technique (requires chakra /handseals) (can be offensive/defensive)
Although most ninja perfer to specialize in one, it is possible to train in all of the different types of techniques.
(Sample of what graphics should be like)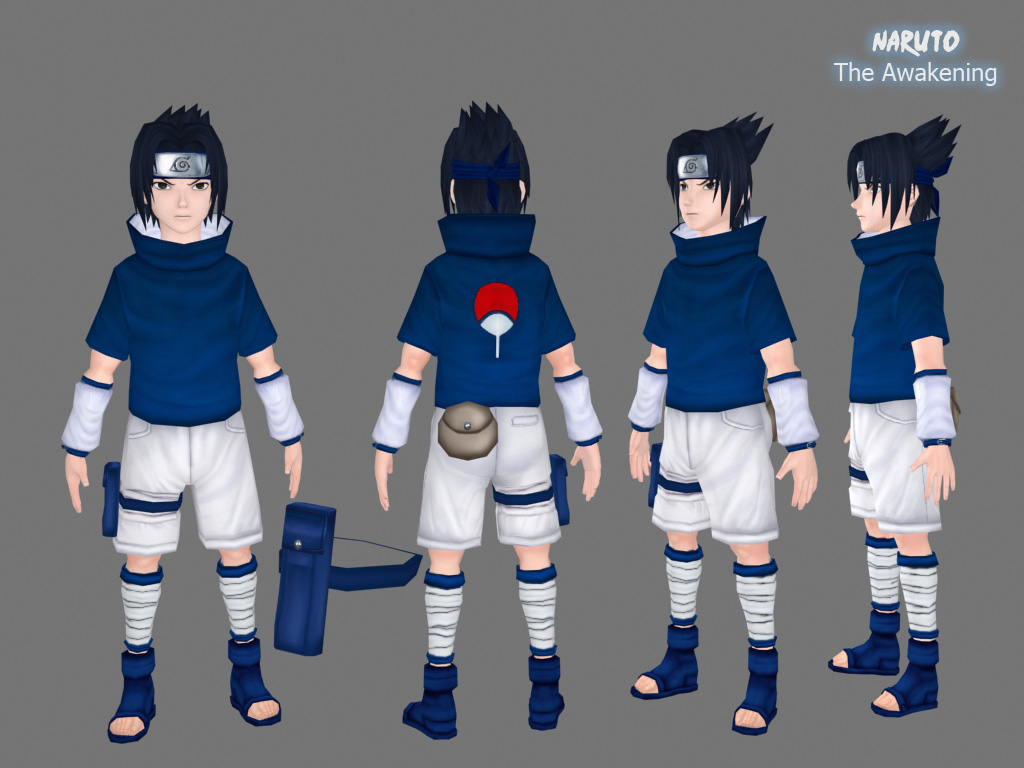 I know this is a bit ahead of myself atm but i would like to explain my concept for the starting area.
Ok in the beginning you create your character, pick your nation, and then pick your main element. You get in game, and you start off right outside a ninja academy, or camp of sorts. You talk to a man standing by a tree, only to learn that he is your instructor, and he tells you about how to fight, and the different types of techniques. He asks you which type interested you most, and then teaches you how to train the first basic skill of that type. (the three main types will be in a talent tree layout) (well thats atleast what i have atm). Then as your first test he asks you to spar with some other new players who have just joined, and after three matches return to him. For sparring you gain a bit of exp, but it is not enough to give you a level from just 3 matches alone. After returning to him, he rewards you with a new kunai, experience to put on your record, and then asks you to go inside the building.
Inside the building there are a few more trainers which instruct you about the game, and some of the background behind the current situation. And after 15-20 spars and a few more tutorial missions you will be able to recieve your certification as a genin.
As a genin you can begin to do missions from people within the city, along with other missions assigned by the kage.