Main points:
Getting Anarchy Online on the Steam platform.
Adding attractor points to player avatars to permit more than just shoulder pads and back pieces to be attached to the avatar. Like armor and spikes.
Public new engine Beta "early next year"
Subscription deals: now running
New player experience. Still vague other than it's coming along. (from the August update) 'If you are interested in playing this, please create a new character on Test Live and talk to Hank the Peacekeeper located in ICC.:
MIgrating AO to brand new server hardware
Merging servers
http://forums.anarchy-online.com/showthread.php?t=601791
The text follows:
Announcements

Hey guys,

Everyone on the dev team is hard at work on some combination of New Player Experience / Engine Upgrade / Server merge, so I'm going to be taking over the monthly letters.

There has been a lot of questions about the creative leadership on AO moving forward. Genele, whom most of you know from the forums, is the creative/design leader on AO and has been doing this job behind the scenes for some time. We had been planning on making the "official" switch at the end of the year, before Fia was originally scheduled to go back to Sweden. Genele's major focus right now is the New Player Experience, and getting it ready for prime-time. You might know her as the developer who has been working for on profession balance, or the "Dark Ruins" developer. But she has also been involved in everything from the seasonal content, to making sure the new instanced cities look awesome for the server merge, to leading the charge on the new market system.

Also, I want to give acknowledgement to Vhab who will be stepping up to be involved with ARK, the professionals, and forum moderation in general. So, keep in mind the more you troll the less he codes!


In addition, we're going to be trying something new. I'm going to start releasing more work-in-progress or "tech test" style materials to the community, and see how that goes. If the reaction is favourable from the community and if we have indications this sort of thing is appreciated, we'll do more of this in the future.


AO on Steam

We're making preparations to get AO on steam. Image below is a screenshot from AO working in a Steam client.



The Funcom tech team has done a lot of great work fulfilling the technical obligations on our end. We're currently getting help from our steam contacts to chase down a render bug where the game crashes when you bring up the steam overlay. But, expect to see AO on steam as soon as we can get this ironed out, and obviously depending on the internal schedules of the guys over at Valve who are working with us.
Engine Upgrade
Engine Upgrade is progressing along a couple of fronts. Just to summarize a number of posts I've made on the subject, there's a lot of aspects to the upgrade including integrating the actual Dreamworld code and adapting it to AO, upgrading our playfields and assets to use the new Dreamworld features, new animations and character models, and integration of the whole thing into our existing art/tech pipelines and then our build system. You can read up on some of the details
here
,
here
,
here
, and
here
As I said in my
Sept 1st update
we're working towards some internal milestones, but we're still on track for a public beta early next year. Early next week we christen a new alpha client that is playable from inside the Funcom network, against our internal servers. So in the next update, I'll have some screenshots from that.
Since we are redoing the character rigging, models, and animations for the new engine (and these have to all work in the existing engine) one of the really neat things we are doing is adding attractor points to the character models. This means we can attach meshes to the characters, so we can have sci-fi body armor, metal plates, spikes, and whatever our artists can dream up
Adamse
is a big "horror" genre guy, so he's pretty excited to make some shade-themed meshes for the new engine.
Screenshot is from the existing engine, and the meshes we used are just test meshes to make sure it all works. And with a "little" help from Macrosun, it does!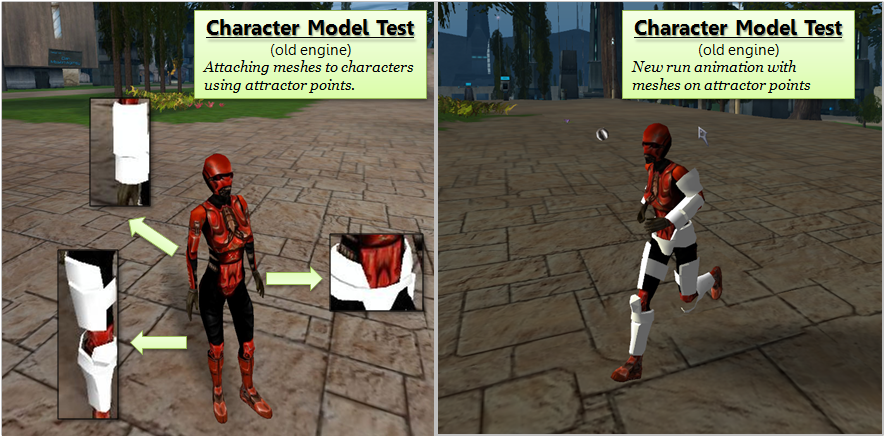 New Subscription Deal
We also have some great new deal running. As many of you are aware, we're releasing some anticipated items for the item shop after 18.5.2, including a
breed change
and a
side change
.
I posted a graphic with a complete breakdown of the offers, and what you get,
here
So if you notice on the deal, we're offering a lot more FC points than usual! For most subscription lengths, it's double or more. This is to give our loyal subscribers the opportunity to pick up these new items in the store.
New Player Experience
I mentioned in the announcements that Genele is taking over the New Player Experience. We're aiming to launch it roughly at the same time as the engine upgrade, which goes public beta early next year. The assets in the NPE were made for the new engine, so it will be a good showcase in terms of what we are able to do on the art side to bring the features of Dreamworld to life.
Server Migration
There has been a lot of conversation about this on the forums, so I'll try not to repeat myself too much
Vhab wrote a good technical post about it
here
. I talked about what will happen with account slots
here
. Some discussion on vouchers and deleted org leaders
here
. Also, and we are looking at going away from the
blob structure
for inventories. I think that's a good summary of where we are at!
Oh, which reminds me:
If you are in an org whose leader is a deleted character, you should contact Customer Service to get this resolved before the server migration! And make sure there is an actual leader so we have someone to give a voucher!
You can contact CS by creating a
ticket
on the web, use
live chat
to talk to a representative live, or petition in game.
The artists and designers have spent a lot of time improving the instanced cities, so basically the goal with the vouchers is give orgs a choice as to what kind of city they now want, what size should it be, and how they want it to generally look. This is why we didn't just go ahead and do something automatically. There are a lot of meaningful choices, and it's only fair to give players the opportunity to have a do-over when it comes to building their city.
Next Patch, 18.5.2
18.5.2 is scheduled to be released this week. There's a lot of good stuff in there, and if you want to get a sneak peak you can look at the
test live patch notes
One of the highlights is that it contains all the seasonal content for the rest of the year. This is because our patch and testing cycle for the foreseeable future will be focused on the engine, NPE and server merge. Doesn't mean we can't do other things, but it means those other things won't be driving the "when should we patch" question. For example, the next patch will likely be just server merge staging code. Not having to interrupt our work to do seasonal patches means we can be entirely focused on our current priorities
In Closing
Some exciting times ahead! I'm going to start doing letters the first Monday of each month, which will be a wrap-up of the previous month with an eye towards the future. So the next one will be November 5th. Many of us on the dev team are very active on the forums, so instead of repeating information if it's covered elsewhere in a post, I'll just link to it. That way, you can read an update and get mostly new information