Originally posted by BrandonM


Originally posted by Yaevindusk


Originally posted by Epic1oots


-Snip-


This is both real and fake. Real in that he actually ran the benchmark and it gave him that score. Fake in that he had to manipulate it to do so. There is a video online whereby someone was able to put the video in slow motion, with the score still registering it as it going forward with the preset time of the benchmark. So the video basically was moving at 1/3rd the speed while gaining the same score on a second by second basis as if it were going at full speed.

Ahh! no wonder. And I thought he was actually cool and have a beastly machine. Pft.

It's not something I would recommend anyone doing, as that video also had a warning that you could fry a few of your computer parts if you aren't careful.

I actually didn't "fake it" I just ran the benchmark that is it. Why would I slow a benchmarking program and waste my time?

Edit: Also you say it has a chance to fry a few parts of a computer why in the HELL would I take a chance at frying parts of a $1500 desktop? Please use logic before trying to say someone's faking something. The only thing running was Skype which has a tendancey to minimize things and from looking at scores online with around same set-up I'd say Skype's minimize probably pooched the benchmark and that it probably should of been around 7500ish. I hadn't looked at scores before posting it so figured Skype couldn't of made an issue but seems like it does lmao
While this may or may not be true, there is one thing I will reply to:
Logic is (in part) something you use to asses a situation based on known evidence and historical statistics (also common sense, but they are two different things). I'm not even sure you know how to use it properly, as all you did was say "why would I risk this?" when in fact there are many people who would (and have) done such a thing. In addition, anyone can simply take a screenshot made by someone else and claim it as their own. You say logic, but all you've done was post a picture and say someone else's assertions are illogical, when in fact nothing of your own is of any substantial worth or facts.
Factor: There are hundreds of not thousands of posted screenshots of people who have below nine thousand.
Factor: There are countless threads which seem to indicate the same thing both on beta forums and on there; it is further proven by Square in that they recognize that it isn't entirely optimized as of yet (and SLI isn't working)
Factor: There is a video showcasing how to get a 20,000+ score on the internet
Factor: There are people with vastly superior computers than you who barely break 9,000 score.
Factor: The two other people I've caught doing this have admitted to both manipulating things and giving screen shots out to people to distribute as a joke.
Factor: No one else (from the internet) is there to confirm what you say is true. Therefore the logical thing would be to base one's assertions on the known, the statistical superiority of ample evidence, and so forth.
Minor Factor: You only have six posts total (probably half that before this thread), and while that isn't indicative of much, it does not add any credence to your post in reporting something abnormal in a thread that is about showing of everyone's computer "epeen". If (for example) you were poster such as Quizzical and produced these results, I'd be more inclined to believe you while also factoring in these points and thinking to myself how credible it is as a whole.
Unknown factor: There may be a chance that Square has optimized the Benchmark and allowed for SLI/Crossfire to work.
Hindsight factor: You admit that you looked at other scores and it shouldn't be that high, and have a theory as to why it occurred (why then, would people who aren't you come to a conclusion in believing the score was real when you youself think it was manipulated based on your own research that seems strikingly similar to the factors I posted above that led me to my own assertions?)
It is in fact illogical to believe something against the norm, especially when there is precedence of foul play. This is especially true when all statistics prove something impossible, and when one's own experience leads them to concoct an educated guess. Your fault here as I see it (with regards to that remark), is that you equate logic to whatever you come up with in your mind, and the conditions you have that others cannot prove... not how an outside source would view it if they were to peer review your writing,
Now, in accordance with figuring out the unknown (and the off chance this is legit and not just a fluke as you now think), you can go ahead and post a video of your machine running the benchmark. I'll factor in the fact that it has added stress and forgive a few thousand points. But as there was no such thing (or evidence to the contrary), there is no logic in believing your score when I was writing my original response (especially if we consider what could possibly be known by anyone who isn't you) as it is all unsubstantiated rhetoric without any credence or outside evidence to back it up (and apparently I didn't use logic to understand). The whole edit proclaiming "why would I do this" therefore has no grounds, as the vast majority of evidence is against it, not to mention that one doesn't even need to run it on one's own computer to get access to the screenshot. But I guess that's your version of "logic": "believe me because I say it's true and if you don't you ignored the points I made up and need to use logic." (Again we're basing this off of what could be known at the time by an outside source and not only what you could know).
If you can produce what you said, then I will personally apologize to you on this thread (that I was wrong in how the score got there, but correct in that something else manipulated it.... I.E. it was real but not real as was originally stated). But as for that edit, it will always remain (in my own opinion) incorrect based on the principles I wrote above (and not just saying "use teh logics" while spewing rhetoric).
Whether it's legit or not, that edit really made you look bad and further added to any disbelief I have; had you shown any real reasons to believe you, they would've been shown in the first post as opposed to just one line, followed by an edit insinuating logic is needed to understand when I wrote my original post.
This post, my friend... is an example of an actual logically conducted assertion based on outside factors and not just what one thinks they know (and what only -they- could know as others only had a picture to look at). I recognize I could be wrong, but the evidence available at the time led me to an educated guess. If one were to further claim that this is not logic, then they would be challenging all that is scholastic and replace such with a remark based on common sense (thus I imply there is a difference between common sense and actual logic) that only one person in the world knows is true or not and cannot or has not been proven to outside sources.
And yes, I agree with you that it would be -common sense- not to risk a computer in doing something (unless you were really good at it). But that has no relevance for this discussion because it does not have any supporting back up / evidence other than your word. In addition, there are too many workarounds for it to be a plausible point in any case.
Lastly, when I correct many of my undergrads while reviewing their papers, I oft come across this very problem. What I tell them is something my professor and mentor told me once. "Facts do not need fiction to make them true." This is something to think of in most things when trying to distinguish common sense from logic and fact from fiction. While lies are more powerful than truth in this world, it's because (for the most part) facts need more than one sentence to back them up, and lies cater to the masses with a single message or word to acquire their support.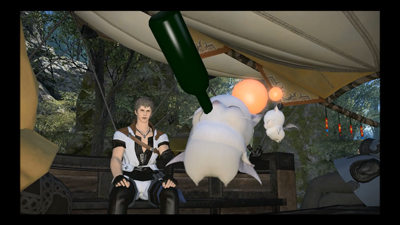 I don't always get drunk after responding to forums online.
...But when I do, it's Kupo Brand Kupo Wine.
... Yes. Make the memories go away. Kupo.