Originally posted by Pynda


I love resource gathering too. But more as an excuse to go exploring. Perhaps someone can answer this question.


Does Archeage use the (tired old, crappy, and incredibly boring) system of static nodes along with unchanging resource stats like WoW's? Or are resources and their locations/stats dynamic. Finding out only this much will probably tell me all I need to know about Archeage's crafting system.
Their crafting system so so dynamic that if you want pearls to make jewelry you can place clams out on the ocean floor when you scuba dive down there. Then come back to collect the pearls.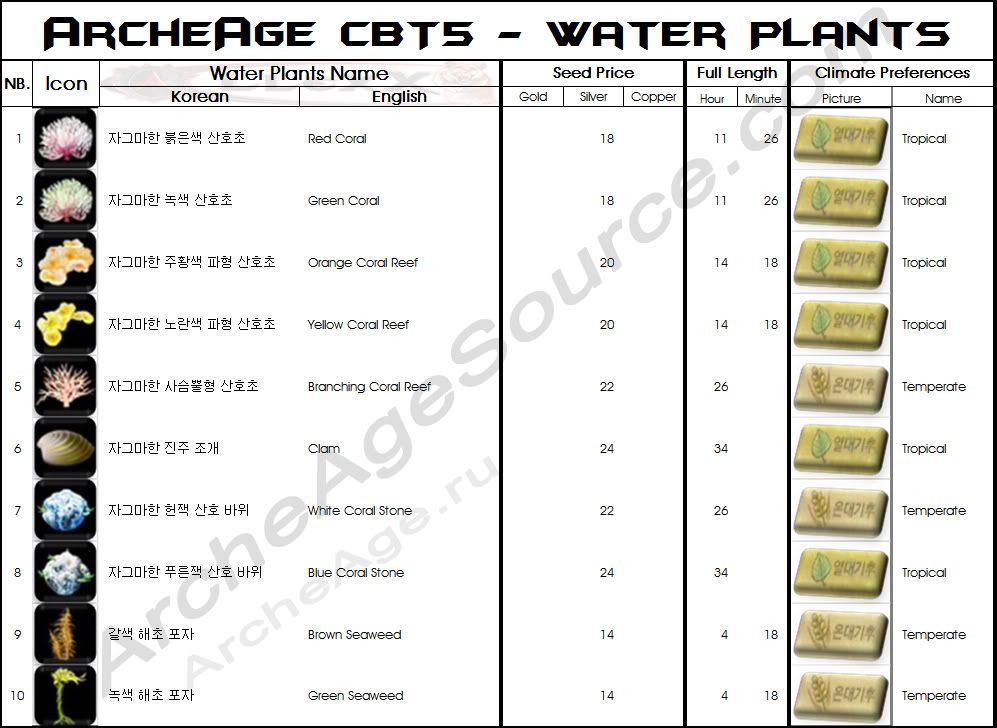 From the chart, you can see that clams do best when 'farmed' in a certain climate.
So, not only can you place a rather extensive amount of crops/livestock/underwater stuff etc - you have to keep track of what animals eat, which plants need to be watered when - and WHERE you place them.
Then there's the aspect of stealing. You leave footprints behind when you steal anything. Other players can come 'collect' the evidence. It will appear in their bags. If they choose to right click on it, it accumulates criminal points on you.
If you have enough criminal points, you are given the option of either going to jail or going to court.
If you decide to go to court, your 'sentence' could be reduced or extended - based on what the jury votes.
The jury consists of the first 5 players to accept a court invitation. You are all ported to the trial.
If you can convince/bribe/threaten them into voting you are innocent, then you are free to go.
The time sentence ranges based on how many people vote you are guilty.
Within jail, you can do a number of activities - including playing soccer or killing rats for a chance at an escape key.
Once you escape, you are allowed ONE glider without controls to move it left or right so you must position it exactly as you want to go. It's by the ocean - so you must glide over the prison walls and then summon your boat. Sail away to freedom!
If you go to court enough times, you become a pirate. It changes your faction and interaction with NPCs throughout the game world, but opens up new factions/quests/a pirate island etc.
Crafting in ArcheAge = detailed as all hells. All of the above is the nutshell version. I won't even go into underwater treasure hunting.