Darkwind, the multiplayer on-line turn based strategy war game announced this week that all people who have signed up to the game prior to October 4th will be given two weeks free playing time with all features accessible from October 6th. This is to celebrate several recent accomplishments including the launch of their new web site and the integration of two new towns and associated wilderness maps into the game. It has been a productive summer for the game, and its developers were delighted to receive reviewers Gametunnel's Gold Award and May "Game of the Month" this summer.
"It has been a busy summer for us" reported PRO Olena Korskii. "Usability feedback from the player base coupled with the creativeness of the web design team brought about the new web site. We also introduced the dynamic patching of maps, which gives improved flexibility in rolling out new locations without impacting the file download size. Texan and Shantyville are new town launches, and the 'Double Down' arena is a large new arena with a unique jump-scoring system which requires good high-speed driving as well as good combat skills. A new style of consensual PvP wilderness combat the 'Town Attack Combat' is also proving to be very popular."
The recently added "Town Attack Combat" is based on consensual PvP (Player-V-Player). These town attacks take place several times per week at scheduled times, and players can add their own vehicles and characters to either the attacking pirates or the defending town militia. The pre-scheduled and consensual nature of these combats, together with the special rewards offered to participants, have all contributed to their success. The developers continue to seek ways to promote PvP gameplay in a way that is fun, logistically sensible, and which doesn't lead to "griefing".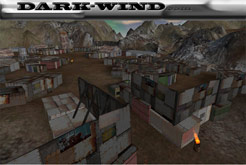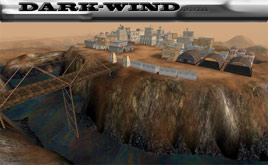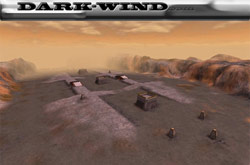 Texan is a fast-growing new town in the East Badlands region. It controls production of fuel for the whole game continent and is therefore strategically very important. Shantyville is a small town inhabited by mutants and pirates that sits on the main trade route between Texan and the Badlands Truckstop. It exists as a parasite on this trade route, picking off enough valuable loot to survive.
The dynamic patching of maps means that each of the game's 60+ maps are not downloaded by a player until they first visit the map. This will facilitate adding many new maps to the game, without affecting the size of the core download. Players can therefore look forward to plenty of variety in the wilderness and on the racing circuit.
The revamped website offers a drop-down menu system that makes key game functions more readily available than they previously were. These menus are dynamic and allow players to add buddy gangs to their gangs menu, or recently accessed cars/characters to their Vehicles and Characters menus. Popup windows for displaying vehicles and characters allow them to be kept onscreen for as long as required, rather than having to navigate forwards and backwards between shops and vehicle pages while performing gang management tasks.
According to game creator Sam Redfern, the player base continually provides useful feedback. The recent positive reviews the game has achieved, and the improvements to the game wouldn't be possible without these people. "I wanted to say thank you to the existing subscribers, and also encourage other people who have signed up to the game but not yet tried it to get stuck in. We therefore have decided to give a two weeks subscription to everyone in our database starting October 6th" stated Redfern.
Darkwind is enjoying increasing popularity with gamers and was awarded Game of the Month by Gametunnel in May (click for full review). It was rated "most addictive game 2009" in the Bytten Ernie Awards. This follows other favourable reviews from Flagship Magazine, Inside Mac Games, and Games For Windows Magazine.
If you have not already signed up go to www.dark-wind.com