yippee!!! after all that, you finally have a full inventory of joints!! you will be very popular.....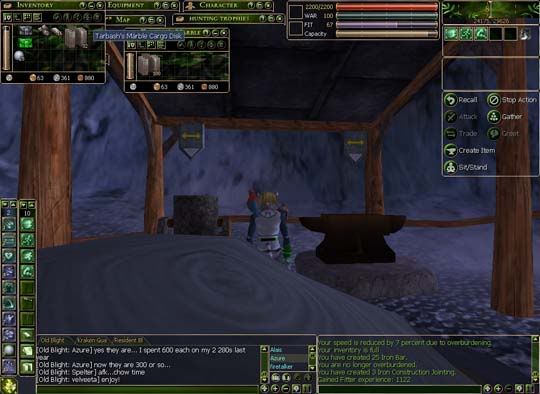 now you need to attach your disk before you leave to apply the joints. this is done the same way as detaching - you clik the chain button to the right of the equip space on your equipment page (the chain icon changes [the chain is 'broken' when you detach and is whole again when attached] and you receive a message about the status in your game chat window):
now its time to make your merry way to the final destination for your finished goods - in this case, colin's plot in harro. to get there from here, i cast swift feet and run from summit to mahagra to port to bristugo. once there, i scroll down the main town port's menu of places to go until i find the settlement: harro destination. col's plot is right off the port pad, as you can see: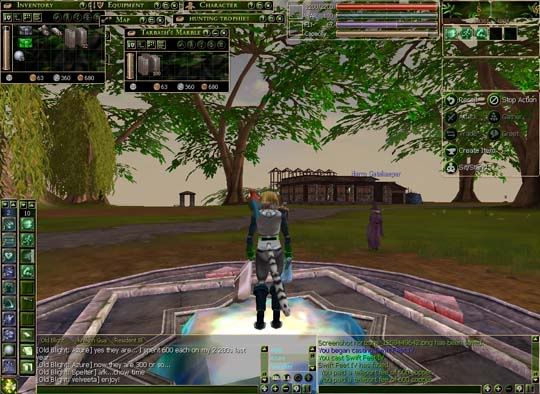 you can see the silos i am working on behind the vault building. you can also see the harro gatekeeper. you have to talk to the gatekeepers to get attuned to settlements and pennisulas, as i believe i have mentioned before.
so, once you get to the building to be jointed, you have to use your mallet to apply the construction material. this involves double cliking the building you want to apply the joints to, then selecting the material you are applying from the list, and choosing how many units you want to apply. like making resources, there are a number of pieces required to make a unit - in my case, as i am over optimal to apply iron, i only need 2 joints to make a unit. i think the highest number is 4 per unit, but it may be 5....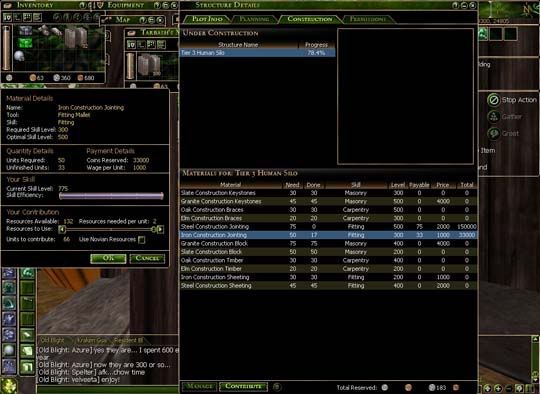 phew!! that's done!! now you only have 10 more silos to do the same process over and over for!! so it is time to unequip your disk: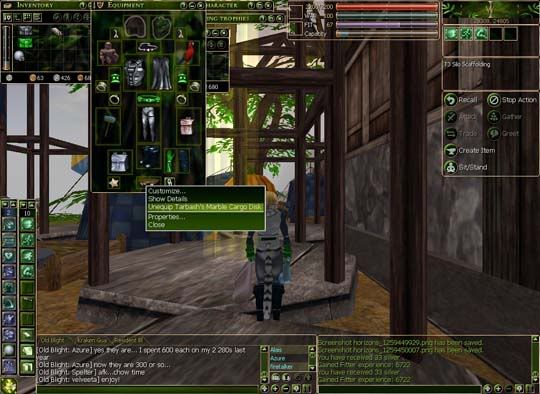 stow it in your inventory, and recall to whereever (in my case, bristugo is my bind point) to head back out to the iron field: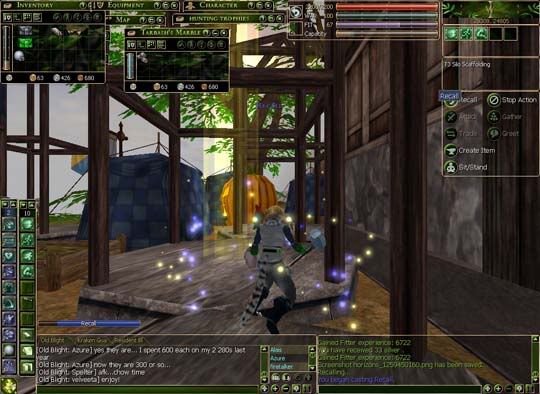 so there you go!! you can now make and apply joints!!! this is pretty much the process for making anything in horizons. someday, i will do a series on dragon crafting, but its pretty much the same process, with just minor differences.
the winter festival (usually called gnomekindle) should start soon on blight, so i think my next series will be the happy happy joy joy of in game events!!!