before we continue (and by we, i mean the whole one of you that read this blog!), i should briefly show and try to explain tools.
each resource has its own set of tools that need to be used to harvest and process. usually there are only 3 tools that will be needed to do a complete job: the basic tool for harvesting (mining pickaxe for metal, stone, and gems, a tree axe for wood, essence siphon for essence, etc.); a tool for next stage processing (smithing tongs to make metal bars, stone chisel for bricks, etc.); and a final tool for making finished products (smithing hammer for basic metal, masonry trowel for stone construction, etc.).
to harvest the iron ore needed to make the bars, i use the following:

tools are tiered, like everything, and you have to make a certain level in the particular skill to use it. mithril is the highest expert level metal to work (masters can make adamantium tools, but that is beyond me), so my mining and/or quarrying must be at least 800 to use it.
after i have harvested the ore (as i detailed in an earlier post), i then use my smithing tongs at a smelter in a workstation to make the bars: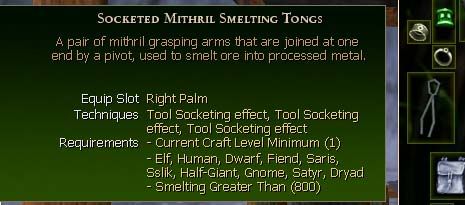 these i had equiped at the time i took the screenie. but you can still see that my smelting skill must be at least 800 to use this mith tool.
in order to make and apply metal construction resources, you will need one of these:

since i am only about level 68 in fitter, i am limited to using a cobalt mallet. once i get to 800 skill in fitting, i can make myself a mith mallet. lower tier tools, weapons, armour, etc. do have a limiting effect, as you can see. cobalt is limited to only giving experience for skill proficiency under 850 - once your skill level reaches that limit, you will not get experience for using the tool or whatever.
once you have made the bars from your load of ore, you transfer the made bars to your disk and detach by cliking the chain button to the right of the equipment slot: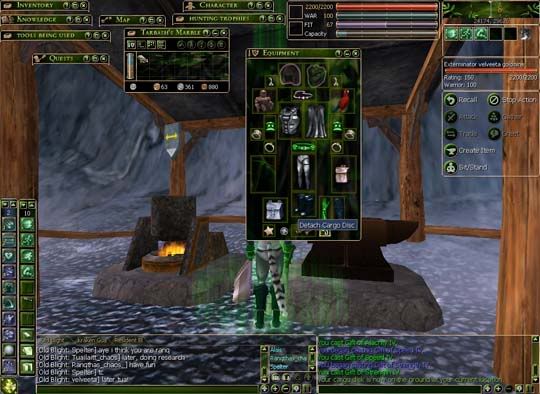 once you detach, an arrow will appear next to the equipment spot for it, and will always point in the direction you left it. hovering the pointer over the arrow will also give you approximate distance. you can also find it on your map, where it will appear as a white dot.
then you need to run back and forth between the iron field and the mws, making bars until you decide you have enough bars: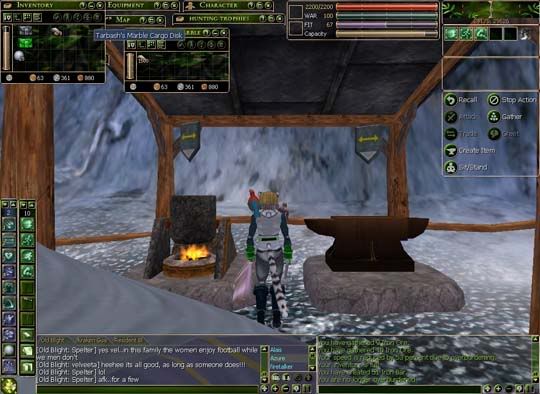 depending on how far the iron field is from the mws, your patience for running back and forth, and how quickly you want to get the job done, you may decide how many bars you need to be worthwhile processing.
once the bars are made, its time to make some joints! this is basically the same as making bars.
first you select the jointing form and select iron joints: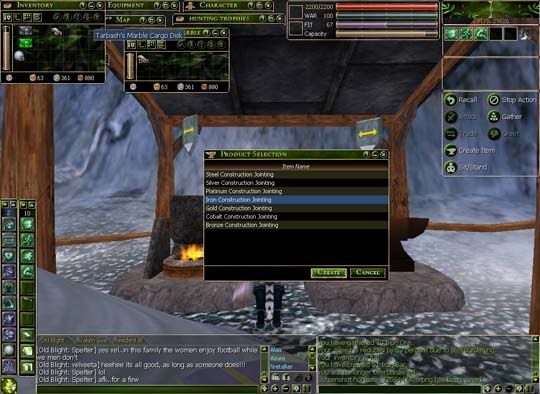 'advanced' finished products require a lot of basic resources to make. for instance, as you can see, it takes 20 iron bars to make one iron jointing: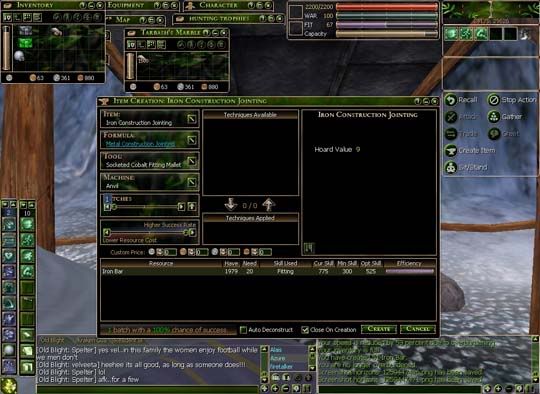 once you make as many joints as you can, you move the finished resources to the disk: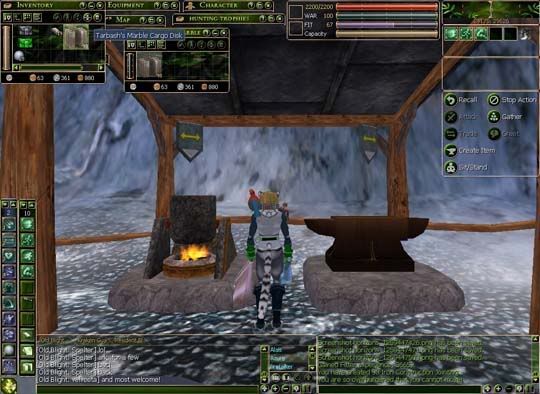 its hard to see, but the load of bars only made 98 joints. therefore, once you have moved them to the disk, you need to rinse and repeat the process - from gathering ore to making the joints - until you have a full disk of joints.

in the next - and last - installment, i will show you how to apply the joints to a building under construction. see you in a couple days!