Please go to www.istaria.com for more information about this awesome game!

dascede, all grown up and flying now, but still a relatively low level for some of the quests - tonight it was another trip to the western deadlands to find some skelly bone splinters.
the deadlands, as the name might indicate, are the homes (there are 2 major deadlands, with lesser ones scattered around the continent) for the baddies in istaria.
i met the big dasc in the closest port to the wd:
as a hatchie, she was barely bigger than me!! adult draggies are awesome, but the ancients are the real giants!
as you can see from the map, the wd is only a short north run from dryart, the closest port town:

the wd is the black area at the top left of the map. if you look to the center left, you will see the blighted area in the kion area (the black ringed red area - its a volcano. has all sorts of nasty golems and blights hanging around it. undead patrol the roads leading to it. i still love to stop by and throw some love taps on lt. tarn - the nasty undead officer who patrols a long stretch of road from kion to the areas with all the crafting resources....) as well.
this is what the general theme of the deadlands seems to be. lots of green lightning, twisted black and ebil trees, horrid mushrooms and scorched black hills that hide legions of nasties:

when you group, you can use the map as well as the direction arrow to find your partiers. on this map, i am the white dot and dasc is the green dot:

trying to find a single critter type in the deadlands is not easy. many different types of nastie and they love to gang up on poor adventurers just standing around, so its a good idea to find a safe spot and scout the terrain: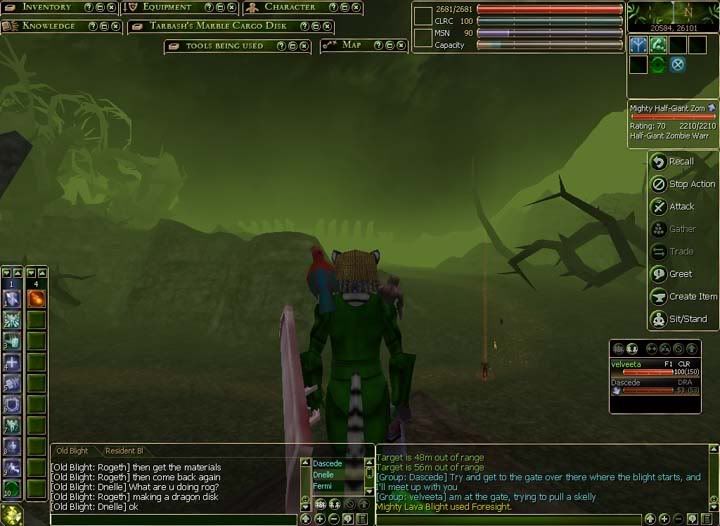 of course, you can never go hunting without something dying. this is what it looks like just before i do: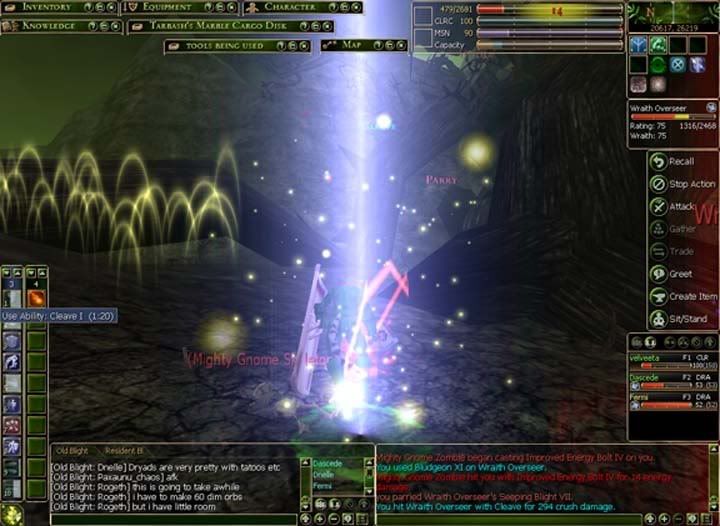 well after all that, we still didn't get dasc her splinter yet. we need one or two more hunters with us, if we are gonna run into the mobs we did tonight. but it will happen!!
major changes to the game were released tuesday, and not all are so popular......
will explore the most disappointing one at a later date - attunement to major and racial town ports.......very not kewl!