let's talk about the aradoth arena area, shall we? here is a reminder of what you see when you pop out of the battle isles pad:
the bridges to the battle areas are long and not what you might call scenic, but eventually you get to a large, seemingly empty island, where the road splits into two and heads off to opposite sides of the island: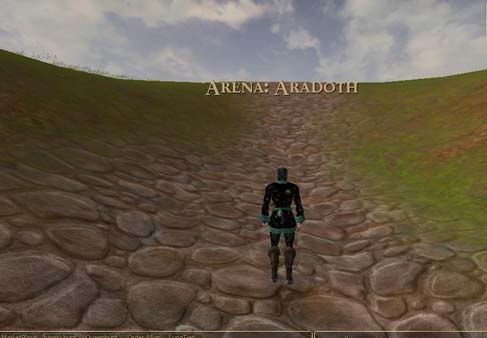 the island is divided into 2 parts, and each team gets a side. aradoth arena is for full scale battles between large groups. it is intended to test groupings, like mixes for possible raids and such. it provides a wide variety of terrains and geography to plan ambushes and the like. i can't even fight one on one, so those of you with a head for strategy will get what i am trying to say.
anyhoo, in order to get things started, you pick your teams and sides and head off down your appropriate road. once you get to about the midpoint of your territory, you will see a raised platform with an arena recruiter on it: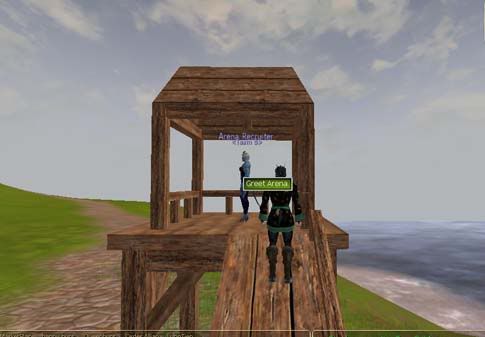 okay, i have to confess that i have never been on an aradoth arena event, and i am just going by what i have heard about how it works, so please DO NOT take the following as gospel truth!
based on how the game and the coliseum recruiters work, i am going to make a hugh leap of faith as to how the aradoth recruiters function. i am sure there is a team size limit, but each member of the team would greet the recruiter in the standard way and recieve the following text: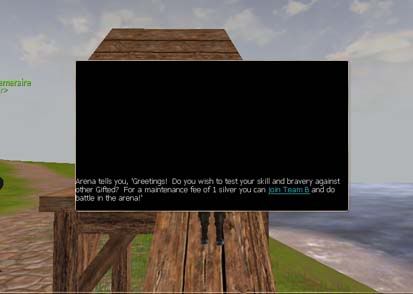 once the teams are set and ready to go, the game informs both teams that the battle has begun. it is then, apparently, just like a paintball game, only you get to use spells and melee in addition to ranged weapons. both teams spread out over the island as they see fit, and the winner is the team with the most left standing. in the coliseum, there is an option to concede defeat at a certain point (a percentage of hp loss on the part of the loser) - i am sure there is something similiar at the aradoth arena, but i am unable to confirm this. i also believe there is a 'draw' option, in case the combatants are so evenly matched. so i believe teams have the option to fight to a draw, to defeat, or to the death, if desired.
okay, that is basically it as far as i know about aradoth arena. i live on the blight shard, and we have a historically low population (being the test shard, peeps can be reluctant to play on it - which suits us just fine, mostly.... we are a very 'frontierish' clan! lol), and have never even heard of the aradoth arena being used. so lastly i will talk about the arena area that is used fairly frequently even on blight - the coliseum arena.
PS - the splash screens in horizons can be funny and they can be informative. here is a particularly sterling example of the breed:
this is a handy hotkey to create........