one of the best things about istaria is the ability to change the world - not just as a player, but actually change the face of the virtual world.
there are plenty of public or game things to build - bridges, lighthouses, gazebos, even crafthalls and workstations. vel is responsible for finishing the public buildings in the settlements of selen and sanctuary bay, as well as the sslanis coast lighthouse(affectionately known as 'the queen's tada'), on blight. if you can't afford a plot, its a great way to get experience in the construction skewls.
but nothing beats the feeling of owning your own little piece of the world, someplace you can call home. having a plot or a lair, designing it to suit your needs, slaving away at it for months or even years, then laying the last keystone or tapestry and watching the building pop into existence - that feeling of accomplishment is carried back to you every time you see your home again.....
plots and lairs in istaria come in many sizes and locations. the smallest start at about 15x15 or thereabouts, up to over 100x100 - lairs are 3 dimensional, so you have to build down as well as across. lair design is a very tough operation, apparently! its not something my poor brain can handle, so i am all good with just having a plot! of course, draggys can't do ped construction and peds can't lairshape. the each can help the other only by harvesting the most basic resources (stone brix, metal bars, and essence orbs - draggys can't harvest or use wood or fabric products).
as a player, i can only afford one subscription, which carries the ability to own one plot. my original plot was the cheese palace: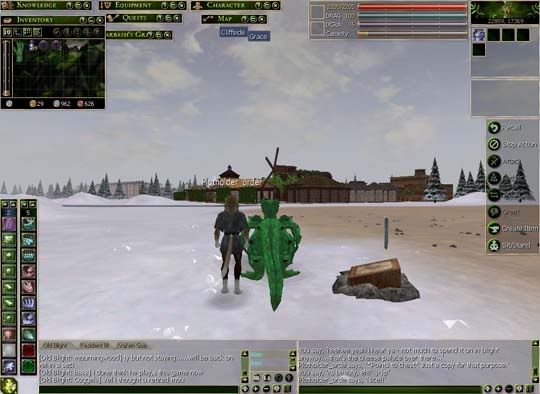 it has a saris manor house, sslik house, saris house, silos, storehouses (silos for food), a tavern with all the food prep workstations (distillery, cauldron, mill, etc.)[the tavern is the building directly in front of the alts, with the windmill for the mill workstation peeking out above it], a casino, large fountain (affectionaly known as the royal spa), gazebo for outdoor eating, a consigner and a pawnbroker, a library stuffed full of formulas and spells, and lots of fluff in the form of trees (called 'thum's garden' ;-}). i have one of the largest size plots available.
i chose the location for the cheese palace because an old player had a godbuilt plot with expert workstations right next to me and the incoming portal pad. i put in and filled silos with all the basic resources for quick builds of weapons, tools, and armour. it was totally the kewlest beans smothered in awesome sauce.....
then the time of trouble came, and a lot of dedicated players left. the new gods declared that land with no active owners would be reclaimed and sold. they were sold as is - so a lot of players bought big, well developed plots to tear them down for the sahweet novians (novians are the percentage of the building resources you get back when you deconstruct buildings - for instance, if you applied 100 maple braces to a building then tear it down, you would receive a large portion, say 80, of them back) - the case with icing's awesome plot!
so, the reason for my bigazz plot with all the silos is no more! needless to say, i was totally bummed.
then, the gods decreed that players who 'spread the word' about istaria could earn a free plot slot! the plot on the other side of the cheese palace was just as large and was my biggest envy! i immediately set out to earn another plot slot to obtain it.
so i did - only to learn that while i was out trying to earn the slot, someone from one of the live shards had already bought it! no development, just a big empty space that i desperately wanted to fill!
thru the excellent players on the forums, i was able to make contact with the person who owned the plot and they were gracious enough to sell it to me for the paltry sum of 1 silver (these plots usually go for 12 or more gold)! thanx nellie, you still rule da skewl!:
so, now i have my long desired plot!!! whatever shall i do with it? tune in again to find out!