okay now that the holiday fun is over, its time to get back to bizniz!
refresher: i created a new alt on the roleplaying server, order. i have already posted about the first steps and the background you are given by the first npc you are supposed to greet. i will continue now with the first crafting quest you will recieve, and finish with the first adventure quest.
as always, you start by greeting the crafting trainer, located behind and to the right of ryson stormbringer, the newb wrangler: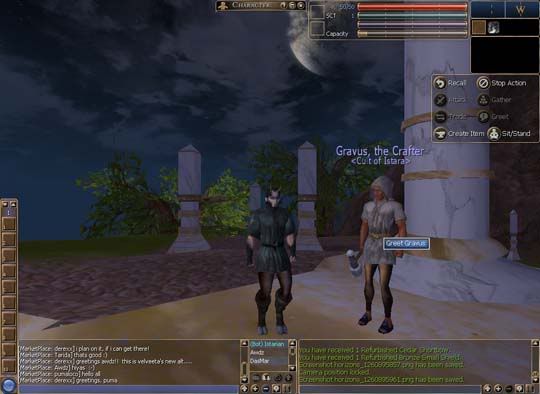 gravus will give you the basic speech:
i chose blacksmith and got the following talk: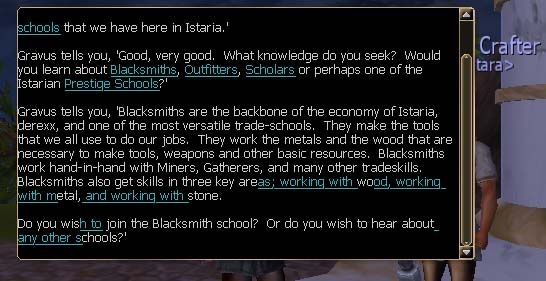 when you clik the link indicating you want to join the blacksmith skewl, you recieve some starting equipment. this equipment is one step below basic and should be replaced asap.....this is where being on good terms with elder players comes in handy....
anyway, the starting equipment is a mining pickaxe, a pair of smelting tongs, and your first formula, one for making metal bars. this is the green icon: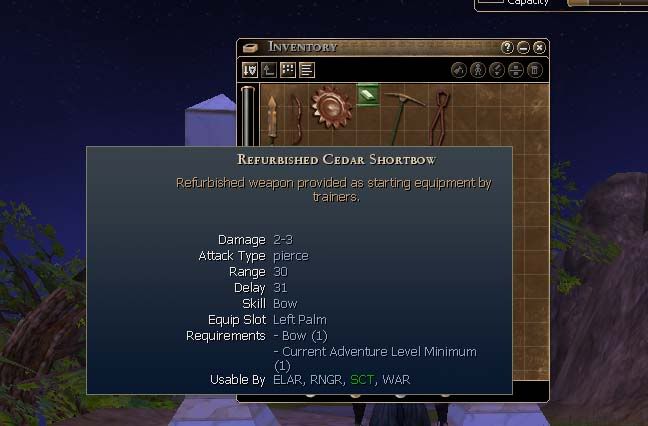 first thing to do is to scribe the formula into your 'spellbook', for lack of a better term:

you can access your knowledge book, like you can access most of the game function, by cliking the gem in the (usually) lower left corner of your screen (or by pressing 'k', i believe - i always access game stuff from the gem myself...). as you can see, there are 3 types of scribable knowledge in game; spells should be self explanatory (i will later detail how to make actual usable spells, which require spell shards and essence before you can scribe the finished product, and is the realm of scholars), formulas are used to make resources and other usable objects like weapons, tools, and armour, and techniques, which also require certain resources to apply to usable items - for instance, a pair of cargo boots might have a speed tech and a crafting tech on them to add benefit to the user.
scribing is done by righcliking the desired item and selecting 'scribe item' from the menu. you can choose more than one item to scribe by holding down the left ctrl button while cliking the desired items. the first time you do this, you will get a warning screen: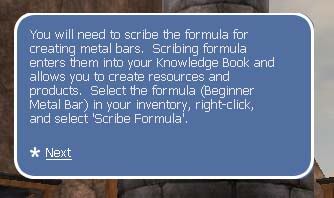 a secondary menu will appear to confirm the item(s) you want to scribe: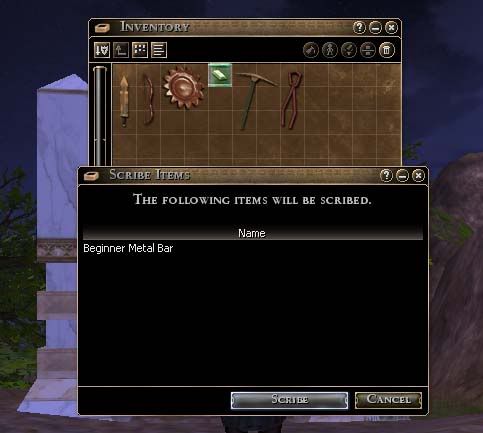 once you get out into the wide world and begin to accumulate forms and spells, you will run into the beloved 'you do not meet the requirements to scribe this item' message frequently (you can always scribe techniques, but you can't always make and apply them). spells and formulas, like useable items, have level restrictions. i wish you all the fun times i have had with that (remind me to tell you about all the times i have tried to make a weapon with a tech i can do yet. you know you can make the weapon, but why can't you make it now?? cause you don't have the levels to apply the tech! the first time can take you an hour to figure out what's happening....)!