Want an effective but commonly overlooked way of making your pet more powerful? Make use of pet gear! Read on to learn how to utilize this powerful yet underutilized mechanic for Jade Dynasty.
What is pet gear?
Pet gear is a set of equipment that can give any of your active pets a stat boost depending on its Star Sign (Terro, Logi, Magmas, etc) and Type (Yasho, Insect, Beast, etc). To get a better idea of these specific slots, visit your Pet Roster (press P) -> click on the Pet Gear button (below list of pets).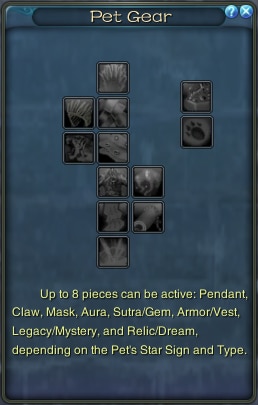 There are four types of pet gear that will affect all pets regardless of Star Sign or Type: Pendant, Claw, Mask, and Aura. For the other slots listed, either your pet's Type or your pet's Star Sign determines which will benefit it. You may still have items equipped in these slots, but only the active pet that meets the requirements will benefit. For those who own multiple pets, having an item equipped in all slots maximizes the overall benefit to your pets.
For example, all of the gear shown in the example below requires your active pet at the time to be LV50+ to benefit from the gear. View the example of a pet that doesn't benefit from the gear vs. one that does.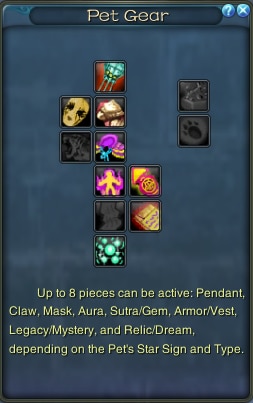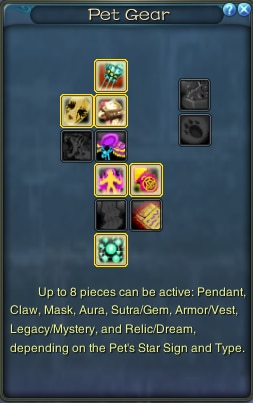 How do I obtain pet gear?
Most pet gear up to LV58 can be purchased from Pet Tamer Totto in Sunstream City (210, 45), but to fill out your slots with the most powerful gear, you must dabble in the art of crafting.
If you haven't trained crafting yet, you can do so beginning at LV30 by accepting the Craftsman quest from Craftsman Tamasi of Sunstream City (175, 75).
You can purchase the beginner pet gear recipes by speaking to Pet Tamer Totto (Pet Food and Supplies -> Recipe) and purchasing the four bottom recipes: Leaf Mask, Iron Claw, Light Aura, and Magic Pendant.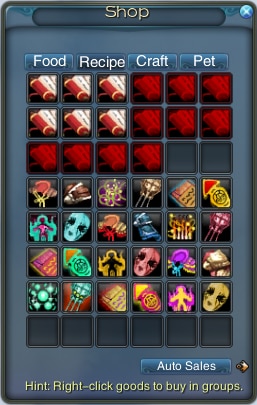 Visit the Workshop [Pet Roster (press P) -> Workshop button] once you're ready to craft pet gear.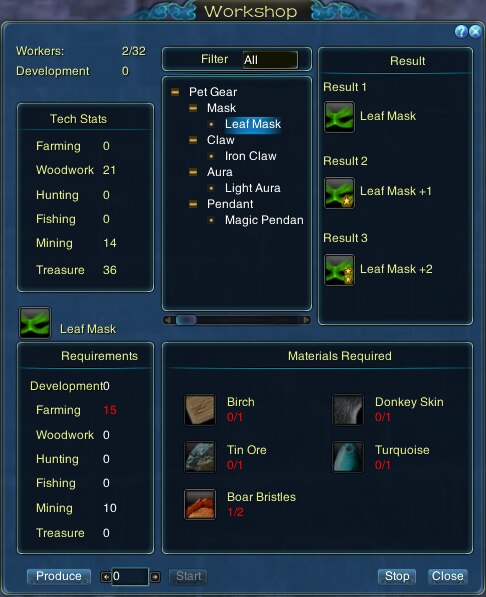 The materials required to craft these items are obtained through a combination of pet foraging and purchasing from Pet Tamer Totto. Each item's description states how it is obtained. For example, the Leaf Mask requires the following materials: Birch (Woodwork), Donkey Skin (Hunting), Tin Ore (Mining), Turquoise (Treasure Finding), and Boar Bristles (purchased from Pet Tamer Totto). To obtain these, you'll need to have the pets that have the right aptitudes (gathering skills) to forage for the specific types of materials needed. In addition to this, the Leaf Mask requires that your total Tech Stats have at least 15 in Farming and 10 in Mining--this draws upon the total Tech Stats of all of the pets currently on your Pet Roster. To maximize what you can create, be sure to have a mix of pets with different aptitudes!
Get your pets foraging for materials by first selecting "Combat" for each pet you want to forage. From there, select the specific type of foraging you want your pet to do. Your pet will gather materials directly to your bag while stored in your Pet Roster! Pets can also gather pet crafting recipes while foraging, so be sure to have at least one pet foraging at all times.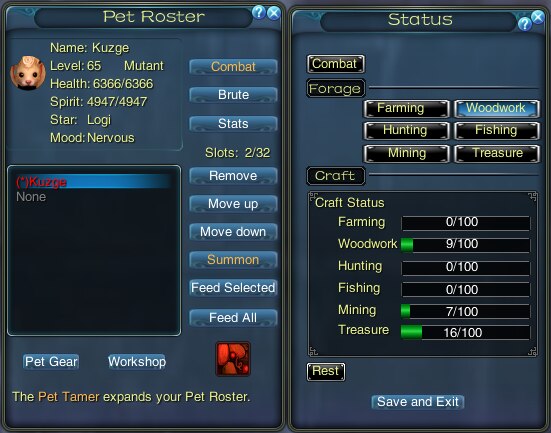 To increase the frequency and number of materials gathered, be sure to have additional pets foraging. You can expand the number of slots in your Pet Roster through using a Sunray Brooch found in the Marketplace (Mount/Pet - Pet Aid).
Utilizing the Workshop by having pets forage and craft items adds a fun twist to Jade Dynasty, so experiment and see what you can come up with!