With the release of our Spring Content Update comes many new improvements to Jade Dynasty. Whether you're a high level Ascended player or an Initiate starting on your journey, this update has something for everyone! We'll first get into the improved user interface and how to make the most of it, and then we'll move onto becoming Vitalized, which qualifies you to use Chroma skills, how to level it up, and ways to get started in Dragon Mountain. Read on for juicy details!
Improved User Interface
With this improved user interface comes many features aimed at taking the confusion out of daily events, dungeons, battlegrounds, and even bosses!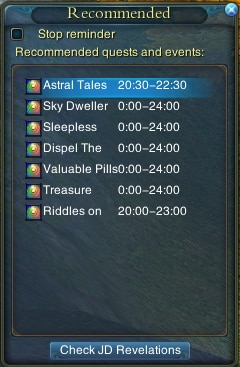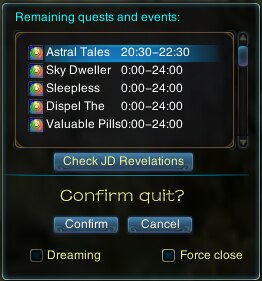 Whenever you log in or log out, you'll receive a friendly reminder on some recommended daily events you can do based on your level. The times of the event (based on server time) are shown, and you can even autoroute to the corresponding NPC by clicking on any of the listed events!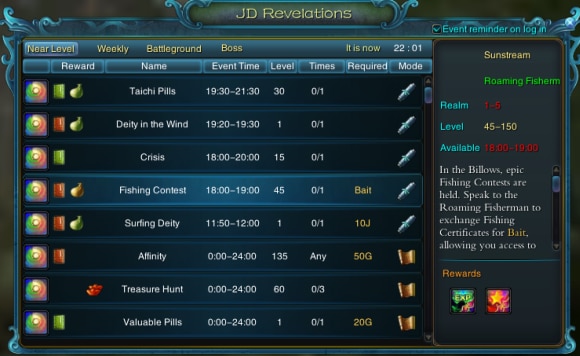 JD Revelations is the new way to view your daily events, dungeons, battlegrounds, and bosses! With the improved interface, each event is listed with required level, event time, requirements to enter (gold, etc), and how many times it can be completed in one day. These are also sortable by any of the paramters listed, taking the time out of figuring out which events you need to do and actually letting you get into the thick of things! Each event lists the NPC you need to talk to, which realm it takes place on, the level range required, a nice description as well as rewards listed on the right hand of the screen. You can even autoroute to the listed NPCs, allowing you to spend time where it counts: participating in the event!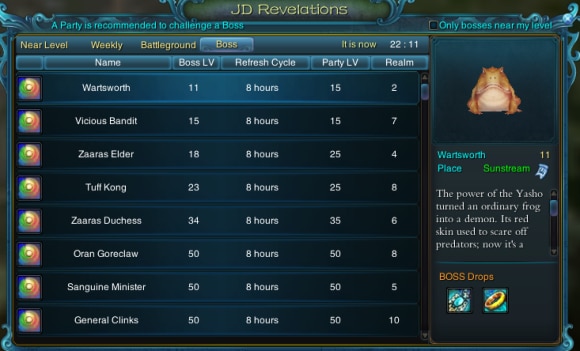 The boss section of JD Relevations lists the boss, boss level, respawn time, recommended party level to attempt fighting the boss, and the realm it resides on. These can all be sorted, and it shows the boss's appearance, quick description, general loot drops, and its current location. Like the events, you can autoroute or use a Portal Charm to get to the boss quickly!
Now that we've gone over some of the enhancements to the user interface, let's get down to learning how to gain the ability to use powerful Chroma skills!
Becoming Vitalized (and Chroma skills)
Chroma skills are the next step in an Ascended player's advancement, allowing you to become even closer to becoming a true immortal, but you first need to prove yourself worthy.
Upon reaching LV120 Ascended (with an Affinity), you'll receive notification that Tanis Ka of Sunstream (160, 140) wishes to speak to you.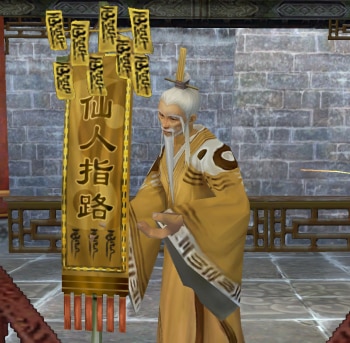 First start by accepting his quest, Vitalization. You'll then go through a series of trials where you're teleported to Dragon Mountain to face against various bosses: Empyrean General, Earth God, and The Perfect Man. When you defeat one boss, you'll be teleported back to Tanis Ka to accept the quest to defeat the next one. After defeating all three bosses, you're now qualified to speak to your Chroma NPC in your respective Affinity land: Mokotem for Felkin, Youtem for Fuwa, and The Lotus King for Dagos. Travel back to your Affinity land, speak to them, and begin your journey into Chroma! Return to Tanis Ka to receive the quest to travel to Dragon Mountain.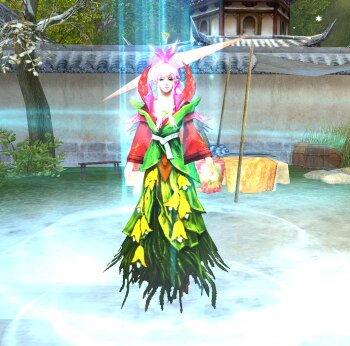 Speak to Dragon Envoy Jassie to teleport to begin your journey into Dragon Mountain! This is available to LV90 Ascended+ players, though you'll make the most out of this once you're Vitalized. When you first get teleported, you'll need to enter Dragon Mountain through the Royal Altar Portal, but once you do that, you'll be able to teleport directly to Dragon Mountain.
You can begin taking down the Dragon Mountain gates by speaking to Lee or Ro Xuan the Taoist once you're in the Cloud River base camp (area you first start in when entering Dragon Mountain) to begin your quest to unlock the Dragon Gates! There's also even a Chroma Dispatcher NPC, who will award Chroma beads (used to level up Chroma skills) upon completion of the various quests he offers!
As you obtain Chroma Beads by helping unlock these gates, you'll be able to further increase your Chroma level by visiting the Elder of Arcaneness in Jadeon and turning in those beads. Once you have enough Chroma EXP, press C and click on the Chroma tab, now located at the bottom right of the interface.
We'll go into even further detail in the upcoming week as players gain more power in Chroma and start to take down the gates, but we hope you enjoy everything we have to offer as part of our Spring Content Update!