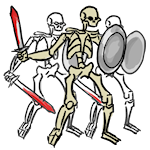 Archmage Stendas of the Circle Of Five has issued a statement of the greatest importance to all the Lords and Ladies of Elgea; and we reproduce it faithfully here for all to read
"We have spent many days and nights trying to divine what has happened regarding The Rift that has opened up in Ursor. All of our efforts have been bent to this task, and we have some findings that we would like all to know.
Early last week, one of our mages in Ursor attempted an entirely theoretical work of magic, with the unauthorised assistance of some Shamans from the Blood Reavers. We do not know what went wrong with the spell, except that its devastating effects have been felt throughout the land.
The Rift that has opened up at this location appears to have formed from pre-existing stresses in the rock formations of this area, and we are grateful to the Clan Moedagh for their assistance in coming to this conclusion. The structures that have appeared around The Rift are, however, constructed rather than natural. Constructed by whom we do not know, but they appear to be ancient in their design and we do not yet understand their purpose.
What we can tell is that The Rift has opened a long-closed gateway to a forbidden place that we had believed long lost in time and space. Vast energies are spewing out of this tear in the veil of the darkness and have been seeping into the land. Earthquakes and tremors have rippled through the kingdom, and the graves of the departed, both ancient and recent... friends, family and loved-ones... have been disturbed in every corner of this once-fair land.
Out of these graves, the dead themselves are rising... called and impelled by the energies of The Rift to gather together and travel to the forbidden world beyond. For what purpose, and who is calling them we cannot say, but have theories and suspicions that require further research. The Order of Allembine is assisting us in this endeavour, and we gratefully acknowledge their contribution.
We do know that certain loci of power - Standing Stones - are acting as beacons or conduits to this netherworld of darkness, and it is to these that these soulless horrors are drawn. We also know that the dead can only rise and travel at night, for the daylight entirely extinguishes their powers.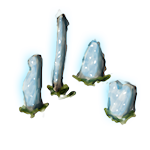 We are extremely concerned that for the forthcoming entire lunar cycle the dead will continue to rise in ever-increasing numbers and powers, gather in groups, and attempt to transit to this forbidden realm. We have also received reports that groups of the undead have been attacking some of the cities near the rift, as well as some of those cities that are amongst the most powerful Alliance capital cities. This last matter concerns us greatly as it strongly implies the existence of an unknown intelligence behind their actions.
We have asked King Sigurd and The Council of Illyria to issue an edict requiring all the Lords and Ladies of Elgea to slay these abominations before they travel beyond our reach, but the Council have refused to take such action as we recommend, and we have been perplexed by their reticence to act in the face of such appalling circumstance.
So, taking matters into our own hands, we hereby entreat all the Lords and Ladies of Elgea to gather at these beacons and to kill, without mercy, as many of these undead beings as they can - before they travel to the forbidden realm. The most successful commanders will be richly rewarded for their endeavours.Go forth, occupy the standing stones before nightfall, and wreak destruction on these abominations! Our hopes for success go with you."

TOURNAMENT IV - THE SMALL PRINT

Gist of the Christmas Grist
The Undead have risen across the continent of Elgea, and are being drawn to Active Standing Stones.
When they reach these Active Standing Stones, they depart this realm and go to the Netherworld.
The Circle Of Five faction doesn't like this at all: Who is gathering the souls of the dead and why? What's on the other side of the Rift?
The Circle Of Five believes that the best way to combat whatever is going on is to stop the undead from getting to their destination.
On the tenth day of Christmas, my true love gave to me...
They also believe that - as time progresses - the strength and numbers of the undead will grow each night.
Anyone can participate in this tournament - all you need is an army with a Commander, although you would also be wise to have some troops as well :)
... and a horde led by rotting zombies
a) Send your armies to occupy Standing Stones (either Active or Inactive) anywhere on Elgea, or
b) Occupy a square at The Rift in Ursor.
Your army should arrive before nightfall (1845 Server Time) in order to be guaranteed that the Standing Stone will become Active for that night.
I see dead people
The Undead will rise throughout the night (1900 to 0700 Server Time) and attempt to reach the Active Standing Stones.
You want to kill them as they arrive.
Ranking the ranks
This is a Tournament for COMMANDERS to win. Not towns, not armies, not alliances, not players. This is important, as it will influence strategies quite substantially.
The Top 3 COMMANDERS who gain the most amount of experience points (XP) from slaying the undead during the Tournament will be the winners in each League.
7 Leagues-a-Slaying
We have assigned every player in the game to one of seven league, according to the total city population of each player as sampled a couple of days ago.
We have done this to help ensure that different players of different sizes all have a chance of winning a prize.
But I wanted a pony! It's not fair!
Changing your town's population will *not* change your League. These Leagues are pre-assigned, and no amount of wishing, begging or cajoling will get these leagues re-distributed, so please don't ask.
You can see which League you have been assigned to on the Tournament Page (linked from the World Map button on the top navigation bar ingame).
To the victor goes the T-shirt-based-spoils
For each league:
1st Place
450 Prestige and a custom-made Illyriad T-Shirt with your playername displayed underneath your choice of existing T-Shirt design, colour and size.
2nd Place
250 Prestige and a non-custom Illyriad T-shirt of your choice (Design, Colour and Size)
3rd Place
150 Prestige and a black-on-White Illyriad T-shirt of your choice of Size.
All good things must come to an end
In this case, at 1200 (Server Time / UTC) on Wednesday the 18th of January, 2012.
Miscellotherousany
1. Should you win, in order to claim your prize you will need to provide us with your name and shipping address.
2. As this is not a Council of Illyria tournament, there are no changes to the normal rules regarding the Peace of the Camp. The regular friend/neutral/hostile rules *are* in force.
We wish all commanders of Illyriad the very best of luck!