One of the most irritating things I come across in gaming is the relative ease in which players accept a game and a few of it's goals as a rule of the game, or as the definition of a game. In example:
Raiding, by many, is considered to be THE game. Before raiding, you are doing nothing but preparing for raiding.
Role-play is the sole purpose of the game, some think, being that the very act of logging in is an act of role-play.
One of my favorite examples, one that fired off one of those fun Twitter arguments done in 140-word sections, (but great fun because I know so many damn smart people! :) ) is that "EVE is a PvP game." Not only is EVE not a PvP game, but PvP can be one of the smallest parts of the game.
First of all, the base of the game is the PvE environment. Picture EVE as a machine, a giant wheel turning with gears and motion. Many seem to think that EVE is somehow a perpetual motion machine, a series of gears and pulleys that create it's own energy, just to keep running some more. Of course, like a perpetual motion machine, a player-fueled-only game is impossible. EVE players do not provide the energy to drive the machine. Without the environment and interacting with it, the game would grind to a halt within a short amount of time. There must be a stream of NPC missions, loot, and cash flowing into the game or the game would just stop. The PvE provides the energy that the machine needs to turn. The players play within the machine.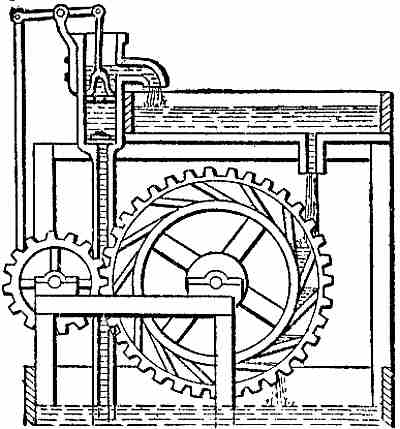 If you had (JUST an example, this is just a random number) let's say 1 trillion ISK, and suddenly asteroids did indeed become limited in number, (they are unlimited right now) and all of the NPC ships stayed dead when killed, (there are endless numbers of NPC's) and all the interactions with the PvE environment stopped, the game would die. That 1 trillion would quickly get ferreted away by a few huge corps, and nothing else would happen. The asteroids would be mined until they were all gone, and ISK would disappear. There can be no "player driven economy" with only players participating. Even the small amount that NPC's put into the economy, with all their missions and buying of goods, equal enough energy to keep the machine going.
Here is a simple question: if you magically took away PvP, or made PvP impossible (like all of space became non-pvp enabled), would EVE stop being able to be played and enjoyed?
The answer would be no. Not only that, but there would be many players (off in their missions, the ones that sit in their stations and rarely leave like my podcasting friend's do) that would probably never even know. Would it become a different game? Yes. But, instead of pirates you would have NPC ships camping you. Instead of other players attacking you, you could have spawned ships. The game can live (and does in many areas) without any influence from PvP.
Now, if you took away the endless NPC drops and all that the environment gives a player, could the game be played and enjoyed? The fruits of mining, for example, (the very basis for most of the game, the stuff that everything is made of) does not come from players. It comes from the environment and players interacting with it.
The answer would be no. There would be no EVE. The perpetual motion machine would grind to a halt, losing it's energy to the frictions of PvP and player/player interaction. Without that supply of energy (in whatever amount) from the environment and the interactions with it, there would be nothing.
This is not an attempt to say "haha! Without the game there would be no game!"
This is simply an attempt to say that calling EVE a "PvP game", indicating that PvP is the sole/majority game-play that players participate in, is not only false but impossible. The bulk of the time in your ship is an interaction with the environment. In fact, take away using "PvE" as the other way to describe EVE besides "PvP." It would be more accurately described as PIE, or Players Interacting with the Environment. Versus is referring to players locked in combat with NPC's, which is as small of a part of the game as PvP.
Using "PvP game" to describe any game out right now discounts all the other interactions and activities that have absolutely nothing to do with PvP.
In an example, a blogging friend of mine mis-understood my statement that "the death penalty in Darkfall was meaningless." He went on to to confess that my statement was true when he considered that "glory", or the virtual defeat of my enemies (just to be rezzed again to start the cycle over again) was not one of my goals, not important, and not meaningful. (I am not saying it had no meaning for him, though.)
In EVE, PvP is pretty much meaningless. Nothing happens when you die. Can something happen? Yes. But many things can happen in these games, many things that have nothing to do with Player versus Player, that can be meaningful. When I die in EVE, I get paid insurance and lose nothing that I cannot replace. My character isn't hurt, and I resurrect just to do it again. And, after all, even if I lost all my skill points and were reduced to a penniless pod, ISK is endless. Why? Not thanks to players, but thanks to the environment. I can raise my nation once again, even after being brought to the lowest point. Thanks to that energy coming from the environment.
Now, if I accidentally hit my delete key and destroy a character I have raised for 5 years, I might feel bit of regret at that.
Point is, just because something can happen (like being effected by PvP) does not mean that the game is ruled by that possibility. I would not call EVE an "accidental deletion of your character game" so why should I call it a "PvP game"?
To any of you EVE vets reading this: you, of all people, know that a player can easily avoid PvP in EVE. That's what makes EVE a successful "hardcore" game with a ton of players and PvP-featuring games like Darkfall or WAR barely live on two or four servers. Giving players that choice (to be a non-pvp'er) is a very smart thing to do. Obviously it worked for EVE. Again, I will bet good money that most players spend most of their time out of PvP.
So why do you refer to it as a "PvP game?"
Not only is it selling EVE short, with all it's glorious lore and role-play potential, but it sells the player-base short. I would like to think that many players in EVE are pretty smart, creative people. Smart creative people have many goals in a game like EVE, and many of those goals have nothing to do with, or are effected by, or effect, PvP. If a player wants to follow some made-up set of rules, such as "if you don't PvP, you're not playing", that's fine. But I choose to take a "sandbox" like EVE and play how I want.
In fact, from now on, I am going to refer to EVE as a "Player Versus Mining" game, being that mining and the act of gathering materials, is more of an integral part of EVE than PvP or PvE. Does PvP effect some areas of the game? Of course. But it is not the all-powerful force in the game by far. The all-powerful force in any game will always stem from the environment and it's fuel for the (almost) perpetual machine.
Beau